Flooding, Mudslides Bury El Salvador; Credit Unions, Members Affected
November 12, 2009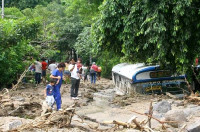 .
SAN SALVADOR, El Salvador—In the wake of the flooding and mudslides that are claiming lives and rendering much of El Salvador's population homeless, World Council of Credit Unions (WOCCU) is in contact with local authorities and FEDECACES, its member organization there, to assess how to best help the thousands of people affected by the disaster.
According to reports, three days of heavy rains have produced nationwide flooding and mudslides that already have killed an estimated 130 people. Several small towns have been all but buried, leaving thousands homeless. According to sources, the situation has the potential to worsen if displaced people, including credit union members, do not receive the assistance they need.
"WOCCU has worked with FEDECACES and the country's 30-plus credit unions, which serve more than 120,000 people, for many years," said Brian Branch, WOCCU executive vice president and COO. "We are now committed to helping El Salvador's citizens who are credit union members survive this crisis. Donations to the Worldwide Foundation for Credit Unions will help us achieve this goal."
WOCCU has fostered relief and rebuilding efforts during past international disasters, including the December 2004 Asian tsunami and the February 2006 Philippine islands landslide. Following the tsunami, WOCCU led a US$1.5 million project to rebuild credit unions in Sri Lanka and revitalize the country's credit union league. Following the Philippine islands landslide, WOCCU supported the local league's administration of "livelihood loans," small microloans that helped credit union members and employees rebuild their homes and businesses.
To support El Salvador's credit unions and their members through the international credit union disaster relief fund, make payments via check, credit card or wire to:
Worldwide Foundation for Credit Unions, Inc.
5710 Mineral Point Road
Madison, WI 53705 USA
Donations may be made online with a credit card at www.woccu.org /give. For wire transfer information, contact: Valerie Breunig, Worldwide Foundation for Credit Unions, 608-395-2055 or via e-mail at vbreunig@woccu.org. Please indicate that your donation is designated for the El Salvador Disaster Relief Fund.
World Council of Credit Unions is the global trade association and development agency for credit unions. World Council promotes the sustainable development of credit unions and other financial cooperatives around the world to empower people through access to high quality and affordable financial services. World Council advocates on behalf of the global credit union system before international organizations and works with national governments to improve legislation and regulation. Its technical assistance programs introduce new tools and technologies to strengthen credit unions' financial performance and increase their outreach.
World Council has implemented 300+ technical assistance programs in 89 countries. Worldwide, 68,882 credit unions in 109 countries serve 235 million people. Learn more about World Council's impact around the world at www.woccu.org.
NOTE: Click on photos to view/download in high resolution.