Looking Beyond the Tents
Stable Structures Will Help Haiti's Credit Unions Survive
March 25, 2010
LEOGANE, Haiti — Members of CLEF caisse populaire, or credit union, line up outside the tent that has served as their credit union's main office since shortly after the Jan. 12 earthquake reduced the original structure to rubble. At the sound of a desk bell, the member next in line enters the two-room tent to conduct business. Without the tent, provided by World Council of Credit Unions (WOCCU) through contributions, the credit union would not be able to help its members begin to rebuild their lives.
While the tents may offer an effective temporary solution, April's rains will soon come, followed by a May-to-November hurricane season with storms that could sweep the tents and their contents away, forcing Haiti's people and its credit unions to begin again. In Leogane, the epicenter of January's earthquake and home to the greatest damage, that could spell disaster for the future of CLEF and its members, according to board chair Jean Gabriel Rousseau.
In nearby Gressier, officials at MAMEV credit union face the same threats to their future. Located between Leogane and Port-au-Prince, MAMEV lost one branch entirely and two employees were killed. The staff currently works out of a two-room WOCCU office tent, similar to the one occupied by CLEF, but pitched next to its original headquarters office, which suffered severe structural damage. The loan department conducts business on folding tables in the open air under a tarp set up behind the tent. The credit union's first concern is the safety of its employees, according to Jean Sanon Bozil, its general manager.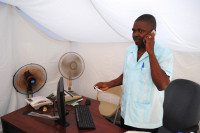 "It has been a disaster," Bozil said. "Employees' houses have been destroyed and they are living outdoors under the trees. They are operating at a reduced capacity because of fears about their living conditions and many need psychological counseling." Fears of growing loan defaults that threaten capital positions also exist, putting the future of both institutions in jeopardy. In the wake of the earthquake, members at MAMEV immediately began withdrawing savings to meet emergency needs. As members' lives have stabilized, deposits have begun returning to the credit union, but not at the level necessary to offset portfolio losses.
Officials for both credit unions agree that more permanent structures — including possible repairs to MAMEV's existing structure and entire replacement of CLEF's crumbled facilities — will become more critical in the face of the imminent rainy and hurricane seasons.
"In Haiti, temporary solutions tend to become permanent ones," said Loubeau Fleurenctin, chair for CECACHE credit union in Port-au-Prince. "I don't know what kind of permanent shelters are available, but we need to move beyond the tents."
CECACHE, located near some of Port-au-Prince's most damaged neighborhoods, remains upright, but just barely. One side is completely collapsed and the fate of the remaining structure is speculative at best. Officials from Haiti's Ministry of Public Transportation and Communications inspected the remains of CECACHE yesterday, saying that the back half may be salvageable, but the front and side that suffered the greatest damage would need to be razed.
In the meantime, Fleurenctin and his staff operate out of a WOCCU office tent like many of Haiti's other credit unions. And like other institutions, CECACHE worries about its financial future, estimating that the 9,500-person credit union's loan portfolio is already US$14 million in arrears and growing.
"Everything is transparent in our house," Fleurenctin said of his surprising loss disclosure and its impact on CECACHE's future. "A nice office is a good thing to have, but without adequate liquidity to support credit, we can't operate."

World Council of Credit Unions is the global trade association and development agency for credit unions. World Council promotes the sustainable development of credit unions and other financial cooperatives around the world to empower people through access to high quality and affordable financial services. World Council advocates on behalf of the global credit union system before international organizations and works with national governments to improve legislation and regulation. Its technical assistance programs introduce new tools and technologies to strengthen credit unions' financial performance and increase their outreach.
World Council has implemented 300+ technical assistance programs in 89 countries. Worldwide, 68,882 credit unions in 109 countries serve 235 million people. Learn more about World Council's impact around the world at www.woccu.org.
NOTE: Click on photos to view/download in high resolution.