Canadian and Mexican Credit Unions Find Common Ground through Partnership
Servus CU and Caja Yanga Swap Risk Management and Rural Outreach Strategies in Mexico
October 29, 2010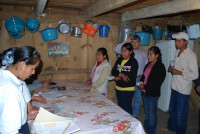 Caja Yanga members meet monthly at the community center in Potrero Nuevo, a rural village of about 600 people, to make deposits and loan payments. Using the Semilla Cooperativa rural outreach model and PDA technology, Caja Yanga saves these members a lengthy trip down poorly maintained mountain roads to access financial services.

CÓRDOBA, Mexico — Four executives from Servus Credit Union in Alberta, Canada, recently made the long trip down to Veracruz state, Mexico, to provide training in governance, risk management and technology to their partners at Caja Yanga credit union in Córdoba. They also learned firsthand about Semilla Cooperativa [cooperative seed], a unique rural outreach model developed by World Council of Credit Unions (WOCCU) and implemented by Caja Yanga.
The visit was part of the international partnership between Servus Credit Union and Caja Yanga, organized through WOCCU's International Partnerships Program in 2009. The partnership is currently one of the most active in the program.
The delegation spent the first day reviewing Caja Yanga's products and services, becoming familiar with the theory and methodology of the Semilla Cooperativa model and learning about providing services in remote locations using technologies such as personal digital assistants (PDAs) and portable, pocket-size printers.
After hearing about the model in the boardroom, the group had an opportunity to witness Semilla Cooperativa in action by traveling to Potrero Nuevo, a rural mountainside community about one-and-a-half hours from Córdoba. At Potrero Nuevo, the group observed how Caja Yanga performs transactions and serves its members as if they were at a normal branch.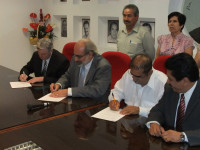 Servus Credit Union and Caja Yanga reaffirmed their international partnership by signing an agreement in Spanish at Caja Yanga's headquarters in Yanga, Mexico. Pictured left to right are Garth Warner, Servus Credit Union president & CEO; Brian Branch, WOCCU EVP & COO; Mario Humberto Valencia, Caja Yanga chairman; and Margarito Saavedra Morales, Caja Yanga general manager.
"The Semilla Cooperativa model and the PDA technology allow us to serve these rural populations that don't have access to any kind of financial services other than traveling to a larger city, which may take an entire day's travel and wages just to get there," explained Margarito Saavedra Morales, general manager of Caja Yanga. "With our mobile staff and technology, we're able to accept deposits and loan payments without requiring the member to travel to a branch, saving them considerable time and money." The model has interesting implications for the Servus group as they consider employing a similar approach to serve immobile members in Alberta, including facility-bound elderly and the disabled.
Back in the boardroom, Taras Nohas, Servus Credit Union vice president of corporate strategy and governance, shared the credit union's governance model and recent experience in starting an Asset Liability Committee (ALCO), something Caja Yanga is currently exploring. Nohas outlined practical components of a successful ALCO, such as a diverse, large group to represent different points of view and a clear mandate to guide the direction of the committee. Vern Albush, Servus Credit Union director of corporate social responsibility, also presented the credit union's approach to enterprise risk management, an area Caja Yanga is very keen on developing further with Servus.
"This is the mutual benefit that we see so often in partnership exchanges," said Brian Branch, WOCCU executive vice president and COO, who accompanied the group in Mexico. "Servus helps Caja Yanga develop their risk management tools while Caja Yanga helps Servus explore innovative ways to deliver services remotely."
Jason Cinq-Mars, Servus Credit Union vice president of support services and information systems (IS) efficiency, joined the delegation to follow up on the internship of two Caja Yanga staff in Edmonton last February, where Caja Yanga sought advice on launching its first automatic teller machines (ATMs) and improving its information technology (IT) infrastructure. Cinq-Mars spent an entire day with Aida Maceda, Caja Yanga IT manager, providing on-site consultation and technical assistance regarding general IT operations and taking a more in-depth look at their PDA technology. Another internship for Caja Yanga staff members, this time focused on risk management and money laundering compliance, is planned to take place in Edmonton next year.
The visit ended with an international partnership agreement signing in Spanish. An English version was signed in Edmonton in 2009.
"Our partnership shows that cooperative principles transcend boundaries," said Garth Warner, Servus Credit Union president and CEO and member of the delegation. "Caja Yanga and Servus were both created to serve their members, and we both put people before profits. Credit unions fill a need for services and create a better quality of life for people all over the world."
World Council of Credit Unions is the global trade association and development agency for credit unions. World Council promotes the sustainable development of credit unions and other financial cooperatives around the world to empower people through access to high quality and affordable financial services. World Council advocates on behalf of the global credit union system before international organizations and works with national governments to improve legislation and regulation. Its technical assistance programs introduce new tools and technologies to strengthen credit unions' financial performance and increase their outreach.
World Council has implemented 300+ technical assistance programs in 89 countries. Worldwide, 68,882 credit unions in 109 countries serve 235 million people. Learn more about World Council's impact around the world at www.woccu.org.
NOTE: Click on photos to view/download in high resolution.