Guatemala CU System Launches Private Savings Guarantee Fund for Credit Unions
New Guarantee Fund Tops Commercial Bank Offering in Guatemala
December 07, 2010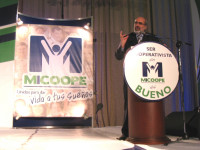 Brian Branch, WOCCU EVP & COO, spoke of WOCCU's longstanding relationship with FENACOAC and congratulated members of the guarantee fund during the Dec. 2 launch.

GUATEMALA CITY, Guatemala — Federación Nacional de Cooperativas de Ahorro y Crédito (FENACOAC), Guatemala's national credit union association, and 19 of its affiliated credit union members made history last week when they launched one of the few private savings guarantee funds for credit unions in the world. Effective Jan. 1, 2011, the fund will guarantee up to US$12,500 per person, per institution, a significant competitive advantage over Guatemala's commercial bank offering of US$2,500 per person. World Council of Credit Unions (WOCCU) designed the fund in collaboration with FENACOAC, a WOCCU member.
FENACOAC and its participating credit unions deposited a collective US$5.5 million dollars to capitalize the "MICOOPE savings guarantee fund," named after Guatemala's credit union network brand. The fund represents 1.5% of the system's now-guaranteed US$365.3 million in savings deposits. The capital level of the savings guarantee fund is expected to rise from 1.5% to 3.0% of guaranteed deposits over the next five years. Though small by U.S. standards, the guarantee will protect 98.9% of all members with savings and share accounts in Guatemala.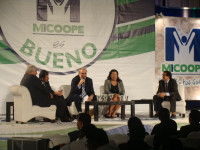 A roundtable of experts answered questions related to the mechanics of the new savings guarantee fund, future challenges and how it compared to the banks' fund. Pictured left to right are: David Richardson, WOCCU senior manager; Victor Manuel Mancilla Castro, superintendent of banks in Guatemala; Brian Branch, WOCCU EVP & COO; Evamarie Reta, CEO of El Monte Community Credit Union (El Monte, Calif.); and César Augusto Avendaño Castro, FOGACOOP director of risk management.

David Richardson, WOCCU senior manager and longtime advisor to FENACOAC, said a savings guarantee fund has been the dream of many cooperative leaders in Guatemala since WOCCU completed a cooperative strengthening program there in August 1994.
"It has taken more than 16 years to realize this dream, with many obstacles to overcome, but it has finally happened," said Richardson, who acted as WOCCU project director in Guatemala for the former cooperative strengthening program, funded by the U.S. Agency for International Development (USAID). "It comes at a time when many people are worried about the safety of their money and the soundness of the financial institutions in Guatemala."
WOCCU's PEARLS monitoring system, which has become an international standard for measuring credit union financial performance, grew out of the Guatemalan credit union movement 20 years ago. In 2008, WOCCU completed a complementary risk monitoring tool, which is one of the key components used to measure risk in the MICOOPE savings guarantee fund. In developing the tool, WOCCU representatives consulted with staff from Fondo de Garantías de Entidades Cooperativas (FOGACOOP), a savings guarantee fund in Colombia, to learn about their risk evaluation system.
Through WOCCU's International Partnerships Program, the California and Nevada Credit Union Leagues also supported FENACOAC's endeavor by sharing their member credit unions' experiences with private deposit insurance in the United States.
Brian Branch, WOCCU executive vice president and COO, was at the official launch in Guatemala City on Dec. 2 to congratulate the founding members of the guarantee fund. "The Guatemala credit union system's savings guarantee fund is an enormous achievement," he said, "especially at a time when consumer protection is a key focus in the financial services industry."
WOCCU is currently working with FENACOAC and credit unions in Guatemala on a USAID-funded program geared at creating and testing agricultural and financial tools to improve rural and financial sector development, livelihoods and food security. The program will expand upon the well established network of Guatemalan credit unions to create and document the use of new financial products, services and delivery mechanisms for value chains and rural producers.
World Council of Credit Unions is the global trade association and development platform for credit unions. World Council promotes the sustainable development of credit unions and other financial cooperatives around the world to empower people through access to high quality and affordable financial services. World Council advocates on behalf of the global credit union system before international organizations and works with national governments to improve legislation and regulation. Its technical assistance programs introduce new tools and technologies to strengthen credit unions' financial performance and increase their outreach.
World Council has implemented 300+ technical assistance programs in 89 countries. Worldwide, 89,026 credit unions in 117 countries serve 260 million people. Learn more about World Council's impact around the world at www.woccu.org.