European CUs Meet their Parliamentarians
WOCCU's European Network of CUs Launches Organization-wide Lobbying Day
December 08, 2010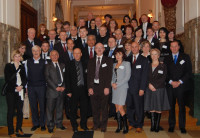 Nearly 50 representatives of credit unions in eight countries met in Brussels this week to participate in the first "lobbying day" aimed at educating lawmakers in the European Parliament about the strength of credit unions.
BRUSSELS, Belgium — Credit union representatives from seven European countries got a taste of political lobbying — several for the first time — as World Council of Credit Unions' (WOCCU) European Network of Credit Unions met with legislators at the European Parliament here Wednesday. Nearly 50 credit union and trade association professionals met with 30 European parliamentarians in multi-national delegations to spread the word about the services credit unions provide throughout the European Union (EU).
Participants from Estonia, Ireland, Macedonia, Moldova, Poland, Romania, the United Kingdom and the United States spent time with lawmakers to discuss issues as broad as the global economic crisis and as specific as the growing need for deposit insurance among emerging movements. Even Latin America was represented by WOCCU 1st Vice Chair Manuel Rabines, president and CEO of Federación Nacional de Cooperativas de Ahorro y Crédito del Perú, who participated in the process. The primary purpose of the visits was to introduce credit unions to parliament representatives unfamiliar with them and lay the groundwork for ensuring favorable legislation for credit unions.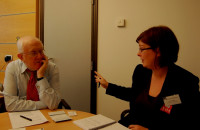 Fiona Cullen, head of lobbying for the Irish League of CUs, makes a point to Pat "the Cope" Gallagher, who represents Ireland in the European Parliament.

"Lobbying day is an important way to raise awareness among legislators and show our uniqueness compared to other financial service providers," said WOCCU 2nd Vice Chair Grzegorz Bierecki, who led an eight-member delegation representing the National Association of Cooperative Savings and Credit Unions, the Polish credit union trade group in which Bierecki serves as president and CEO. "Our efforts will create a positive view of credit unions."
Most EU member countries have cooperative banks, but relatively few have credit unions. This can create recognition problems when it comes to exercising EU-wide legislation involving financial institutions, according to Marian Harkin, a parliamentarian representing Ireland and a credit union champion who welcomed the group. Effective lobbying efforts are critical to credit unions' continued growth and influence throughout the "Euro zone," Harkin said.
"Credit unions are strong in just a small number of European countries, and that creates an issue when you are not a force in a particular state," Harkin explained. "Credit unions need to create networks of alliances with other cooperatives or similar institutions throughout the EU to expand their message to a wider audience."
Fiona Cullen, head of legal and lobbying activities for the Irish League of Credit Unions and part of a six-member Irish delegation to Brussels, agreed. "It's a process of education," Cullen said. "We don't have anything specific today that we're lobbying for. Our process is simply to open doors."
Although WOCCU helped form the European Network in 2009, the global trade association has been effectively helping its European members lobby on their own behalves for the past five years. For lobbying novices like Efim Lupanciuc, general director of Moldova's Central Association of Savings and Credit Associations, WOCCU's experience will be an effective force in helping with the emergence and regulation of Moldova's credit unions.
"We want the European Parliament to keep in mind that we are Europe-oriented and at the very beginning of our efforts," said Lupanciuc, part of one of the newest credit union movements in a country on the cusp of joining the EU. "As credit unions, we want to be part of the global movement and up to the standards of other WOCCU members."

World Council of Credit Unions is the global trade association and development platform for credit unions. World Council promotes the sustainable development of credit unions and other financial cooperatives around the world to empower people through access to high quality and affordable financial services. World Council advocates on behalf of the global credit union system before international organizations and works with national governments to improve legislation and regulation. Its technical assistance programs introduce new tools and technologies to strengthen credit unions' financial performance and increase their outreach.
World Council has implemented 300+ technical assistance programs in 89 countries. Worldwide, 89,026 credit unions in 117 countries serve 260 million people. Learn more about World Council's impact around the world at www.woccu.org.