Caribbean Credit Union Achieves Success with Non-traditional Services
Affiliation with WOCCU Partnership Attracts International Attention
May 04, 2011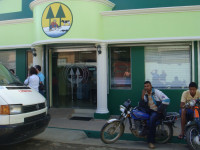 Visitors from WCUL gather outside Maimón Credit Union's main branch in Maimón, Dominican Republic. The twin pines, a widely used symbol of cooperatives throughout Latin America and other parts of the world is prominently displayed outside.
MAIMÓN, Dominican Republic — In the mountainous central valley town of Maimón, Dominican Republic, Cooperativa de Ahorros y Créditos Maimón, Inc., celebrated its 20th year of service last week with workshops, social gatherings and sporting events — including a marathon to kick off the events. But even more remarkable than the two decades of financial service the credit union has brought its community is how it has changed the social fabric of everyday life. The credit union has become a pillar of the community by adding value through more than just financial services, offering vocational training programs to hundreds of young adults, fortifying municipal water systems, providing two ambulances and offering the only comprehensive funeral services in town.
"Maimón credit union has gone far above and beyond the call of duty in terms of service to members and the community," said Pete Crear, World Council of Credit Unions (WOCCU) president and CEO who visited the credit union along with the WOCCU board of directors during an April meeting in the country. "This credit union provides a shining example of how non-traditional services can play a pivotal role in community development and improve the lives of members."
The credit union's investments in the community has made a noticeable impact on the quality of life there. It provides vocational training to young people who might not otherwise have the means for such preparation to enter the workforce or start their own businesses. It built a water tower to bring running water to residents who had previously been without. It also owns and operates a funeral home adjacent to its offices and a hearse. A funeral insurance plan for members and their families helps ease the financial and logistical burden of a death so the family can focus on mourning the loss of their loved one.
Through four branch offices in the Monseñor Nouel province, Maimón also offers the typical array of financial products and services, including youth savings and financial literacy programs, a savings incentive program and supplemental group health insurance. Its 43,000 members represent over 60% of local residents, and assets total about US$52 million. It is currently planning a fifth branch office for the capital city of Santo Domingo.
"What makes Maimón credit union truly great is its social engagement to benefit the community," said Ramón Antonio Diaz Guzmán, Maimón credit union board president. "All types of people in the region, especially those most in need, come to our institution to address small but systemic problems. Maimón credit union will continue to leave footprints in the hearts of our members and the community."
Virginio Rafael Gerardo, president and CEO of Asociación de Instituciones Rurales de Ahorro y Crédito (AIRAC), WOCCU's member organization in the Dominican Republic, organized the board of directors' visit to the credit union. He holds Maimón in high esteem because its level of discipline makes it a top performer in the indicators AIRAC measures, and it was recently recognized as "Credit Union of the Year."
"For [AIRAC], Maimón credit union has a philosophical importance because it demonstrates the true meaning of the credit union difference through its ability to address the basic needs of the community," Gerardo said. "This helps show government officials that credit unions are a viable resource for human development, and they can take that into consideration when determining regulatory treatment."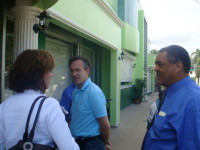 Virginio Rafael Gerardo (right), president & CEO of AIRAC, WOCCU's member in the Dominican Republic, accompanies WCUL President & CEO, Brett Thompson, on a visit to Maimón Credit Union through WOCCU's International Partnerships Program.
AIRAC maintains diverse connections within the global credit union movement through a partnership with the Wisconsin Credit Union League (WCUL), facilitated by WOCCU's International Partnerships Program. The organizations first signed a partnership agreement in October 2007. The relationship reached a landmark in 2009 when WCUL worked closely with AIRAC to effect change in the country's credit union regulatory environment.
During a 2009 visit, representatives from AIRAC, WCUL and WOCCU met with the country's central bank, the Superintendency of Banks and the Institute for Cooperatives to work on modernizing regulations and oversight procedures that would better address the country's credit union structure. Pedro Silverio, CEO of the Central Bank of the Dominican Republic, asked AIRAC to submit comments to the current bill before it was introduced to Congress later that year.
Brett Thompson, WCUL president and CEO, worked with the international team to help craft comments for submission. Through their combined efforts, AIRAC was able to influence regulatory change for its country's credit unions.
Thompson and his colleagues from WCUL also visited Maimón credit union during the visit. They were impressed with how the credit union was serving more than just the financial needs of its members, going beyond its membership to invest in community-wide infrastructure.
"Maimón is engaged in possibly the purest form of credit unionism that one could imagine and serves as a great reminder to those of us in the U.S. of what our mission is all about," Thompson said. "The staff was extremely accommodating and clearly proud of what they do, and they should be. They do great work."
WCUL is planning another visit to the Dominican Republic in October to run an advocacy and regulatory education program for credit unions. AIRAC is facilitating several week-long study tours in November for select member credit union managers to work on risk management and loan processing issues at Wisconsin credit unions.
To learn more about WOCCU's International Partnerships Program, visit www.woccu.org/partnerships.Learn more about Maimón credit union at www.coopmaimon.com (Spanish).
World Council of Credit Unions is the global trade association and development agency for credit unions. World Council promotes the sustainable development of credit unions and other financial cooperatives around the world to empower people through access to high quality and affordable financial services. World Council advocates on behalf of the global credit union system before international organizations and works with national governments to improve legislation and regulation. Its technical assistance programs introduce new tools and technologies to strengthen credit unions' financial performance and increase their outreach.
World Council has implemented 300+ technical assistance programs in 89 countries. Worldwide, 68,882 credit unions in 109 countries serve 235 million people. Learn more about World Council's impact around the world at www.woccu.org.
NOTE: Click on photos to view/download in high resolution.