Haiti's Credit Unions Join WOCCU's International Remittances Network
Platform provides low-cost alternative for sending money to Haiti
September 19, 2011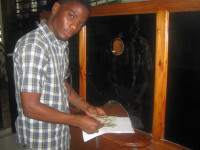 Nicolas Bona Junior Metellus receives one of the first remittances transferred through CPSA credit union in Port-au-Prince.

PORT-AU-PRINCE, Haiti – Haitians abroad now have a more affordable way to send money back home through Haiti's caisses populaires, or credit unions. Last week, seven credit unions affiliated with the Le Levier network in Haiti launched remittance services through the International Remittances Network (IRnet®), a platform owned and operated by World Council of Credit Unions (WOCCU). Haitians can now receive remittances at their local credit union through money transfer operator (MTO) Ria Financial Services, Inc., a 100,000-agent network in 131 countries across five continents.
"Despite its vital importance to the local economy, Haiti's remittance market remains a virtual oligarchy with very high prices, poor service and limited rural access," said Saul Wolf, IRnet manager, pointing out that few remittance firms offer services in Haiti. "With WOCCU's know-how and valued partners like Ria and Le Levier, we aim to create a national network that can provide the same or better service but at a lower cost than the main players."  
Ria is one of 10 MTOs offered through IRnet's platform, which provides financial institutions the technology and training to offer competitively priced remittance services with minimal upfront investment. IRnet partners with low-cost MTOs like Ria to help stimulate local competition and works with credit unions to encourage the rural poor to enter the formal financial sector through remittances.
According to the World Bank, Haiti annually receives US$1.5 billion in remittances, accounting for 21.2% of its gross domestic product. But with few MTO options in Haiti, senders pay an average of 6-10% of the total transfer amount to remit money to the country, significantly reducing the amount the receiver collects. Wolf said prices vary daily and by location, but the cost of sending a remittance through Ria is up to 50% lower than through market leader Western Union.
Nicolas Bona Junior Metellus was the one of the first people to use the new remittance service in Haiti when he picked up a money transfer from Switzerland on Monday at CPSA credit union in in Port-au-Prince. He is not currently a member, but he said he was very happy with the service and planned to join the credit union on his next visit. Making remittance services available to both members and non-members alike, as IRnet does, opens the door for new membership opportunities and developing remittance-linked products. 
Ansy Saintervil, assistant general manager of Le Levier, said IRnet has helped credit unions bring a much-needed resource to the rural communities they serve.
"This service is very important for the Haitian people because it's offered through the credit unions, which serve the most disadvantaged and are spread over 10 regions of the country in some of the most remote places," Saintervil said. "It's also important to note that a good part of the population lives on transfers coming from overseas, particularly the United States and Canada."
Remittances in the past week have come through Haiti's credit unions from senders in Canada, France, Switzerland and the United States.
Seven of Le Levier's 20 affiliated credit unions are piloting IRnet through 15 service points. Le Levier plans to grow the network to 50 locations by the end of the year and has signed memorandums of understanding with more than 25 unaffiliated credit unions. 
"The introduction of lower-cost remittances through IRnet and Ria in Haiti brings the rural poor one step closer to financial inclusion in the country," said Brian Branch, WOCCU president and CEO. "We look forward to seeing the remittances network expand through Haiti's credit unions in the coming months and years."
The Haiti Integrated Financing for Value Chains and Enterprises (HIFIVE) program, funded by the U.S. Agency for International Development and managed by WOCCU, provided technical and logistical support in expanding the IRnet platform to Haiti, which was funded by the international credit union movement through contributions made to WOCCU's Worldwide Foundation for Credit Unions.
About Ria Financial Services, Inc.
Ria Financial Services, Inc., is the third largest money transfer organization in the world with more than 100,000 agents in 131 countries on five continents. It has a national presence in the United States, Canada and France, the three main migration destinations for Haitians.
About International Remittances Network
WOCCU established IRnet in 2000 to provide credit unions access to safe and affordable money transfer services to reach emerging markets, expand services and grow membership. IRnet connects affiliated credit unions in nine countries to an array of low-cost money transfer operators, putting more money into the recipients' hands. Since its inception, IRnet-affiliated credit unions have remitted more than US$3 billion, making it one of the largest microfinance remittance networks in the world.
World Council of Credit Unions is the global trade association and development agency for credit unions. World Council promotes the sustainable development of credit unions and other financial cooperatives around the world to empower people through access to high quality and affordable financial services. World Council advocates on behalf of the global credit union system before international organizations and works with national governments to improve legislation and regulation. Its technical assistance programs introduce new tools and technologies to strengthen credit unions' financial performance and increase their outreach.
World Council has implemented 300+ technical assistance programs in 89 countries. Worldwide, 68,882 credit unions in 109 countries serve 235 million people. Learn more about World Council's impact around the world at www.woccu.org.