Credit Unions Key to Country's Development, Says Vice President of Paraguay
Minn. (USA) and Paraguay CU leagues promote fair CU regulation and IT investment in Paraguay
June 04, 2012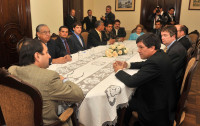 The CENCOPAN/MnCUN delegation met with Vice President Luis Federico Franco Gómez, seated in foreground, to advocate on behalf of the country's credit union system. Sitting clockwise of Franco are World Council's Manuel Rabines, Victor Miguel Corro and Michael Suing, seated across from MnCUN's Jason MacDonald, Mark Cummins and CENCOPAN's Pedro Loblein.

ASUNCIÓN, Paraguay — The vice president of Paraguay, Luis Federico Franco Gómez, is a proud credit union member who believes strong and prosperous cooperatives are key to the country's continued economic growth. Franco expressed his support for credit unions during a recent meeting with delegates from World Council of Credit Unions, the Minnesota Credit Union Network (MnCUN) and Central de Cooperativas del Áreas Nacional Ltda. (CENCOPAN), Paraguay's credit union association. The delegation traveled to Asunción, Paraguay, to advocate on behalf of credit unions with high-level government officials and share best practices in information technology at the individual credit union level. The visit was part of MnCUN and CENCOPAN's long-standing partnership managed by World Council's International Partnerships Program.
"Meeting with the acting president of Paraguay to discuss credit unions demonstrates the importance placed on cooperatives in the socioeconomic development of Paraguay," said delegation member Mark Cummins, MnCUN president and CEO, who was joined by Jason MacDonald, Central Minnesota Credit Union director of information technology, and World Council's Manuel Rabines, board chair, Victor Miguel Corro, Worldwide Foundation for Credit Unions vice president, and Michael Suing, program specialist. Cummins said Franco, who also voiced his appreciation to World Council and MnCUN for their work in Paraguay, had tremendous knowledge of the cooperative movement.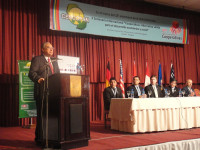 World Council Chair Manuel Rabines (pictured above) addressed more than 150 credit union representatives at CENCOPAN's annual seminar. MnCUN President and CEO Mark Cummins and Central Minnesota Credit Union Director of IT Jason MacDonald presented at the event.
Through their partnership, MnCUN and CENCOPAN have focused on promoting a sound regulatory environment in Paraguay to ensure the safety and security of credit union members' funds. In the first of a series of government visits, the traveling delegation met with representatives from the Instituto Nacional de Cooperativismo (INCOOP), the national regulator of Paraguay, to discuss the unique business model of credit unions and how their focus on community and social development calls for a distinct set of regulations. The delegation also met with Humberto Blasco Gavilán, minister of justice and labor in Paraguay, to discuss credit union contributions in the country. The visit underlined the role of Paraguay's credit unions in generating employment and spurring community development and economic empowerment.
"Importantly, the coordinated meetings with Paraguayan government officials served to strengthen and solidify the credit union movement there," Rabines said.
Another goal of the international exchange was to build confidence in IT systems and convince credit unions that technology is a prudent investment. Central Minnesota Credit Union's MacDonald spoke at CENCOPAN's annual seminar about the importance of credit unions investing in technology, while Cummins underscored the importance of sound regulation through a presentation on the U.S. regulatory environment. More than 150 credit union representatives from Paraguay attended the seminar.
"World Council's active presence in Paraguay is of tremendous benefit to the Paraguayan credit union movement," said Pedro Loblein, CENCOPAN board chair. "Government officials in Paraguay recognize the benefits of CENCOPAN's partnership with the Minnesota Credit Union Network and the advantages of being connected to World Council and the U.S. credit union movement."
Learn more about World Council's International Partnerships Program at www.woccu.org/partnerships.
World Council of Credit Unions is the global trade association and development agency for credit unions. World Council promotes the sustainable development of credit unions and other financial cooperatives around the world to empower people through access to high quality and affordable financial services. World Council advocates on behalf of the global credit union system before international organizations and works with national governments to improve legislation and regulation. Its technical assistance programs introduce new tools and technologies to strengthen credit unions' financial performance and increase their outreach.
World Council has implemented 300+ technical assistance programs in 89 countries. Worldwide, 68,882 credit unions in 109 countries serve 235 million people. Learn more about World Council's impact around the world at www.woccu.org.
NOTE: Click on photos to view/download in high resolution.