New Zealand Credit Unions Seek Growth Strategies
World Council Partnerships Program taps Canadian system to help
June 20, 2012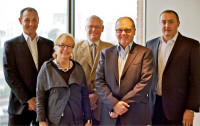 Representatives from the New Zealand Association of Credit Unions (NZACU) and Central 1 Credit Union of Canada who met in Vancouver earlier this month included (left to right) Jonathan Lee, NZACU; Linda Archer, Central 1; Richard Thomas, Central 1; Henry Lynch, NZACU; and Simon Scott, NZACU.
VANCOUVER, B.C. — How best can a credit union system grow in the face of increasing competition and growing regulations? The New Zealand Association of Credit Unions (NZACU) was recently asked that question by its member institutions. It turned to one of its counterparts in Canada to explore similar experiences and solutions to the challenges both systems face.

NZACU officials recently traveled to Central 1 Credit Union in British Columbia as part of World Council of Credit Unions' International Partnerships Program. The visit brought together two developed credit union systems with similar goals and objectives for mutual benefit and collaboration, according to Brian Branch, World Council president and CEO.

"Many of our partnerships pair developed and developing systems together to help grow the credit union presence on a global level," Branch said. "There is also tremendous benefit to pairing two developed systems to share strategies and techniques for improving member service."

New Zealand's 22 credit unions serve nearly 200,000 members, according to World Council's 2011 Statistical Report. During its Canadian visit, NZACU hoped to learn about new growth strategies as well as improve its advocacy capabilities and better understand Canadian credit union governance structure, according to Henry Lynch, NZACU CEO.

"New Zealand has one of the most developed banking systems in the world, and our credit unions are competing in a very regulated and competitive market," Lynch said. "Our World Council partnership will allow NZACU to learn from Central 1 around growth activity in a very competitive market. We found the visit to be worthwhile, stimulating and of great assistance."
In addition to Lynch, Simon Scott, NZACU chair and chair of First Credit Union in Hamilton, N.Z., and Jonathan Lee, NZACU general manager, represented New Zealand's credit unions. Canadian hosts for the delegation included Central 1's Don Rolfe, president and CEO; Linda Archer, senior vice president of marketing and human resources; and Richard Thomas, senior vice president of government relations and corporate secretary. Victor Miguel Corro, World Council vice president of the Worldwide Foundation for Credit Unions and the partnerships program, coordinated the visit.

In addition to visiting Central 1, the New Zealand delegation visited several Vancouver-area credit unions, including Aldergrove Credit Union, First West Credit Union, North Shore Credit Union and VanCity, Canada's largest credit union. The visits were based on the individual niches each credit union serves, according to Archer.

"We were pleased to have the opportunity to meet with the New Zealand delegation and to find out more about their system," Archer said. "Credit unions are and must continue to be a credible local alternative to the big banks. Although separated by distance, it's always interesting to see that we face many similar issues in continuing to raise awareness of credit unions and the value they provide to not only their members but to the communities they serve."

Central 1 plans to continue the discussion when it sends delegates to visit NZACU and its credit unions in New Zealand in December.

World Council of Credit Unions is the global trade association and development agency for credit unions. World Council promotes the sustainable development of credit unions and other financial cooperatives around the world to empower people through access to high quality and affordable financial services. World Council advocates on behalf of the global credit union system before international organizations and works with national governments to improve legislation and regulation. Its technical assistance programs introduce new tools and technologies to strengthen credit unions' financial performance and increase their outreach.
World Council has implemented 300+ technical assistance programs in 89 countries. Worldwide, 68,882 credit unions in 109 countries serve 235 million people. Learn more about World Council's impact around the world at www.woccu.org.