World Council Initiates Credit Union Revitalization in Liberia
New program focuses on financial inclusion through savings mobilization
May 29, 2013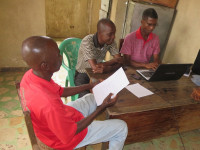 World Council will work with LCUNA staff (pictured above) to revitalize the credit union system in Liberia through a MicroLead program funded by the United Nations Capital Development Fund.
MADISON, Wis. — The United Nations Capital Development Fund, through its MicroLead program, recently awarded World Council of Credit Unions a US$2.45 million, four-year grant to rapidly expand savings and improve the livelihoods of poor and low-income households through credit unions in Liberia. World Council will work with its new member organization, the Liberia Credit Union National Association (LCUNA), to revitalize the credit union system in the West African country.
"Liberia is celebrating its tenth consecutive year of peace and is transitioning from a period of stabilization to transformation," said Brian Branch, World Council president and CEO. "Credit unions are a vital component to Liberia's economic and democratic revitalization as they have become a primary means of rural communities rebuilding their agricultural production and market trade."
World Council's program will establish new credit union savings products, build credit union capacity and strengthen LCUNA's ability to establish and maintain a network of safe and sound credit unions in Liberia. World Council will also work with LCUNA to establish four regional credit unions to serve as models for the national credit union system. There are currently 300 credit unions affiliated with LCUNA, serving 36,000 total members.
Prior to the first of two civil wars from 1989 to 2003, Liberia had 71 credit unions with US$10 million in savings and 20,000 members. More than 200,000 people lost their lives and as many as 1.8 million were displaced in a pre-war population of 2.8 million. Many credit unions lost member deposits and records during the conflicts, and the volunteer-run institutions have since received little training in modern standards or marketing strategies.
Today, 4 million people live in Liberia. The country is rich with natural resources including minerals, agriculture, forestry and fisheries. President Ellen Johnson Sirleaf has said that she is confident Liberia can become a middle-income country by 2030, and World Council's program supports Liberia's hopes for financial inclusion to achieve this goal.
This is World Council's first credit union development program in Liberia.
World Council of Credit Unions is the global trade association and development agency for credit unions. World Council promotes the sustainable development of credit unions and other financial cooperatives around the world to empower people through access to high quality and affordable financial services. World Council advocates on behalf of the global credit union system before international organizations and works with national governments to improve legislation and regulation. Its technical assistance programs introduce new tools and technologies to strengthen credit unions' financial performance and increase their outreach.
World Council has implemented 300+ technical assistance programs in 89 countries. Worldwide, 68,882 credit unions in 109 countries serve 235 million people. Learn more about World Council's impact around the world at www.woccu.org.