Afghanistan

WOCCU is establishing the country's first credit union system to offer financial products compliant with Islamic law. Located across the country, the credit unions promote community building, civic participation and job creation.

 

Supporter funds help build Afghan credit unions, supply them with the proper equipment and provide literacy education for members.

Read a member story.

 

Ethiopia

Small farmers in Ethiopia typically struggle to find the technical assistance, market access and financing to move beyond subsistence farming to small scale, commercial production. WOCCU is helping these farmers learn new skills to increase productivity, form business partnerships to increase their marketability and access affordable loans that mutually benefit their community-based credit unions and them. 

With Supporter donations, credit union staff and volunteers in Ethiopia will learn how to market to small farmers — both men and women — and bring them market information, savings and credit products they can use.

 

Haiti

WOCCU is working with the financial sector in Haiti to promote small business and employment growth in rural areas.

WF activated its disaster relief fund immediately following the Jan. 12, 2009, earthquake. Supporter donations brought tents, water and food to meet the immediate needs of credit union staff debilitated by the quake. Funds continue to help credit unions meet longer-term needs for infrastructure and psychological counseling for staff and members.

 

Kenya

Small, rural credit unions in Kenya often lack the capital and networks necessary to invest in new technology or even in computer systems, drastically hampering their efficiency and limiting potential outreach. WOCCU is creating the first credit union-owned data service bureau to provide information processing and product support to small- and medium-sized rural credit unions so they can extend their services farther and faster in rural areas.

Supporter funds cover training costs for credit union staff, new cost-efficient technologies and software conversion for participating credit unions. Also need to include orphanage blurb from Nikki's write-up.
 

Mexico

Using handheld technology, credit union staff are traveling to remote areas across Mexico to deliver savings, loans, insurance and remittances to people who have typically had access only to high-interest loans.

Supporter funds help train credit union staff and volunteers on new mobile technologies and agricultural lending, provide financial literacy training for members and establish the first community-owned ATMs in rural areas.

 

Sri Lanka

WOCCU is using new technology to strengthen a women's financial cooperative located in conflict-affected areas. By helping the rural credit unions become more safe and sound, the institutions are able to offer affordable and sound financial products to farmers and rural entrepreneurs.

With Supporter donations, credit union staff and volunteers are receiving training on management, computerization, agricultural lending and savings, and women members receive leadership training. Disaster relief donations in 2004 helped credit unions rebuild their institutions.
Global
WF donations support a variety of initiatives that respond to the right every person has to financial access. Supporter funds give a boost to member-owned credit unions and help them bring dignified financial services to their communities.
Global initiatives include:
Creating training programs for management and board members
Connecting credit unions through domestic and international shared branching
Establishing affordable money transfer services for members
Testing new handheld technology to increase outreach and improve efficiency
Creating model regulations and credit union law for developing systems
Smaller WOCCU-supported Programs
Belarus Credit Unions Organize
The Polish credit union foundation helped organize the first credit unions to operate in Belarus since the end of World War two. With financial support from WF and training from the Polish credit union foundation, the Belarus Republic National Credit Union Association formed. Today eight credit unions form the credit union association. Operations remain simple and products rudimentary. Continued support from WF supports training for staff.
WOCCU and Polish National Credit Union Association met with National Bank of Belarus officials to support credit union operations in Belarus.The Polish National Credit Union Association helped the Belarus National Bank officials prepare a draft credit union law now under consideration.
.
By forming the association, the Belarus credit unions can co-brand theircredit unions and pool their resources to obtain greater efficiencies needed by a small growing movement.
Credit unions are a mix of professional association credit unions in thecapital city of Minsk, community credit unions in rural towns and smallbusiness owners in Minsk. Many of the leaders of the credit union movement in Belarus are small self employed and business owners who werenot satisfied with access to financial services from the banking sector.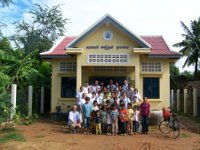 Click photo to view the full gallery.
Cambodia Building Fund 2007-2010
Ninety percent of the Cambodia population live in rural areas where over35% of the population live below the poverty line. (Cambodian Socio Economic Survey 2004. Ministry of Planning) While commercial banks and micro finance institutions serve the urban areas, there are few branchesof financial institutions in the rural areas.
Trust and sustainability are challenges to financial institutions in Cambodia. During te Khmer Rouge regime neighbors and family members wereencouraged to report offences that included operating a business or saving money. After the Khmer Rouge period, an influx of poorly managedmicro credit schemes, pyramid schemes and poor banking practices impaired public confidence in savings taking financial institutions.
Communities in rural areas not served by banks organized credit unions. While there was a strong commitment to serve their community, credit union volunteers found that it was difficult to grow their membership given the lack of trust in financial institutions. WOCCU has found in many countries that the presence of professional physical infrastructureprovides a stronger image of safety and soundness.
During the period of 2007 to 2009, WOCCU and Credit Union Foundation of Australia (CUFA) engaged in a joint initiative to build the public trustand consequently growth in Credit Unions of rural Cambodia. CUFA provided operational training to credit union groups organized by rural communities. Where the credit unions achieved sufficient membership size and operational systems, WOCCU provided funds, managed by CUFA, to construct a building for the credit union to operate from. Each community provided its own land plot.
New buildings were built for Knach Romeas in Prey Sangha village, Nirontarak Pheap in alang Krom village, Khemera in Bos Por village, Takream in Opongmon village
Omany in Omany village and Khvav in Tramkul village.
The results of the construction of premises for the credit unions resulted in improved trust in the credit union and consequently increased membership and increased savings.
Uganda Voluntary Supervision Program 2007-2010
WOCCU and Canadian Cooperative Association (CCA) provided financial and technical support to the Uganda Credit and Savings Cooperative Union (UCSCU) to establish within itself a SACCO Supervision Unit (SSU) to supervise SACCOs. Government policy development forecasts upcoming regulation and supervision of SACCOs in the near future. This program is intended to help prepare both SACCOs and their league for the supervised environment.
During a three year period the program installed tools and trained league staff in how to monitor, audit and examine 10 of the larger SACCOs. Training included internal controls, savings concentration, loan concentration, liquidity management, records handling, reconciliations, credit processing, governance standards and personnel management. The program also provided training in governance, prudential management, risk management, planning, asset liability management and branding to SACCO staff participating in the supervision program. Particpating SACCOs include: Kitgum, Pakwach Nam, Bushenyi Teachers, Agaru, Windsor, Luwero Teachers, Naddingira, Oribcing, Sembabule and Kyebando.
The program contributed to the UCSCU goal of promotion of SACCO savings mobilization through demonstration of safety achieved as a result of active supervision and commitment to financial disciplines. The safety of members' savings is contingent upon the pillars of disciplined management, good governance and third party supervision.
Membership in the participating SACCOs increased from 22,985 in 2006 to 33,084 in 2009.