Dennis Cutter

Former President & CEO, Numerica Credit Union

Dennis Cutter, the recently retired president and CEO of Numerica Credit Union, Spokane, Wash., USA, made significant contributions to WOCCU throughout his career through both service and support. Cutter sat on WOCCU's board of directors for 20 years, serving as chair shortly before retiring from the board in 2002. Ten years later, he and his wife Shelby are still staunch WOCCU supporters because they know the value WOCCU creates by expanding financial access in developing countries.
One of the most valuable things about being involved with WOCCU for Cutter and his credit union was the lifelong learning that kept him grounded in his day-to-day work. Gaining international perspectives showed him a whole other side of the services that credit unions provide to their members.
Cutter visited WOCCU's development program in the Philippines seven times while serving on the board. He was deeply moved by the program's "village banking" component", in which groups of women joined together to take out group loans from credit unions and engaged in business training to improve their lives and the wellbeing of their families and communities.
Cutter sees the present as a moment of great opportunity for credit unions in the United States and around the world due to a recent increase in credit union publicity and their growing popularity among consumers.
"The proof is in the pudding," he said. "Credit unions have an unprecedented opportunity to showcase their merits, and this is the first time I can remember that they've gotten the publicity they deserve."
Tony Niessen

Executive Director, Ontario Credit Union Charitable Foundation
The Ontario Credit Union Charitable Foundation places a strong emphasis on funding disaster relief and rebuilding activities. When a massive earthquake struck Haiti in 2010, Foundation Executive Director Tony Niessen, along with the board of directors, began looking for ways to put the organization's funds to work to provide relief.
Having seen the positive results of Worldwide Foundation for Credit Unions' disaster relief efforts following a 2007 earthquake in Peru, Niessen and the board knew the money the foundation contributed would be well spent.
Niessen joined the foundation's board in the late 1980s and assumed his current leadership role in 2005 after leaving his post as CEO of First Ontario Credit Union. The Canadian provincial foundation hasn't always funded international programs, but by engaging with the local community on issues at home it attracted enough contributions to begin doing so and soon got its contributors behind the cause.
In theory and in practice, Niessen recommends that credit unions dedicate a certain portion of charitable gifts to causes abroad where people need help and need credit unions, in hopes that people will learn from cooperative principles to pull together and improve their lives.
"I believe international involvement is important for credit unions based on the principle that what we have for ourselves we desire for others," Niessen said. "We have these successful financial organizations for sharing community resources. How could we not want others to have what we have?"

John Link

Treasurer, Agriculture Federal Credit Union
WOCCU Supporter John Link, board treasurer for Agriculture Federal Credit Union (AFCU) in Washington, D.C., worked in international development long before WOCCU existed, moving his family to Ecuador in 1963 to take a job in rural development. A decade later he landed a job at the U.S. Department of Agriculture (USDA) and joined AFCU, where he soon became a board member. Link retired from USDA in 2002 and has since traveled with WOCCU to Ecuador and Nicaragua thanks to his involvement with AFCU and the WOCCU international partnership between the Maryland & D.C. Credit Union Association and Central de Cooperativas de Ahorro y Crédito Financieras de Nicaragua.
"It is refreshing to visit credit unions in other countries, realize they face many of the same problems and challenges we do and learn how they come up with different solutions than we might," he said. "One thing that struck me on a 2007 WOCCU trip to Ecuador was their use of cell phones for accessing balances, transfers and other basic services. This is an area that was just being talked about in the states at that time."
AFCU has long been interested in WOCCU because many of its members work in USDA's international division and have a strong professional focus on international development. Much of Link's interest has turned into support thanks in part to his passionate involvement and familiarity with international development.
"Credit unions built upon credit union principles and our people-helping-people philosophy are an excellent example of what we can do to help people achieve their dreams and goals," Link said. Meeting new friends around the world through WOCCU has made a great impact on Link and his wife Kay. They plan to visit some of those friends in Scotland while there to attend the World Credit Union Conference in Glasgow this July.
"When I have the opportunity to travel and visit with people from around the world, it always drives home how different we are but at the same time how similar we are in that we share the dream of making things better for our kids and families," Link said.
Rod Taylor

President and CEO, Barksdale Federal Credit Union
Rod Taylor, president and CEO of Barksdale Federal Credit Union in Bossier City, La., was introduced to WOCCU's development work through the Louisiana Credit Union League (LCUL), which maintains a partnership with the Russian Credit Union League through WOCCU's International Partnerships Program. On a partnership delegation trip to the town of Rubtsovsk in southern Russia, Taylor was struck by how well Reserve Credit Union captured the human element that defines the cooperative difference.
"Although our movement's business aspect can never be ignored or downplayed, it is the human element that makes credit unions different," Taylor said. "The cornerstone of that difference is a realization that the human element is the wellspring from which our movement has flourished, and sometimes that realization is reinforced by someone who doesn't look like you or speak the same language."
Nearly three-quarters of Reserve Credit Union was owned by women, who played a key role in financing the microbusinesses that have sprung up since the community lost the manufacturing jobs on which it formerly depended. The credit union is an active part of the community's social fabric and has developed an exchange system for members to offer one another specialized services.
Taylor was inspired to get involved by WOCCU Treasurer Anne Cochran, LCUL's president and CEO, whose passion for the credit union movement Taylor describes as contagious. He sees his credit union's international involvement as important for its long-term development.
"Visiting and sharing with people who aren't like us has made us more attentive to the needs of those around us in our own communities," he explained.
Kimberly Hester
EVP of Network Services, CO-OP Financial Services
Kimberly Hester, executive vice president of network services at CO-OP Financial Services in Rancho Cucamonga, Calif., USA, has spent much of her career in credit union leadership, making her a perfect fit for WOCCU's Global Women's Leadership Network. Kimberly joined the network last year when CO-OP Financial Services became the presenting sponsor of the Worldwide Foundation for Credit Unions golf tournament benefitting the network.
Network Chair Susan Mitchell invited Kimberly to join the organization in 2010, and she was immediately intrigued by the opportunity. She says she has met amazing people through WOCCU's Women's Network, and finds the experience all the more gratifying because of the common purpose that unites the members.
"I've met a CEO from Zimbabwe and a director from Moldova, countries where it's rare for women to hold leadership positions," she explained. "Getting to know them and learn their stories has been a source of great inspiration for me."
Kimberly began her career at Los Angeles Police Credit Union in 1988, eventually climbing the ranks to become the credit union's CEO in 1995. Shortly thereafter, she took a position at Community Credit Union, based in Texas, and earned her MBA at University of Texas while helping grow her credit union from five to 32 locations. Several years later, she returned to California and joined the CO-OP Financial Services executive management team.
Kimberly's leadership experience provides a diverse array of expertise and wisdom for the executive to share with other network members from around the world who face their own challenges. She believes international involvement by credit unions and CUSOs is important because they can help improve the lives of the working poor in the developing world though both philanthropy and service.
"We can help members of excluded populations find access to the financial services they need to support their families, including savings and micro lending," Kimberly said. "In some cases, a loan of only US$40 may be all it takes to help a women start a small business that enables her to support her family."
Kimberly is looking forward to more involvement with WOCCU and the Global Women's Leadership Network, particularly the Worldwide Foundation's golf tournament benefitting the network, for which CO-OP Financial Services is the 2011 presenting sponsor. The event will be held in conjunction with the 2011 World Credit Union Conference in Glasgow, Scotland. For details and to register visit www.woccu.org/golf_tournament.
"I'm looking forward to the once in a lifetime opportunity to go golfing in Scotland, the birthplace of the sport!" she said.



Jody Karnes
Chief Information Officer, CU*Answers
Jody Karnes, chief information officer for credit union service organization CU*Answers, doesn't find it likely that she will ever personally be able to shake the hand of a mother in Haiti or help a farmer plant his crops, but she knows she can support the people and organizations reaching out a helping hand. That's why she recently began playing a more active role in her organization's involvement with WOCCU as a Supporter.
Though CU*Answers became a WOCCU Supporter in 2008, it wasn't until Jody's participation at The 1 Credit Union Conference in Las Vegas, Nev., USA, this year that she became more actively involved in WOCCU, joining the Global Women's Leadership Network to deepen her organization's involvement. Jody volunteered to staff the women's network booth at the event, where she was intrigued by the sheer number of people interested and engaged in WOCCU's undertakings.
"It can be a profound experience to expose yourself to a vastly different way of life, where a little helping hand can make a big difference," Jody said. "Even the smallest loan can mean the world to a woman who has the courage to start her own business baking loaves of bread in order to provide a better life for her family."
Jody believes that everyone can benefit from looking at things from a new point of view. She knows many have seen the positive impact a healthy credit union can have on their own communities, and she is excited to help extend that same power to communities worldwide.
"Beyond just tugging at our heartstrings or giving us a sense of accomplishment, I think this fresh perspective can really make a difference in how we approach our own day-to-day challenges," she said. "Bringing that spirit back to your own community can change your attitude about how powerful it can be to affect someone's life for the better."



Debra Da Costa
Vice President - Marketing, United Nations Federal Credit Union
Debra Da Costa knows that credit unions are founded on a people-helping-people philosophy. As vice president of marketing at United Nations Federal Credit Union (UNFCU) in New York City, she has an intimate understanding of international service, her credit union's raison d'être (reason for being).
She also believes that understanding how international events are shaping the world, particularly in the areas of microfinance and how women are becoming increasingly involved in their communities' financial affairs, can enable credit unions to take action and bring about positive change.
Since she was first introduced to WOCCU in 2000, these strong convictions have inspired Da Costa to become a WOCCU Supporter and engage in international development in varying capacities. Currently, she is an active member of WOCCU's Global Women's Leadership Network, an international network of women credit union executives founded in 2009 to provide members opportunities for professional and personal development through social media and educational forums.
"My goal in joining the Global Women's Leadership Network is to meet women who are highly involved and have tremendous expertise in the financial services industry," Da Costa said. "Women from developing countries in particular are extremely creative. They have had to do more with less and as a result are some of the best innovators bar none. Through their work, the importance and impact of credit unions are truly exemplified."



Shari Storm
Vice President - Marketing, Verity Credit Union
Shari Storm, marketing vice president for Verity Credit Union, Seattle, Wash., USA, first became involved with WOCCU when she was nominated for the WOCCU Young Credit Union People (WYCUP) program in Poland. "The first friend I made at the conference was from the Bahamas, so it was a cultural phenomenon to experience Poland from the viewpoint of both the Bahamas and the United States combined," she says.
As her career took off, so did her family. The arrival of each of her three children seemed to coincide with a WOCCU conference, so her trip to this year's The 1 Credit Unions Conference in Las Vegas will be a long-awaited opportunity for Storm to reconnect with her international credit union contacts.
To build on her WYCUP experience, Storm joined the new Global Women's Leadership Network earlier this year and looks forward to the network's forum that will be held just prior to this year's conference. She's already connected with several network members who are also eagerly anticipating the conference program.
In and among her busy credit union career, Storm found time to write a book, Motherhood Is the New MBA: Using Your Parenting Skills to Be a Better Boss. Several credit union executives are quoted in the book, which provides valuable management insights. (Details: www.sharistorm.com). But despite her hectic schedule, WOCCU has often been in Storm's thoughts.
"I've had my eye on WOCCU's work since the Poland meeting," Storm says. "The more we help hard-working members and their credit unions thrive, the better for our global economy."



Laida Garcia
CEO, floridacentral Credit Union
Laida Garcia likens her WOCCU volunteer assignments to "short stints in the Peace Corps." Garcia, CEO of floridacentral Credit Union in Tampa, Fla., USA, has been involved in several such assignments, including ones in Bolivia and Peru.
As a board member of Credit Union National Association (CUNA), WOCCU's U.S. member organization, Garcia has served on CUNA's World Leadership and International Legislative Committees. As a National Credit Union Foundation (NCUF) executive committee member, Garcia meets regularly with WOCCU executives and directors to discuss projects of mutual interest. Her credit union provides an annual WOCCU Supporter gift and also makes deposits in NCUF's International Development Fund.
Former floridacentral CEO Ed Gallagly, who passed away in 2009, initiated the credit union's WOCCU involvement, a tradition Garcia continues. In the 1990s, Gallagly and Garcia volunteered to help several Bolivian credit unions improve delinquency and implement procedural changes enabling credit unions' quicker compliance with new regulations. From their Garcia's involvement continued to grow.
"But it was during a recent visit to rural Peru where I had the most amazing experience," Garcia says. "In the Andean highlands, we met a group of women weavers struggling to provide for their families. The WOCCU program credit union organized them into a savings and credit group. After joining the group, they were able to increase their incomes, which made all the difference to those women."

While Garcia volunteers with the true credit union spirit, she recognizes her credit union can directly benefit from global work.
"With so many people moving to the U.S., we can use our global experience to learn how to better serve these new Americans and build our membership," Garcia says.



Craig Esrael
First South Credit Union
Tennessee, USA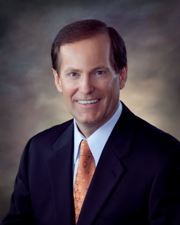 First South Credit Union CEO Craig
Esrael is a longtime Supporter.
"It's hard to pull a village out of the abyss without a credit union."
So says Craig Esrael, CEO of First South Credit Union, Bartlett, Tenn., USA. Esrael has traveled to more than 50 countries, making it a priority to visit small villages as often as possible. It's in small villages like those in China, Tanzania, Panama, even visiting an Inuit village in the Arctic, where Esrael has seen just how little many people have, and how finding enough to eat can be a full-time quest for many.
How can credit unions help?
"Developing countries need a working financial system that people can use to pull themselves and their community up," Esrael says. "It's this emphasis on community that fits the credit union model so well. In small villages it's easy to see how the community depends on the credit union for economic growth, and how the credit union depends on the community for success."
Esrael has been involved in World Council of Credit Unions (WOCCU) for many years and has participated in WOCCU conferences including Capetown, South Africa; Sydney, Australia; Barcelona, Spain; and Hong Kong. Esrael currently serves on the WOCCU Supporters Advisory Committee and was instrumental in disaster relief fundraising efforts following both the 2004 tsunami and this year's Haiti earthquake. He's held industry leadership posts that include two terms on the CUES' board of directors and his current position as chairman of PSCU Financial Services. Community leadership includes director positions in his state public radio and television stations and the University of Wisconsin Foundation.
Despite his more than 20 years of involvement with WOCCU, Esrael doesn't pretend to know everything about international development. For example, through hosting Francis Ng' ang'a, manager of Kiambu Teachers SACCO last year, Esrael says he gained a new appreciation for the types of constraints managers such as Ng' ang'a face in their daily work.
"The more I volunteer, the better I understand how WOCCU is developing credit unions and helping people," Esrael says. "The challenge is explaining to people the marvelous good WOCCU and credit unions are doing around the world."
Bruce Foulke
American Heritage Federal Credit Union
Pennsylvania, USA

Several years ago, WOCCU Supporter Bruce Foulke volunteered to help host a group of Kenyans wanting to learn about U.S. credit union operations. The visit fostered an awareness and growing involvement in the international credit union movement.
"A lot of people are really hurting out there," Foulke said. "We help our local members, and it's a natural fit to extend our reach through WOCCU to help people in other countries."
As CEO of American Heritage Federal Credit Union in Pennsylvania, USA, and member of WOCCU Supporters' Advisory Committee, Foulke has always been involved in multiple organizations at the same time. The prospect of working with credit unions abroad caught his attention when he chaired his state credit union association. He found additional opportunities to become more involved, with credit unions internationally.
One of the personal highlight of his work was meeting with a group of African woodcarvers on a volunteer delegation visit. The crafts persons had formed not only a cooperative to sell their carvings, but their own credit union, which offered loans to help them buy tools and survive the lean times.
"It was a shock to see how effectively the group cooperated," Foulke said. "The credit union provided the support that helped members make initial small wood purchases to produce the final product, and then revenues from the sale of that product went back into the credit union to help more woodcarvers and their families."
However, Foulke understands that there are unique challenges that come from working in transitional or difficult environments.
"WOCCU is doing important work just getting basic laws passed, as well as helping credit unions help people to invest or start businesses. But things don't always work as they should in every country," he said. "You have to remember we are all working to help the small guy. When we get frustrated with the processes, we have to remember not to give up on people."
Erick Orellana
Nikkei Credit Union
Gardena, California, USA

Orellana (left) speaking at an international seminar in El Salvador.
As CEO of WOCCU Supporter Nikkei Credit Union in Gardena, California, USA, and a new appointee to his league's diversity committee, Erick Orellana recalls one story that shaped his global credit union perspective: He remembers traveling to Mexico to attend a credit union annual meeting that started at 10:00 a.m. When the meeting was still going strong twelve hours later, Orellana realized that working with credit unions in developing countries would lead to amazing experiences and valuable lessons.
"Many people in the international credit union movement look to the U.S. for guidance," says Orellana, "but I see it the other way around."
"For example, in California there's a movement to cooperate in more back office functions," Orellana says. "They are already doing this widely in Latin America, so we can learn from them. We are part of a vast ATM network with 29,000 locations, through which our members often don't realize they are connected surcharge free. Guatemala has successfully connected all of the country's credit unions and ATMs with a consistent brand."
Nikkei Credit Union became a formal WOCCU Supporter this year, but perhaps they are most proud of their direct partnership with ABACO, a credit union in Peru. Both Nikkei and ABACO serve Japanese immigrants, and they have moved beyond information sharing and consulting to having accounts with each other and a business referral program.
Japanese Americans formed Nikkei Credit Union following World War II and their subsequent release from internment camps, during a time when many were refused service by banks.
Like some of those founding members, Orellana, a Guatemalan native, has the shared experience of growing up as a new American—a market many credit unions are now reaching out to in an effort to grow membership and serve the unbanked. After emigrating from Guatemala to the United States at age 14, Orellana experienced poverty and limited access to financial services first hand. Those experiences, as well as a stint working for current WOCCU Chair Barry Jolette at San Mateo Credit Union, left a deep impression on him that credit unions locally and internationally can help us move forward.
"If we can partner with the credit unions in Central America and Mexico that formerly served our new members," Orellana says, "we can truly learn about members individually. That is the only way to build trust and thereby build membership."
Judy McCartney
Orange County's Credit Union

Judy McCartney retired as CEO of Orange County's Credit Union, California, USA, but her heart and her time are still firmly planted in the credit union world.
After hosting a Polish credit union study group in the 1980s and seeing its members return home to develop their own debit card system, Judy's interest in international development was sparked. Today she is a charter member of the Global Women's Leadership Network, shown here meeting with fellow network member Susan Gachora from Kenya.
Woven in during her service to her local community, Judy finds time to help the global community. Her former credit union is still a WOCCU Supporter, and she became a personal WOCCU Supporter this year when she worked on a committee to form the Global Women's Leadership Network.
A former board member of another charity, Freedom From Hunger, Judy's travels and study have shown her personally the impact that a safe place to save or a small loan can have on a family.
Why should credit unions reach out to those in other countries?
Judy explains: "If one credit union—your credit union—is a good idea, why just in your country? Let's help the world's poor benefit from the service credit unions provide."