2004 WYCUP Scholarship Winners Announced
August 04, 2004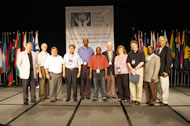 2004 WYCUP award winners pose for photo
Nassau, Bahamas-For an exciting close to the 2004 International Leadership Institute, World Council of Credit Unions, Inc. (WOCCU) announced this year's winners of the WOCCU Young Credit Union People Program (WYCUP) scholarship on August 4.
Every year since 2001, WOCCU has honored five bright, ambitious young credit union leaders from around the world with an all-expense-paid trip to the following year's Institute. This year's winners, who will attend the 2005 meeting in Italy, were chosen from a pool of 34 talented credit union professionals under the age of 35.
They are Glenn Bolger, Newfoundland & Labrador Credit Union (Canada); Catherine Coffey, Killarney Credit Union (Ireland); Hillary Jalafi, MUSCCO(Malawi); Dorwin Manzano, SFCCU CU Cooperative Society (Trinidad) and Irwing Pinares-Silva (Peru).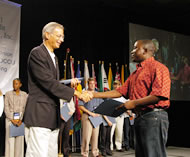 Arthur Arnold, WOCCU president and CEO (l) presents a WYCUP certificate to Hillary Jalafi, MUSCCO (Malawi).
Other nominees included Peter Allen (Jamaica), Leslie Bailey (Australia), Catherine Bannon (Ireland), Monika Bentkowska (Poland), Leann Boutilier (Canada), Danielle Brown (U.S.), Michelle Cassel (Canada), Jacinta Clarke (Bahamas), Donal Coghlan (Ireland), Robert Folsom (U.S.), Freda Fong Kit-ling (China), Dirk Haack (Canada), Andrew Hadley (Australia), Oonagh Hanna (Ireland), Jacqueline Jardine (Canada), Anna Jessop (Australia), Tara Keirn (Canada), Jaroslaw Lech (Poland), Brynn Leehan (U.S.), Morris Livingston (Jamaica), Charlene Loui-Ying (Canada), Paul Maxwell (West Indies), Nicholas May (Australia), Yolanda Meraz (U.S.), Cathal O'Connell (Ireland), Lisa Patterson (Canada), Adrianne Rexius (U.S.), Samantha Spanner (Australia) and Wesley Withrow (U.S.).
Last year's winners, who attended the Bahamas Institute free of charge, were Justine Conley (Australia), Jeanne Kim (United States), Jan Knowles (Bahamas), Malcolm Stoffman (Canada) and Katarzyna Uniwersal (Poland). In addition to networking activities and participation in regular breakout sessions and workshops, these featured guests were also treated to a special afternoon tea in their honor.
All of this year's WYCUP nominees had the chance to participate in networking and recreational events, such as the "WYCUP Challenge," a lighthearted competition involving close to 50 participants. The night before the winners were announced, there was a reception for both old and new program participants that allowed nominees to meet the WOCCU board of directors, as well as the judges of the scholarship competition.
Judges included Grzegorz Bierecki (Poland), Marcel Chorel (Canada), Ron Hance (U.S.), Sylvester Kadzola (Malawi) and Jim McMahon (Ireland).
"The WYCUP program is an essential tool for retaining young talent in our organization and creating a strong future for the credit union movement," said Gregorz Bierecki, WYCUP chairman. "It is good to see the program still attracting so much enthusiasm four years after its creation."
World Council of Credit Unions is the global trade association and development agency for credit unions. World Council promotes the sustainable development of credit unions and other financial cooperatives around the world to empower people through access to high quality and affordable financial services. World Council advocates on behalf of the global credit union system before international organizations and works with national governments to improve legislation and regulation. Its technical assistance programs introduce new tools and technologies to strengthen credit unions' financial performance and increase their outreach.
World Council has implemented 300+ technical assistance programs in 89 countries. Worldwide, 68,882 credit unions in 109 countries serve 235 million people. Learn more about World Council's impact around the world at www.woccu.org.