2014 World Credit Union Conference Opens Down Under
Over 1,800 attendees from 48 countries meet for four days in Australia's Gold Coast
July 29, 2014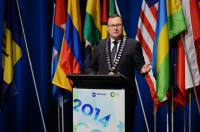 Grzegorz Bierecki, World Council chair, welcomed attendees to Gold Coast with a reminder of the benefits of cooperation amongst credit unions on local, national and international levels.

GOLD COAST, Australia — World Council of Credit Unions welcomed 1,882 attendees from 48 countries at the Gold Coast Convention Centre in Gold Coast, Australia, Sunday evening for the opening ceremonies of its 2014 World Credit Union Conference. From 27–30 July, participants will network and learn from top industry experts on topics such as young adult membership, technology, leadership and credit union advocacy.
The conference opened with World Council's legendary international flag parade, in which flag bearers wore colorful national attire to recognize each country in attendance. The audience, with impressive Australian and New Zealand representation, also received performances from Aboriginal dance troupe Nunukul Yuggera and Australian tall tale teller and singer Errol Gray.
World Council Chair Grzegorz Bierecki, president of NACSCU, Poland's national trade association for savings and credit unions, welcomed attendees to the event.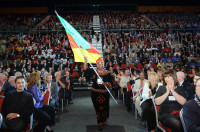 Flag bearers in national attire represented the 48 countries in attendance during the global flag parade on Sunday.  
"It is meetings such as these that make us better, that help us serve our members better, that make us try to help others: People helping people," Bierecki said. "During this conference, ideas will be born and linkages will be formed that will bring tangible results — if not today, then tomorrow." 
Don Magin, chair of World Credit Union Conference co-host Customer Owned Banking Association (COBA), gave participants a background summary on Australia's mutual banking sector.
"Collectively, we serve more than 200 million people worldwide," Magin said. "In the face of adversity, we have found a way to succeed. You all have reminded us in Australia that we have to do the same." 
Prior to Sunday's opening, the conference hosted several other events, including the sixth annual Global Women's Leadership Forum on Sunday. Held in partnership with Australian Women in Mutuals, a total of 125 women credit union leaders from 24 countries gathered to network, attend educational sessions and hear from keynote speaker Dr. Louise Mahler, renowned expert on vocal intelligence, who presented research on verbal and nonverbal communication skills to improve leadership. In addition, six women from around the globe who received 2014 Global Women's Leadership Network Scholarships presented projects they designed to solve a problem or meet a credit union and/or community need. Network members are voting to decide which recipient would receive Network support for the implementation of their project.
The World Council Young Credit Union People (WYCUP) program, in conjunction with Australia's Emerging Leaders initiative, also held a networking and educational session for credit union leaders age 40 and younger Sunday afternoon, during which past WYCUP scholarship winners and Elkanah Odembo, former Kenyan Ambassador to the U.S. and current World Council vice president of Africa, shared lessons on leadership. Over 100 people from 19 countries attended the session and will participate in several more events throughout the conference specifically designed for young professionals.
The 2014 World Credit Union Conference concludes 30 July with a closing reception at the Gold Coast Convention Centre.
Follow conference activities, including daily event photos, on World Council's Facebook and Twitter pages at www.facebook.com/WOCCU and www.twitter.com/WOCCU with #WCUC2014.
World Council of Credit Unions is the global trade association and development agency for credit unions. World Council promotes the sustainable development of credit unions and other financial cooperatives around the world to empower people through access to high quality and affordable financial services. World Council advocates on behalf of the global credit union system before international organizations and works with national governments to improve legislation and regulation. Its technical assistance programs introduce new tools and technologies to strengthen credit unions' financial performance and increase their outreach.
World Council has implemented 300+ technical assistance programs in 89 countries. Worldwide, 68,882 credit unions in 109 countries serve 235 million people. Learn more about World Council's impact around the world at www.woccu.org.
NOTE: Click on photos to view/download in high resolution.