ACUL Partnership Group Travels to Visit Costa Rican Credit Unions
ACUL
January 02, 2007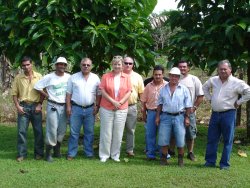 Sonja Purvis, SVP, chief marketing and development officer at Mutual Savings Credit Union, and her husband Dewie visit a pineapple growers' cooperative near Guayabito in north central Costa Rica. Mutual Savings CU has a direct partnership with Coopemex in Costa Rica, which has helped the growers brand and market their product internationally.
Birmingham, AL—Three of the five Alabama credit unions partnering with Costa Rican credit unions recently traveled to San Jose, Costa Rica to visit onsite with their respective partners. Representatives from Community Credit Union, Family Security Credit Union and Mutual Savings Credit Union made their first trip to Costa Rica to learn more about their partner credit unions and identify areas of common interest and cooperation.
League CEO Gary B. Wolter and senior executive vice president Vicki Williams accompanied the group and met with the Costa Rican Credit Union League (FEDEAC) CEO and board of directors about the challenges facing FEDEAC and their credit unions and opportunities for cooperative endeavors.
"This is an excellent opportunity for Alabama credit unions and the League to demonstrate our commitment to the credit union principle of people helping people, and we are grateful to World Council of Credit Unions for providing us this opportunity," said Wolter. The Alabama Credit Union League's (ACUL) partnership with the Costa Rican Credit Union Movement and World Council was originally formed in August 2005 and cumulated with this most recent trip to Costa Rica.
"World Council is very pleased with all the exchanges and synergies developed between FEDEAC and the Alabama Credit Union League and now the direct partnership among credit unions in both countries," said World Council International Partnerships Manager, Victor Corro. "The feedback I have received from all the parties involved is very positive. I have no doubt that this partnership will allow for great things to be accomplished and benefit credit union members both in Alabama and Costa Rica."
Coordinated by World Council, the partnership enables select credit unions in Alabama to work with World Council and FEDEAC R.L., the trade association for Costa Rica's credit unions, in identifying areas of cooperation and then developing strategies for working together to share information and specialties. There are currently 70 active credit unions in Costa Rica serving 490,545 members.
Shane Nobbley, president of Family Security Credit Union and a member of the visiting delegation, expounded on the partnership's spirit of cooperation by saying, "After this visit, we are confident this will be a long-term relationship which will be greatly beneficial to both of our credit unions."
The Alabama Credit Union League represents the state's 168 credit unions and their 1.6 million members.
World Council of Credit Unions is the global trade association and development agency for credit unions. World Council promotes the sustainable development of credit unions and other financial cooperatives around the world to empower people through access to high quality and affordable financial services. World Council advocates on behalf of the global credit union system before international organizations and works with national governments to improve legislation and regulation. Its technical assistance programs introduce new tools and technologies to strengthen credit unions' financial performance and increase their outreach.
World Council has implemented 300+ technical assistance programs in 89 countries. Worldwide, 68,882 credit unions in 109 countries serve 235 million people. Learn more about World Council's impact around the world at www.woccu.org.