Afghan Women's Rights Advocate Visits World Council
February 12, 2007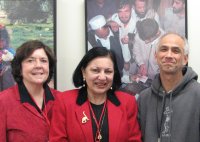 (l-r) Signe Frank, Kabultec promoter, Nasrine Gross, Kabultec president, and Curtis Slover, WOCCU senior manager of technical services, pose in front of a photo taken at a credit union orientation meeting in Jalalabad, Afghanistan, where an interim treasurer collected the first 100 rupees for membership.
Madison, WI—Nasrine Gross, president of Kabultec, a non-profit organization that promotes women's rights in Afghanistan, recently visited World Council of Credit Unions (WOCCU) in Madison, Wisconsin to explore the potential role for credit unions in furthering women's rights in Afghanistan.
Gross, an internationally renowned women's rights activist, is also the daughter of one of the first four women elected to the Afghan parliament in the 1960s—before the Taliban regime transformed the country. Gross' family migrated to the United States when she was young, but Gross returned to Kabul six years ago to help her people. She took a job in Kabul as a university professor earning $30 per month and founded Kabultec, a US-based non-profit organization with local operations based in Kabul. Gross has since traveled the war-torn country extensively and garnered substantial support in her efforts to "build human beings."
Since 2001, Kabultec has worked to bring women into the reconstruction and democratization process by providing literacy training, women's rights and election education, conducting and publishing research on women's issues, distributing supplies to schools and women's organizations and providing vegetable seeds to widows.
Approximately 86% of women and 80% of men in Afghanistan are illiterate. Kabultec's innovative literacy program reaches into the slums in Kabul and invites husbands and wives to attend basic literacy classes together. In fact, spousal attendance is a requirement for participation. The classes teach reading, writing and arithmetic as well as hygiene, nutrition and communication skills. Gross hopes to add financial literacy to the curriculum in the near future.
Since the WOCCU-Afghanistan project began in November 2004, it has established the first five investment and finance cooperatives (IFCs, as credit unions are called in Afghanistan) in the northern and eastern regions. They currently serve more than 7,000 clients, both women and men, in rural areas. World Council has recently expanded operations to conflict areas in the southern and eastern regions. In addition to establishing safe and sound IFCs that can respond to the overwhelming demand for financial services in Afghanistan, World Council's program aims to foster community development as a whole.
Gross commended World Council for working in "conflict-ridden areas, where the need is greatest," and commented that by employing nationals and providing financial services to entrepreneurs and farmers, IFCs were "creating the middle class that is so desperately needed in Afghanistan to make other things work."
As locally grown institutions operating in remote areas, Gross also recognized the potential for IFCs to collaborate with Kabultec in reaching the illiterate poor outside of Kabul. Through literacy training, the alliance would cultivate future financial service users (or IFC members) better equipped to take part in Afghanistan's economic development.
Opening dialogue between World Council and Kabultec was the first critical step. Curtis Slover, World Council senior manager overseeing the Afghanistan project, and Gross will continue the dialogue to determine whether the potential for collaboration can be realized in a way that will further their organizations' parallel goals of fostering community development and reconstruction in Afghanistan.
For further information on Kabultec's work in Afghanistan, visit www.kabultec.org. To find out more about WOCCU's development program in Afghanistan, visit www.woccu.org.
World Council of Credit Unions is the global trade association and development agency for credit unions. World Council promotes the sustainable development of credit unions and other financial cooperatives around the world to empower people through access to high quality and affordable financial services. World Council advocates on behalf of the global credit union system before international organizations and works with national governments to improve legislation and regulation. Its technical assistance programs introduce new tools and technologies to strengthen credit unions' financial performance and increase their outreach.
World Council has implemented 300+ technical assistance programs in 89 countries. Worldwide, 68,882 credit unions in 109 countries serve 235 million people. Learn more about World Council's impact around the world at www.woccu.org.