America's Credit Union Museum Adds WOCCU Exhibit
April 13, 2007

Credit union leaders in attendance at "A Night at the Museum" pose for a photo next to the World Council display.
Manchester, New Hampshire—World Council's international credit union development display made its debut during "A Night at the Museum," hosted at the America's Credit Union Museum in Manchester, New Hampshire, this week.
The permanent museum display gives visitors a historical perspective of World Council and its international credit union development work, showing visitors the correlation between US credit unions and those still being formed and strengthened around the world. Three separate sections of the display focus on stories of how World Council projects help provide greater access to financial services, expand the credit union movement worldwide and help rebuild after disasters.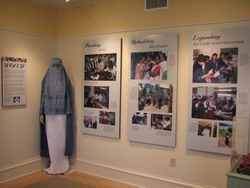 The World Council exhibit includes four information panels that tell the story of the organization, the outreach of WOCCU's credit union development work and highlights how credit unions help in time of disaster.
Pete Crear, World Council CEO noted, "I am pleased that we have the opportunity to showcase the stories of our success at America's Credit Union Museum. The international aspect of World Council is an important part of the US credit union system history and helps credit union leaders continue to differentiate credit unions in the US from other financial institutions."
America's Credit Union Museum is located in the first credit union formed in the United States almost 100 years ago.
World Council of Credit Unions is the global trade association and development agency for credit unions. World Council promotes the sustainable development of credit unions and other financial cooperatives around the world to empower people through access to high quality and affordable financial services. World Council advocates on behalf of the global credit union system before international organizations and works with national governments to improve legislation and regulation. Its technical assistance programs introduce new tools and technologies to strengthen credit unions' financial performance and increase their outreach.
World Council has implemented 300+ technical assistance programs in 89 countries. Worldwide, 68,882 credit unions in 109 countries serve 235 million people. Learn more about World Council's impact around the world at www.woccu.org.