Australian CU "Speaks" to Indigenous Members
Pictures, Audio Will Help Overcome Marketing and Other Service Challenges
September 20, 2010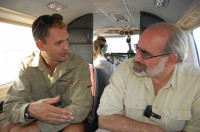 Traditional CU's Morgan Hoyes (left) explains to WOCCU EVP & COO Brian Branch the challenges of serving an indigenous population during a flight to the credit union's Elcho Island branch.
GALIWINKU, Northern Territory, Australia — How does a credit union market to members who neither understand English nor read their own native languages? For Australia's Traditional Credit Union (TCU), the answer will come in the form of pictures and storytelling.
TCU is based in Darwin and was founded in 1994 to serve the country's Aboriginal population scattered across Australia's Northern Territory. The credit union will soon resolve long-standing issues of reaching members who come from an oral tradition that speaks but does not read or write Yolngu, Kriol or several other tribal languages. Within the next month, TCU will introduce marketing materials that illustrate its services and use attached audio units similar to those found in greeting cards to describe their services in native languages.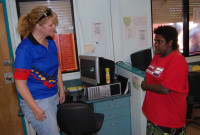 Robyn Lacey, Traditional CU's human resources manager (left), discusses the day's activities with Galiwinku branch manager Sherilyn Dhamarrandji.
"We're developing posters that show services in pictures and have pop-out audio units that can change as the language or services change," said Morgan Hoyes, TCU's business development officer. "This will better help us serve our diverse members."
Using an approach already developed by OneTalk Technology, an Australian firm that specializes in audio products designed to reach the country's indigenous population, the approach combines professional graphics with language translations that make it easier to reach members who speak but don't necessarily read or write their tribal languages. The program is already used by healthcare providers to Australia's indigenous people and will augment the translation services provided by Aboriginal tellers and managers who make up roughly 75% of staff members in TCU's 11 branches.
"We've heard a lot about the work TCU does in taking its services to Aboriginal people," said Brian Branch, WOCCU executive vice president and COO, who recently visited the credit union's Galiwinku branch on Elcho Island off Australia's northern coast. "The credit union was established at the request of tribal elders, and that support has been important to their ability to provide financial empowerment."
TCU, which offers basic financial services to its 7,000 indigenous members, works hard to overcome cultural mores requiring families to share their assets with other family members who may have squandered their own funds, according to Robyn Lacey, TCU's human resources manager. Despite the challenges, the credit union plans to open small branches in 11 more Aboriginal communities in 2011 with a goal to move further south into the territory in years to come.
"Financial literacy is an issue," Lacey said. "We're making progress, but it is not going to happen overnight."
World Council of Credit Unions is the global trade association and development agency for credit unions. World Council promotes the sustainable development of credit unions and other financial cooperatives around the world to empower people through access to high quality and affordable financial services. World Council advocates on behalf of the global credit union system before international organizations and works with national governments to improve legislation and regulation. Its technical assistance programs introduce new tools and technologies to strengthen credit unions' financial performance and increase their outreach.
World Council has implemented 300+ technical assistance programs in 89 countries. Worldwide, 68,882 credit unions in 109 countries serve 235 million people. Learn more about World Council's impact around the world at www.woccu.org.
NOTE: Click on photos to view/download in high resolution.