Bank of Tanzania Invites WOCCU to Develop CU Regulatory Framework
Explosive Growth in Credit Union Sector Drives Need for Centralized Supervision
October 25, 2010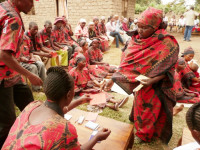 WOCCU's new program will help strengthen Tanzania's credit unions to bring safe and sound services to communities that only have access to informal savings and loan groups, such as the one pictured above.
MADISON, Wis. — At the Bank of Tanzania's request, World Council of Credit Unions (WOCCU) will soon begin developing and implementing a regulatory framework for the country's savings and credit cooperative societies (SACCOS), or credit unions. WOCCU's program will involve training regulators from the Cooperative Development Department (CDD) of the Ministry of Agriculture, Food Security and Cooperatives on risk-based supervision and regulatory systems and policies, as well as effective operational and financial standards for SACCOS. WOCCU's initiative is the global association's first credit union development program in Tanzania.
Tanzania's SACCOS range from informal, community-based cooperatives to employer-based institutions that took root as part of a government-sponsored microfinance initiative in the 1960s. The institutions follow very traditional operating guidelines whereby members are required to establish a particular amount in savings to obtain a loan, and loan sizes are determined as a multiple of the member's total savings. Liquidity is scarce, and waiting periods to obtain a loan are long. Many SACCOS employees are volunteers, and despite being the most prevalent semi-formal financial intermediary in the country, regulation and supervision to date have been virtually non-existent.
Though SACCOS lack proper guidance and oversight, the number of financial cooperatives in Tanzania has exploded in recent years. In 2009, more than 5,500 licensed savings and credit cooperative societies were in operation, an increase of more than 50% in three years. Despite the proliferation of SACCOS, no single entity provides centralized financial or statistical information on the institutions. SACCOS can be found operating for as long as six months in arrears without reliable data, and regulatory authorities have conducted little analysis of the information that does exist. As the SACCOS sector continues to grow, it faces an increasing need for central oversight to ensure appropriate financial discipline to protect member savings.
With the increasing prevalence of SACCOS in Tanzania, potential outreach is high. Recent studies show that just 11% of the country's population has access to some type of financial institution. In a 2007 appraisal of the SACCOS sector, WOCCU found that the system was capable of broadening the availability of financial services beyond its current outreach of 800,000 people throughout the country, but that it needed to overcome a series of constraints before significant development could occur.
"Tanzania's SACCOS sector has enormous potential to provide safe and affordable financial services to a broad cross-section of the population, but its relative size and lack of regulatory resources have hindered growth," said Brian Branch, WOCCU executive vice president and COO. "Establishing proper reforms, a framework for safety and soundness and financial disciplines to protect member savings are the biggest hurdles and the first steps to reaching that potential."
WOCCU is working closely with CDD to develop and implement a modernized regulatory framework, train key staff in risk-based supervision, create an early warning system, develop policies for intervention and provide guidance in helping SACCOS improve their financial structure and operations.
World Council of Credit Unions is the global trade association and development agency for credit unions. World Council promotes the sustainable development of credit unions and other financial cooperatives around the world to empower people through access to high quality and affordable financial services. World Council advocates on behalf of the global credit union system before international organizations and works with national governments to improve legislation and regulation. Its technical assistance programs introduce new tools and technologies to strengthen credit unions' financial performance and increase their outreach.
World Council has implemented 300+ technical assistance programs in 89 countries. Worldwide, 68,882 credit unions in 109 countries serve 235 million people. Learn more about World Council's impact around the world at www.woccu.org.