Biggest-Ever World Credit Union Conference Opens in Dublin
1,850 delegates from 48 countries plan future growth of not-for-profit financial services and contribute over US$2.5 million to Irish economy
WOCCU & ILCU
July 26, 2006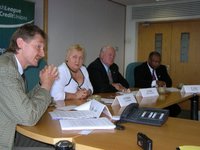 Liam O'Dwyer, CEO, ILCU; Anne O'Byrne, President, ILCU; Gary Plank, Chairman, WOCCU, and Pete Crear, CEO, WOCCU, at an ILCU press conference to kick off the 2006 World Conference.
Dublin, Ireland—The 2006 World Credit Union Conference will be officially opened Thursday, July 27, 2006, by Taoiseach (Irish Prime Minister) Bertie Ahern, T.D., in Dublin's Burlington Hotel.
"It is a great honor for the Irish League of Credit Unions to host the conference," said Liam O'Dwyer, CEO, ILCU. "It is recognition by World Council of Credit Unions (WOCCU) of the success of the Irish credit union movement. That success is increasingly reflected with worldwide membership of over 157 million people."
"The primary intention of the conference is to share best practices, new initiatives and developments among key credit union personnel worldwide," said Pete Crear, CEO, WOCCU. "It is seen by credit union personnel as a significant opportunity to network and be trained across the areas of strategy, financial operations and good governance, and provides support for countries where the credit union movement is developing."
John Rafferty, Head of Product Marketing from Fáilte Ireland, the national tourism development authority, said, "The World Council of Credit Unions Conference is one of the largest and most important conferences to be held in Ireland this year and will generate over US$2.5 million for the Irish economy. Fáilte Ireland is delighted to support this conference which showcases Ireland as a business tourism destination. Business tourists are high yield visitors who tend to spend around 70 percent more than regular holidaymakers and often extend their visit by travelling around the country after the conference has finished. It is a tribute to the hard work of the organizing committee that this conference is taking place in Ireland."
In addition to the Prime Minister, the conference features a number of important speakers and contributors from the worlds of international social justice, economics and financial services. These include Mary Robinson—former President of Ireland, Irish economist David McWilliams, Brian Cowen—Ireland's Minister of Finance, Patrick Neary—Irish Financial Services Regulatory Authority, Dan Mica—CEO, CUNA and Usha Thorat—Deputy Governor, Reserve Bank of India.
Mary Robinson's paper will focus on the equalizing effect of globalization and the role credit unions can play in the global economy with special emphasis on their role in developing countries and economies.
David McWilliams' knowledge of the Irish economy, how it is developing and the role credit unions can play in that economy will be informative and challenging.
Dan Mica, an ex-Congressman, will focus on the important battle taking place in the US between banks and credit unions over taxation. Banks are for-profit while credit unions are not-for- profit; yet banks seek equivalence in relation to credit unions' exemption from corporation tax.
Usha Thorat will bring her unique perspective to the challenges for credit unions competing in a dynamic financial marketplace.
20 WORKSHOPS PACKED INTO THREE HARD-WORKING DAYS
A wide range of financial, economic, social and technology-focused workshops will be attended by delegates over the three days of the conference. These will include items of considerable interest to the large Irish delegation as they deal with marketing, technology trends, credit union board best practices, social auditing, the credit union difference, Basel II, regulatory developments and "what if the mortgage bubble bursts?" Contributors to these workshops come from the top of their professions and from many credit union movements around the world.
35 REGULATORS FROM 16 COUNTRIES MEET DURING CONFERENCE
For the fourth year, regulators have convened during the conference to discuss global regulatory practices, demutualization and mergers. In addition, the challenges of small credit unions and risk management practices are covered.
YOUNG CREDIT UNION PERSONNEL KEY TO FUTURE PLANS
As a growing and developing worldwide movement, credit unions are increasingly attracting the interest of young people – both as volunteers and professionals. The WOCCU conference includes a dedicated program for them: the Young Credit Union People Program (WYCUP). This will bring together 35 young credit union volunteers/professionals to network and share ideas for the future development of the worldwide credit union movement. They will formally present the outcome of their discussions to WOCCU conference delegates for development.
JOHN HUME TO GET 2006 DISTINGUISHED SERVICE AWARD
John Hume, the only person in history to have won the three biggest peace awards in the world – the Nobel Peace Prize, the Gandhi Peace Prize and the Martin Luther King Award, will receive this year's Distinguished Service Award in recognition of his work in promoting the credit union movement in Ireland. World Council's Distinguished Service Award is the highest honor paid to individuals and institutions by the worldwide credit union movement, recognizing outstanding contributions to international credit union development.
IRISH CREDIT UNION MOVEMENT A HUGE SUCCESS
"The Irish credit union movement is one of the great successes of Ireland, giving access to financial services across all social strata," said Anne O'Byrne, President, ILCU. "It started at a time when access to financial services was not widely available...especially to those of limited means. Now, the total assets of credit union members in Ireland are over US$16.4 billion and people from all walks of life are members. Indeed, Ireland has one of the highest per capita credit union memberships in the world – with more than three million members (approximately 50 percent of the adult population north and south). The conference is an important milestone for us as we seek to finalize a new strategic plan for the Irish credit union movement by September of this year."
World Council of Credit Unions is the global trade association and development agency for credit unions. World Council promotes the sustainable development of credit unions and other financial cooperatives around the world to empower people through access to high quality and affordable financial services. World Council advocates on behalf of the global credit union system before international organizations and works with national governments to improve legislation and regulation. Its technical assistance programs introduce new tools and technologies to strengthen credit unions' financial performance and increase their outreach.
World Council has implemented 300+ technical assistance programs in 89 countries. Worldwide, 68,882 credit unions in 109 countries serve 235 million people. Learn more about World Council's impact around the world at www.woccu.org.