Branch: Consumer Demand for Access Drives Credit Union Cooperation
World Council president and CEO shares global credit union challenges and opportunities at the 2012 International Summit of Co-operatives
October 11, 2012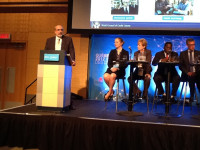 World Council President and CEO Brian Branch speaks about opportunities credit unions have for cooperation during a session at the International Summit of Cooperatives.
QUEBEC CITY — This week, 2,800 participants from cooperative and mutual institutions in 91 countries are convening at the 2012 International Summit of Cooperatives in Quebec City, Canada, to share their experiences on economic and financial issues in their movements. World Council President and CEO Brian Branch and Chair Manuel Rabines are representing the global credit union movement at the event, which is being held in conjunction with the United Nations' International Year of Cooperatives and is co-hosted by Desjardins Group, the International Co-operative Alliance and St. Mary's University in Canada. Branch presented in a session yesterday on opportunities for increased cooperation among credit unions.
Branch discussed how credit unions in all countries are facing similar challenges: compliance costs are rapidly increasing, and the investment in technology is oftentimes difficult for small institutions. He shared that cooperation among credit unions has always been a philosophical principle but requires a business case. With consumer demand for increasing access through multiple service channels, credit unions must find ways to invest in new technology and expand their points of service. The business case for credit union cooperation has become increasingly clear.
"Members want a variety of channels to access their credit union depending on where and in what moment they may be," Branch told a room full of cooperative participants. "This requires a mix of physical branches, virtual or online, mobile technology and social media." Branch noted that these become the four pillars of service channels.
"Over the past decade, we have seen transactions migrate from walk-in to online, mobile and social media platforms," he continued. "Credit unions must meet them there if they want to grow."
Branch said cooperation allows credit unions to share the cost of providing technological solutions to their members and gives them greater clout to negotiate better pricing with vendors. Networking institutions also allows individual credit unions to offer their members a wider, national network of service points from the entire group.
Branch highlighted credit union systems in Brazil, Ecuador, Guatemala, Poland, the United States and right in Quebec as examples of success with the cooperative business model.
"Credit unions have the advantage in being able to cooperate to compete with other financial institutions of scale," Branch said. "Inter-cooperation is key."
The 2012 International Summit of Cooperatives began Oct. 8 and runs through Oct. 11. It was preceded by Imagine 2012, a three-day international conference on cooperative economics. The event is being held in conjunction with the United Nations' International Year of Cooperatives and features internationally renowned speakers, including several Nobel prize recipients.
Learn more about the Summit at www.2012intlsummit.coop and follow the event on Twitter at @Summitcoop2012 or use #coopqc2012.
World Council of Credit Unions is the global trade association and development agency for credit unions. World Council promotes the sustainable development of credit unions and other financial cooperatives around the world to empower people through access to high quality and affordable financial services. World Council advocates on behalf of the global credit union system before international organizations and works with national governments to improve legislation and regulation. Its technical assistance programs introduce new tools and technologies to strengthen credit unions' financial performance and increase their outreach.
World Council has implemented 300+ technical assistance programs in 89 countries. Worldwide, 68,882 credit unions in 109 countries serve 235 million people. Learn more about World Council's impact around the world at www.woccu.org.