Brand Consultant Empowers Through Purposeful Storytelling
Final Keynote Speaker Simon Mainwaring Promotes Brand Leadership
July 27, 2017
VIENNA, Austria — Simon Mainwaring, leading brand consultant and founder of We First, Inc. embraced the audience through purposeful storytelling and building brand reputation during the last general session of the 2017 World Credit Union Conference.
"Be a mission with a company, not a company with a mission," said Mainwaring. Credit unions are innately purposeful, but haven't been telling their story very well. Mainwaring presented ways credit unions should define, frame and share the story of their good work in ways that build brand reputation, customer community, and social impact. "You must define a story worth telling to be a brand worth sharing. How well you tell your story determines how well consumers share your story."
Sharing a simple, consistent and scalable message is an essential part of purposeful storytelling stressed Mainwaring.
During Wednesday's general session, the following five young credit union professionals received the 2017 World Council Young Credit Union People (WYCUP) scholarship for an all-expenses-paid trip to the 2018 World Credit Union Conference in Singapore: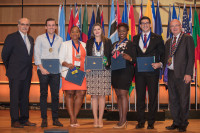 2017 WYCUP Scholarship Winners
Sheena Edwards - Trinidad & Tobago
Marisa Marshall – Barbados
Cássia F.E. Salvalaggio – Brazil
Brent Alexander – Australia
João Vitor –Brazil
A large group of conference attendees visited and toured the Volksbank Wien on Wednesday afternoon.
The 2017 World Credit Union Conference concluded 26 July with a closing reception at the Hofburg Palace. Guests enjoyed an evening gala, accompanied by the melodies of a Viennese orchestra and surrounded by the vast culture and history of the Austrian empire.
See all conference activities, including daily event photos, on Facebook and Twitter with #WCUC2017. To learn more about 2018 World Credit Union Conference, visit www.wcuc.org.
World Council of Credit Unions is the global trade association and development platform for credit unions. World Council promotes the sustainable development of credit unions and other financial cooperatives around the world to empower people through access to high quality and affordable financial services. World Council advocates on behalf of the global credit union system before international organizations and works with national governments to improve legislation and regulation. Its technical assistance programs introduce new tools and technologies to strengthen credit unions' financial performance and increase their outreach.
World Council has implemented 300+ technical assistance programs in 89 countries. Worldwide, 89,026 credit unions in 117 countries serve 260 million people. Learn more about World Council's impact around the world at www.woccu.org.