Building on the African Women's Strong Leadership
Global Women's Leadership Network Event Offers Inspiration, Participant Says
April 19, 2012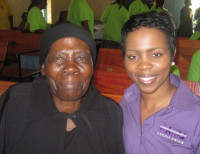 Ma Hooud (left) commands great respect in her village of Morwa, Botswana, according to Communicating Arts CU's Monique Dunbar. 
GABORONE, Botswana — Monique Dunbar had never been to Africa before traveling to Botswana last month with the Global Women's Leadership Network, an initiative co-founded by World Council of Credit Unions and the Canadian Cooperative Association (CCA) to bring together women credit union leaders from around the world. Dunbar also had never met anyone like Ma Hooud, a Morwa village elder and treasurer for the Morwa Savings and Credit Cooperative (SACCO), or credit union.

"She commands great respect in her village," said Dunbar, training and development manager for US$35 million Communicating Arts Credit Union in Detroit and a network member. "The women I met in Africa are so strong, so proud and so resolute that I came away from the experience inspired to succeed."

Dunbar traveled to Botswana to participate in the Africa Women's Forum, a Global Women's Leadership Network event jointly hosted by the African Confederation of Cooperative Savings & Credit Associations (ACCOSCA) and the Canadian Co-operative Association. She came to lead sessions on human resource and training initiatives, but came away a student of leadership. The transference from teacher to student is something not unusual for forum participants, according to Brian Branch, World Council president and CEO.

"The purpose of the Global Women's Leadership Network is to provide women with an international network that engages them in professional and personal development," Branch said. "We are grateful to Canadian Cooperative Association and to Monique for their work to provide this professional development across borders for African credit union women."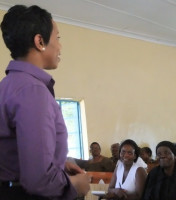 Monique Dunbar brought lessons in staff development and retention to Botswana, but she learned as much as she taught.
The lessons taught by Dunbar, who has been in her current position for two years, focused on staff development and retention. She also concentrated on building rapport with members and boards of directors and striving to reach consensus in pursuit of credit union goals and objectives. Communication is key, she explained, stressing the need for listening actively in any discussion or negotiations.

"My primary message to the group was to stay positive," Dunbar said. "It's too easy to see so many conflicting demands as a way to keep you from achieving your goals, but you should never stop trying."

In addition to the United States and Canada, the forum was attended by women from nine African nations, including Botswana, Gambia, Ghana, Kenya, Malawi, Nigeria, South Africa, Swaziland and Uganda. Dunbar's teachers were many, she said, and their lessons valuable, including an eye-opening view of the mobile banking transaction technology being used by SACCO members in Kenya, a program supported by World Council.

"Cellphone banking in Kenya is advanced beyond anything we're doing," Dunbar said. "If I could put that work with our members in Detroit, it would be awesome."

Reaching out in ways members need and want to deliver services is critical to success for any credit union or SACCO, Dunbar counseled the women at the forum. Educating staff and members about ways to take advantage of those changes is an important part of training for leadership, something to which Dunbar aspires.

"You don't see a lot of African-American women who are credit union CEOs, but that's not going to stop me from pursuing that goal," Dunbar said. "It's extremely important to me that future generations of staff exceed what I have done and that they, in turn extend their hand to the next in line. I feel that the women I met in Botswana have given me some wonderful examples to take home."

Ma Hooud was central to her inspiration, Dunbar said. The Botswana village elder would be proud to know that her example will have so profound an effect for the future of Detroit's credit union leadership.
For more information about the Global Women's Leadership Network, please visit www.cuwomen.org.
World Council of Credit Unions is the global trade association and development agency for credit unions. World Council promotes the sustainable development of credit unions and other financial cooperatives around the world to empower people through access to high quality and affordable financial services. World Council advocates on behalf of the global credit union system before international organizations and works with national governments to improve legislation and regulation. Its technical assistance programs introduce new tools and technologies to strengthen credit unions' financial performance and increase their outreach.
World Council has implemented 300+ technical assistance programs in 89 countries. Worldwide, 68,882 credit unions in 109 countries serve 235 million people. Learn more about World Council's impact around the world at www.woccu.org.