CUSC and Colorado Shared Branching Experts Lend a Hand to Ecuador Counterparts
July 20, 2007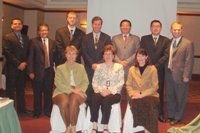 At the RTC conference in Quito, Ecuador. Pictured back ( l-r): Victor Corro, WOCCU; Jose Guillén, San José Credit Union; Josh Fetting, WOCCU International Partnerships Intern; Doug Burke, CUSN; Oscar Guzman, WOCCU-Ecuador Project Director; Santiago Saavedra, WOCCU-Ecuador Institutional Developer; Steve Schaefer, WOCCU Program Manager. Front (l-r): Rosemary Paddock, CUSN; Laura Pizzarelli, CUSC; and Janet Meyers, CCULF.
Madison, WI—Delegates from the Credit Union Service Network (CUSN), Credit Union Service Corporation (CUSC) and the Credit Union Foundation of Colorado and Wyoming recently traveled to Quito, Ecuador, to learn about operations at three credit unions and to participate in a conference on shared branching. The trip was part of World Council of Credit Unions' (WOCCU) International Partnership program.
The Colorado group included Doug Burke, CUSN President, Rosemary Paddock, CUSN Manager of Operations, Laura Pizzarelli, CUSC Vice President of Corporate Relations, and Janet Meyers, Credit Union Foundation of Colorado and Wyoming Board Member.
Red Transaccional Cooperativa (RTC, Cooperative Transactional Network), Ecuador's credit union shared branching network formed in 2006 and supported by the Colorado partnership, held a conference on shared branching with its 18 Ecuadorian credit unions in attendance during the delegation's visit.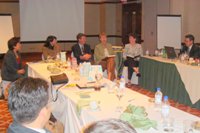 The Colorado delegates presented their findings at the RTC conference based on what they learned during their credit union visits in Ecuador. Pictured (l-r): Janet Meyers, CCULF; Doug Burke, CUSN; Rosemary Paddock, CUSN; Laura Pizzarelli, CUSC.
The credit unions using RTC are also connected to the COONECTA network in Ecuador, which offers products including shared branching, remittances, debit cards, ATM access and human development bonds. RTC plans to connect to an international shared branching network with U.S. credit unions later this year through COONECTA.
The Colorado group was invited to speak at the conference and to offer suggestions based on their findings during the trip. Their suggestions for the network included creating a national marketing committee, constructing a form of standardized training and instituting a "secret shopper" program.
CUSN's Burke commented on the national marketing scheme, "Credit unions here have the cooperative spirit at the local level; [RTC] just needs to work cooperatively at the national level. It would really benefit in a short time…to design at the national level and execute at the local level."
The Colorado delegation praised RTC for their tremendous growth. "[RTC] has come a long way in just a short time from having 12 credit unions and 95 points of service to having 18 credit unions and 153 points of service," CUSC's Pizzarelli pointed out.
An open forum followed the presentation, which allowed other credit union representatives to pose questions to the delegates.
Prior to the conference, the group spent two days touring and viewing operations of three credit unions in Riobamba and Cuenca, Ecuador. They first visited San José Credit Union, located near Riobamba. There, the representatives met with San José CEO José Guillén to discuss credit union operations. CUSN President Doug Burke was able to observe first-hand some tremendous changes that had taken place since their last visit in mid-2006, such as increased security and the addition of air conditioning in San José's IT department.
In Riobiamba, the representatives discussed credit opportunities for the rural population of Ecuador with the CEO of Acción Rural Credit Union, Mauricio Rivera. Of Acción Rural's total membership, 93% live in rural areas and have little-to-no access to financial services. The credit union offers micro-enterprise loans to the rural population, requiring guarantees as little as a small plot of land.
From Riobamba, the representatives traveled to Cuenca to visit one of the largest credit unions in Ecuador, Juventud Ecuatoriana Progresista Credit Union.
"We have advanced and grown a lot, thanks to the support of WOCCU," said Guillén, who also serves as Chairman of RTC. "We have had many opportunities with the U.S. credit unions and hope to continue with the strategic alliance. American credit unions have experience with networks and…the resources to help ours. We feel like a family; the distance doesn't separate us."
The Credit Union Association of Colorado and the WOCCU-Ecuador program partnered through WOCCU's International Partnerships program in 1999. CUSN, which provides shared branching services in Colorado and in neighboring states, joined the partnership about four years ago in response to Ecuador's pursuit to establish a shared branching system. Ecuador launched its first shared branching network in May 2005 with RedCoop. The network recently switched to RTC.
World Council of Credit Unions is the global trade association and development agency for credit unions. World Council promotes the sustainable development of credit unions and other financial cooperatives around the world to empower people through access to high quality and affordable financial services. World Council advocates on behalf of the global credit union system before international organizations and works with national governments to improve legislation and regulation. Its technical assistance programs introduce new tools and technologies to strengthen credit unions' financial performance and increase their outreach.
World Council has implemented 300+ technical assistance programs in 89 countries. Worldwide, 68,882 credit unions in 109 countries serve 235 million people. Learn more about World Council's impact around the world at www.woccu.org.