CUs often the first taste of democracy, says WOCCU
CUNA NEWS NOW
October 22, 2004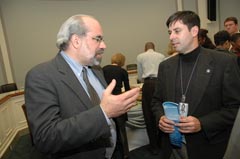 Brian Branch, WOCCU's chief operating officer, discusses international credit union development with Al Crego, a research fellow on loan to U.S. Sen. Chuck Hagel (R-Neb.) from the Federal Deposit Insurance Corp. Hagel serves on the Senate Banking Committee.
WASHINGTON (10/22/2004)Credit unions represent in a number of countries what some Americans take for granted democracy. That's what congressional staffers heard yesterday during an International Credit Union Day gathering on Capitol Hill.
At a reception in the Rayburn Office Building sponsored by the Credit Union National Association (CUNA) and the World Council of Credit Unions (WOCCU), Brian Branch, WOCCU's chief operating officer, spoke about credit unions' role beyond U.S. borders. Worldwide, credit unions serve more than 120 million members in 87 countries.

During yesterday's Credit Union Day reception on Capitol Hill, CUNA lobbyist Katie Herberger (left) and Legislative Affairs Vice President Gary Kohn (right) talk with Frank Davis, a senior policy advisor to U.S. Rep. Lacy Clay (D-Mo.), a member of the House Financial Services Committee.
"We often talk of the 'credit union difference.' Is this just talk, just slogans, just a mythical holdover from the past? Not at all," said Branch. "Every day, credit unions provide people affordable access to financial services." But the difference goes beyond that, he pointed out.
In many countries, the credit union difference is democratization of societies. "During the emergence of the East European transition economies during the 1990s, credit unions caught-on and spread quickly, both as vehicles for the previously unknown consumer finance services and as local expressions of democratic participation," said Branch.
In Poland, Ukraine, Latvia, Lithuania, Romania and Russia, credit unions led the democratization of financial sectors by providing people with a means for democratic participation and self-help community organization, Branch explained. "Credit unions provided people with an alternative source for financing income generation as large state enterprises downsized and ceased operation," he said. "Credit unions finance entrepreneurs and grew employment."
In Afghanistan, WOCCU is piloting credit unions to provide community grassroots reconstruction, as well as local community democratic participation, Branch said. And a number of requests have come from Iraqi communities and business associations for setting up local credit union systems in their communities. As an example of success, he said, "today in Vietnam and Uzbekistan, credit unions lead economic democratization a step closer to political democratization."
In addition to democratization, Branch said the credit union difference is demonstrated through: · Providing financial services to those who would otherwise not have access; · Banking the unbanked through low-cost remittance services; · Post-conflict rebuilding of societies and economies; and · The voluntary contribution of the U.S. CU System to economic, social, and democratic growth around the world. Branch emphasized that none of this progress would have been possible without a significant contribution by U.S. credit unions, the leagues and CUNA.
"In addition to the major financial support of credit unions through CUNA, volunteers from the U.S. CU System do extensive overseas work through the U.S. State League to National Association Partnership program," noted Branch.
World Council of Credit Unions is the global trade association and development agency for credit unions. World Council promotes the sustainable development of credit unions and other financial cooperatives around the world to empower people through access to high quality and affordable financial services. World Council advocates on behalf of the global credit union system before international organizations and works with national governments to improve legislation and regulation. Its technical assistance programs introduce new tools and technologies to strengthen credit unions' financial performance and increase their outreach.
World Council has implemented 300+ technical assistance programs in 89 countries. Worldwide, 68,882 credit unions in 109 countries serve 235 million people. Learn more about World Council's impact around the world at www.woccu.org.