Cambodia Gets Two New Credit Union Buildings with WOCCU Supporter Help
August 15, 2007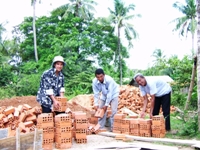 Kundi Lay (left), Cambodian project staff, works with a local building committee to construct the first of seven new credit unions buildings.
Madison, WI—Thanks to World Council of Credit Unions (WOCCU) Supporters and Credit Union Foundation Australia (CUFA) contributors, two field staff are now on the ground and the first two of seven new credit union buildings are under construction in Cambodia. WOCCU thanks the major donors to its "Cambodian Building Trust Program."
The Cambodian financial system was completely wiped out during the era of the killing fields, and the process of rebuilding has been a long one. Recent bank failures ruined people's trust in the financial sector again and limited the amount they were willing to deposit.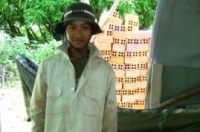 Bricks arrive for this workman to lay the foundation of Nirontarak Pheap Credit Union.
Today, credit unions are rebuilding peoples' trust in financial institutions. Credit unions supported by WOCCU and CUFA are improving their images and strengthening their operations, and members are increasing their savings levels as a result. Critical to promoting asset accumulation and the principal source of funds for expanding microcredit portfolios, savings mobilization is a key part of growing a credit union system better able to serve the working poor in Cambodia.
"The excitement of the seven new credit union buildings, combined with savings promotions as basic as offering free t-shirts, have already paid big dividends in credit union asset growth," commented CUFA Executive Officer Peter Mason. He explained that the local committees that oversee the building design and construction are often able to leverage existing land or receive land gifts from the district government. He also noted, "When credit union members see the building construction, the excitement and ensuing investment in the credit union seem contagious."
The international credit union community has a vision of restructuring the microfinance system in Cambodia so that more people have access to affordable, high-quality financial services through local credit unions. The joint WOCCU/CUFA program is doing just that. Credit union staff reported that loan interest rates decreased from 10 percent to three percent per month after credit unions were established in their areas.
CUFA officials were so encouraged by the results of the initial resource investment, they expanded the project to include a training center to serve credit unions.
The WOCCU/CUFA program builds on the earlier work CUFA had done with the Cambodian Community Savings Federation (CCSF). The Canadian Cooperative Association (CCA) also works to strengthen credit unions in Cambodia and is contributing to the training center. A committee of U.S. credit union leaders assisted with WOCCU's development efforts in Cambodia, including: Sue Albrecht, CUNA Mutual Group; Jim Updike, Honda Federal Credit Union (FCU); Fred Johnson, Credit Union Executive Society (CUES); Gordon Dahmes, Mountain America Credit Union; Joe Guilfoy, Indiana Credit Union Foundation; Bill Raker, U.S. Federal Credit Union; Gary Wolter, Alabama Credit Union League and Gary Clifford, Shell New Orleans FCU.
WOCCU thanks the major donors to its "Cambodian Building Trust Program:" The Corporate Credit Union Network, CUNA Mutual Group, CUES, Jeep Country Credit Union, Dutch Point Credit Union and the Credit Union Start-up Fund. CUFA financed project work with resources form the Australian credit union system. For more information contact Valerie Breunig, Worldwide Foundation Executive Director, vbreunig@woccu.org or 608-395-2055.
World Council of Credit Unions is the global trade association and development agency for credit unions. World Council promotes the sustainable development of credit unions and other financial cooperatives around the world to empower people through access to high quality and affordable financial services. World Council advocates on behalf of the global credit union system before international organizations and works with national governments to improve legislation and regulation. Its technical assistance programs introduce new tools and technologies to strengthen credit unions' financial performance and increase their outreach.
World Council has implemented 300+ technical assistance programs in 89 countries. Worldwide, 68,882 credit unions in 109 countries serve 235 million people. Learn more about World Council's impact around the world at www.woccu.org.