China Invites WOCCU to Develop Credit Union Model for Rural Institutions
April 16, 2007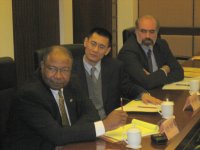 Crear, Branch and Swoboda met with regulators and RCC executives in Guizhou Province. (l-r): Crear, Ruibin Zhang, PBOC researcher who worked with Swoboda on the initial RCC assessment, and Branch.
Madison, WI—Chinese government officials and regulators invited World Council of Credit Unions (WOCCU) to spearhead rural credit cooperative (RCC) reform in one of the poorest provinces of China during WOCCU's recent visit to the country.
In an effort to catalyze development in rural areas where financial access is limited and usurious lending is rampant, the Chinese government established a legal framework to allow for the existence of credit unions at the end of 2006. On World Council's second visit to China, Pete Crear, CEO, Brian Branch, chief operating officer and Ralph Swoboda, WOCCU's consultant on China, spent a week with government officials, RCC representatives and regulators from the People's Bank of China (PBOC) and the China Regulatory Banking Commission (CRBC) to begin planning RCC reform in the southwest Guizhou Province—one of the poorest and least developed in China.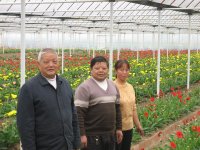 A family poses at one of more than 600 greenhouses in the area made possible through a loan from their RCC.
The Chinese government has identified RCCs as prime vehicles for providing affordable financial access to small-scale entrepreneurs and consumers, but RCCs have long struggled with an unclear ownership structure, poor governance and erratic financial performance. The group discussed WOCCU's potential to provide technical assistance and training to strengthen and reform the operations of the RCCs.
"The baseline assessment revealed a need for staff training and development of best practices in governance and lending, as well as information technology upgrades," explained Branch. "Within the next couple of months, we will conduct a more in-depth study to identify key technical needs and map a reform strategy for the RCCs in China."
Branch and Swoboda will also lead a study group of 14 WOCCU Supporters and board members to China in June. During the trip, credit union CEOs from the United States and Canada will study the RCC system and provide initial training on model credit union building.
All-China Federation of Trade Unions (ACFTU), China's only national trade union federation and the largest trade union in the world, has also sought World Council's assistance in a separate initiative to form a credit union for its 134 million members. ACFTU is a voluntary trade union that represents more than 1.7 million primary trade union organizations of China's working class.
"The preliminary talks with ACFTU have been promising," Crear noted. "And with nearly 150 million members, the formation of an ACFTU credit union would nearly double total affiliated credit union membership throughout the world."
World Council of Credit Unions is the global trade association and development agency for credit unions. World Council promotes the sustainable development of credit unions and other financial cooperatives around the world to empower people through access to high quality and affordable financial services. World Council advocates on behalf of the global credit union system before international organizations and works with national governments to improve legislation and regulation. Its technical assistance programs introduce new tools and technologies to strengthen credit unions' financial performance and increase their outreach.
World Council has implemented 300+ technical assistance programs in 89 countries. Worldwide, 68,882 credit unions in 109 countries serve 235 million people. Learn more about World Council's impact around the world at www.woccu.org.