Chinese Credit Union Leaders Visit US CUs, Learn about Risk Management
September 22, 2008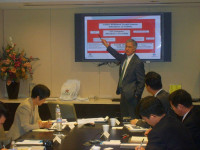 Eric Richard, CUNA executive vice president and general counsel, discusses CUNA's structure with the Chinese delegation.
WASHINGTON, D.C.—In efforts to take best practices from U.S. credit unions back to Chinese soil, six representatives from the Zhejiang Province Rural Credit Cooperative Union in eastern China visited three U.S. credit unions and the Credit Union National Association (CUNA) last week to learn about U.S. credit union operations. World Council of Credit Unions (WOCCU) facilitated the trip.
The group began in California, where they learned how credit unions serve members at the grassroots level at Northeast Community Federal Credit Union and San Francisco Lee Federal Credit Union in San Francisco, Calif. Both credit unions serve San Francisco's Chinatown community. 
The Zhejiang group learned about risk management efforts at Municipal Credit Union (N.Y.C.). Pictured (l-r) are: Xiao Zhenhai, Yuhang Rural Cooperative Bank; Ralph Pagan, MCU; Carole Porter, MCU; Janet Perkins, MCU; Lin Yuqing, Zhejiang Provincial Rural Cooperative Credit Union; Norman Kohn, MCU; Andrea Dannenberg, WOCCU; Kam Wong, MCU; Xu Guoxing, Zhejiang Provincial Rural Credit Cooperative Union; Zhu Fanyu, Zhejiang Provincial Rural Credit Cooperative Union; Ying Chaohui, Zhejiang Provincial Rural Credit Cooperative Union; Lin Wei, Zhejiang Provincial Rural Credit Cooperative Union; and Ana Puello, MCU.
Farther east, the Chinese delegation discussed credit union operations and risk management efforts with Municipal Credit Union president and CEO, Kam Wong, and his staff in New York City. The Chinese visitors were particularly struck by Municipal's ability to survive the attacks and events of 9/11, as the credit union is located across the street from the World Trade Center. Municipal Credit Union lost its information technology systems and was forced to temporarily relocate its headquarters in the months following 9/11.
U.S. capital requirements became the topic of interest during the group's final stop in D.C. to visit with CUNA's Eric Richard, executive vice president and general counsel, and Michael Edwards, CUNA counsel for special projects.
The Chinese were particularly interested in U.S. capital requirements. Chinese rural credit cooperatives must have at least 4% in capital reserves, which is half the requirement for Chinese banks.
Edwards also discussed how U.S. credit unions manage risk through minimum net worth capital requirements and limited investment powers, and the group learned more about the National Credit Union Administration share deposit insurance scheme and how it might be applied to the credit union environment in Zhejiang.
Richard said he appreciated the opportunity to learn from the Chinese visitors.
"I was particularly impressed by the size of the Zhejiang credit union system and the level of service they offer to members," Richard said. "Mr. Zhu explained they have 81 member credit unions, serving 25 million households through 4,000 branches. With US$80 billion in assets, this is a huge credit cooperative system."
The Chinese delegation was led by Zhu Fanyu, director-general of Zhejiang Provincial Rural Credit Union, and included staff members Lin Wei, human resources section chief, Lin Yuqing, director of the Quzhou office, and Xu Guoxing, risk management section chief, Ying Chaohui, secretary. Xiao Zhenhai, board chairman of Yuhang Rural Cooperative Bank in Zhejiang Province, also joined the group.
World Council of Credit Unions is the global trade association and development agency for credit unions. World Council promotes the sustainable development of credit unions and other financial cooperatives around the world to empower people through access to high quality and affordable financial services. World Council advocates on behalf of the global credit union system before international organizations and works with national governments to improve legislation and regulation. Its technical assistance programs introduce new tools and technologies to strengthen credit unions' financial performance and increase their outreach.
World Council has implemented 300+ technical assistance programs in 89 countries. Worldwide, 68,882 credit unions in 109 countries serve 235 million people. Learn more about World Council's impact around the world at www.woccu.org.
NOTE: Click on photos to view/download in high resolution.