Chinese Officials Visit U.S. Credit Unions, Regulator, Trade Associations
First-hand knowledge expected to aid in Chinese cooperative development efforts
December 14, 2007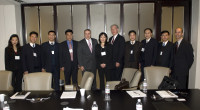 Yu Li (center), Research Bureau director for the People's Bank of China, is welcomed by Dan Mica, president/CEO of CUNA & Affiliates (on Ms. Yu's left) and Ralph Swoboda, WOCCU's China consultant (on her right), as part of the Chinese delegation's visit to CUNA/WOCCU headquarters. Other delegation participants included (from left) Amy Yin Jin, Lei Zhijian, Zhang Ruibin, Liu Naiyun, Mica, Yu, Swoboda, Sun Yong, Zhang Li, Zhang Mingquan and WOCCU staffer Dave Grace.

MADISON, Wis. - Seven officials from Chinese cooperatives, regulatory agencies and the People's Bank of China (PBC) spent a week observing U.S. credit union operations and visiting with regulators and trade association officials to learn first-hand how U.S. credit unions operate in hopes of transferring that knowledge to their own country's growing cooperative movement. The delegation, including a translator and videographer, arrived in Washington, D.C., Dec. 8 and met with government and trade association officials there before flying cross-country to visit credit unions in southern California. The officials were guests of World Council of Credit Unions (WOCCU). "The Chinese delegation came to learn from the most developed credit union movement in the world," said Pete Crear, WOCCU's president and CEO. "That's extremely important because it provides them with tangible examples of the roles credit unions play and how effective credit unions can be in serving their members."
The Chinese delegates, who in addition to the PBC also represented the Guizhou (China) Provincial Rural Credit Cooperative Union (RCCU), visited the National Credit Union Administration and the CUNA & Affiliates/WOCCU Washington offices. Discussion topics included insurance and examination procedures, credit unions operations and public and Congressional affairs.
"We were impressed by the extensive network of rural cooperative financial institutions that have been established in China and the people's dedication to helping those of modest means in rural areas develop some degree of financial security," said Dan Mica, CUNA & Affiliates' president and CEO. "We hope they learned from their visit with us not only how credit unions are regulated in this country, but how credit unions go about making their voices heard by government officials through unfettered advocacy efforts."
The trip follows earlier visits WOCCU officials paid to China as part of an effort to assess the country's cooperative movement and the likelihood of further developing Chinese credit unions. They plan to continue those efforts as well as hold additional meetings during WOCCU's World Credit Union Conference, July 13-16 in Hong Kong, to follow up on lessons learned during the visit, Crear said.
"During their visit, delegates learned how successful credit unions serve members, which is an important distinction compared to how the banks with which they may be more familiar serve their customers," Crear said. "They were very impressed and want to continue the dialogues they started here, especially when we meet in Hong Kong."
Upon arriving in southern California, delegation members met with officials at Arrowhead Central Credit Union, WesCorp Federal Credit Union and the California Credit Union League. The delegation visited multiple branches of Arrowhead Central CU, headquartered in San Bernardino, to examine the different ways the credit union served its members, said Arrowhead president and CEO, Larry Sharp.
"There's great value in this visit with the Chinese delegation," Sharp said. "We hoped to show how the credit union model in the U.S. operates, but it's a good opportunity to learn from each other."
The last of the delegation will depart Los Angeles for Beijing Dec.17.
World Council of Credit Unions is the global trade association and development agency for credit unions. World Council promotes the sustainable development of credit unions and other financial cooperatives around the world to empower people through access to high quality and affordable financial services. World Council advocates on behalf of the global credit union system before international organizations and works with national governments to improve legislation and regulation. Its technical assistance programs introduce new tools and technologies to strengthen credit unions' financial performance and increase their outreach.
World Council has implemented 300+ technical assistance programs in 89 countries. Worldwide, 68,882 credit unions in 109 countries serve 235 million people. Learn more about World Council's impact around the world at www.woccu.org.