"Comfort is not as important to us as our lives"
WOCCU Tents Help Haiti Office Staff Stay Safe, Productive
March 23, 2010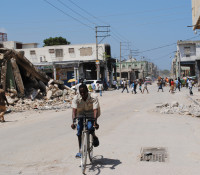 A lone bicyclist travels amid the devastation that still characterizes downtown Port-au-Prince.

DELMAS, Haiti — In post-earthquake Port-au-Prince, tents constitute valuable currency. World Council of Credit Unions' (WOCCU) initial efforts to send tents to survivors of the Jan. 12 Haiti earthquake, including staff of the HIFIVE project WOCCU administers, have brought valuable returns of good will and survival.
HIFIVE, the acronym for Haiti Integrated Financing for Value Chains and Enterprises, was launched last July in Haiti with funding from the U.S. Agency for International Development administered through the Academy for Educational Development. The HIFIVE program works across the financial sector to bring savings, credit and remittance-linked products to people living in poverty in underserved areas of the country.
Within weeks after the earthquake, WOCCU delivered 42 tents of varying sizes to Haiti with the financial and logistical assistance of Asociación de Instituciones Rurales de Ahorro y Crédito (AIRAC), WOCCU's member organization in the Dominican Republic. Of that number, tents went to each of WOCCU's 19 employees on the ground in Haiti, as well as to other microfinance agencies in need. The result was greater security for staff and more open dialogue with the partners in WOCCU's program.
"Our house did not really fall down, but we are afraid to sleep in it," said Yvon Baptiste, HIFIVE's deputy grants manager, who lives with 11 other family members in a tent pitched in the front yard of the house owned by his father's cousin in which he lives in Delmas, a Port-au-Prince suburb.
Baptiste and his family have lived in the red-and-white tent since the end of January, tapping the resources of the house but not spending any nights sleeping in the structure out of fear that it will fall down on them. Other WOCCU Haiti employees also share their tents with family members, meaning that as many as 150 people may be living in the WOCCU staff tents at any given time.
Baptiste's house has been examined by Haiti's Ministry of Public Transportation and Communication (MTPTC) which categorized the house as safe to enter. However, the WOCCU employee and his family are still not comfortable with the idea that aftershocks or even another earthquake could brings the walls and ceiling down on them in their sleep.
"The tent has no electricity or plumbing and getting up to go the bathroom in the middle of the night can be a nightmare," Baptiste said. "It's not comfortable, but comfort is not as important to us as our lives."
World Council of Credit Unions is the global trade association and development agency for credit unions. World Council promotes the sustainable development of credit unions and other financial cooperatives around the world to empower people through access to high quality and affordable financial services. World Council advocates on behalf of the global credit union system before international organizations and works with national governments to improve legislation and regulation. Its technical assistance programs introduce new tools and technologies to strengthen credit unions' financial performance and increase their outreach.
World Council has implemented 300+ technical assistance programs in 89 countries. Worldwide, 68,882 credit unions in 109 countries serve 235 million people. Learn more about World Council's impact around the world at www.woccu.org.