Corporate CUs Advise Colombian CU System on Settlement Operations
September 18, 2008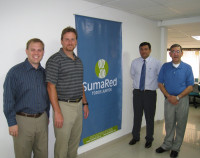 Members of the WOCCU Corporate Advisory Group, (from left) Steve Schaefer, WOCCU program manager, John Elden, Corporate One assistant vice president, systems operations, and Nick Gomez, director, product management, met with SumaRed general manager, Juan José Camargo, in Bogota, Colombia.
MADISON, Wis.—Members of the newly formed World Council of Credit Unions (WOCCU) Corporate Advisory Group traveled to Colombia last week to assess the credit union movement and current settlement systems there. The visit marked the group's first international exchange since it was established in March of this year.

Seven U.S. corporate credit unions, under the direction of the Association of Corporate Credit Unions (ACCU) Executive Committee, joined WOCCU representatives earlier this year to establish an advisory group for foreign WOCCU Services Group (WSG) offices. The group assists the WSG offices, a new model of credit union service organizations, with providing technical, operational, legal and regulatory expertise to credit unions. WSG offices currently exist in Bolivia, Colombia, Ecuador, Kenya, Mexico and Peru.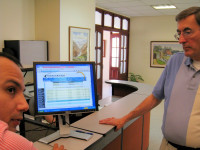 Hugo Fernando Gómez, CoopCentral director of technology, (left) explains the corporate credit union's settlement system to WesCorp's Nick Gomez (right).

SumaRed, Colombia's WSG office, currently offers consulting services and national money transfers to member credit unions. Its money transfer network uses a web-based system that transfers remittance information among credit unions, but SumaRed must manually move funds through credit union accounts at a local bank since it is not a financial institution. Though the data exchange process works well, the transfer of funds is not as efficient as it could be.
The delegation to Colombia visited SumaRed, key credit unions in three cities, the corporate credit union and two of the country's credit union regulators to assess the settlement system and provide formal recommendations for automating the process. WOCCU/Corporate Advisory Group members on the trip were Nick Gomez, WesCorp director, product management payment systems (San Dimas, Calif.), John Elden, Corporate One assistant vice president, systems operations (Columbus, Ohio) and Steve Schaefer, WOCCU program manager.
The trip was especially meaningful for Gomez, who came to the United States from Colombia when he was 18 years old.
"This was an extraordinary experience for me," Gomez said. "I left Colombia right out of high school, and even though I have been back a few times through the years, this trip gave me an opportunity to connect with the credit union movement in Colombia for the first time thanks to the initiative from the WOCCU Corporate Advisory Group.
"Credit unions are a very dynamic and critical part of the economy there with great commitment from the government to their health and prosperity," Gomez added. "There is a great opportunity to have an impact affecting the health of credit unions and millions of people there."
Juan José Camargo, SumaRed general manager, stressed the importance of the group's evaluation and analysis of the organization's current systems, products and services.
"We hope the Corporate Network sees the importance of SumaRed to the credit unions of Colombia," Camargo said. "The exchange of technical knowledge and perspectives on what services a corporate-type institution in Colombia can offer will truly allow us to position SumaRed as a fundamental source of support for credit unions now and into the future."
Brad Miller, ACCU executive director, highlighted the collaboration between the ACCU and WOCCU as a way to leverage the Corporate Network's operational and technical expertise and help strengthen the global cooperative financial system.
"This first combined effort to evaluate, design and implement a settlement system for credit unions in Colombia is an important step in improving operating methods," Miller said. "Creating an efficient transaction processing system [in Colombia] could potentially be replicated with credit unions around the globe."
U.S. corporate credit unions involved with the WOCCU Corporate Advisory Group are: Corporate One (Columbus, Ohio), First Carolina Corporate Credit Union (Greensboro, N.C.), Mid-Atlantic Corporate Federal Credit Union (Middletown, Pa.), TriCorp Federal Credit Union (Portland, Maine), Southwest Corporate Federal Credit Union (Plano, Texas), U.S. Central (Lenexa, Kan.) and WesCorp (San Dimas, Calif.).
"U.S. corporates are well positioned to play an important role in assisting WOCCU's programs throughout the world," Schaefer said. "We are grateful for their expertise and commitment-even donating their time and travel expenses-to help WOCCU ultimately reach those who need financial services the most."
About the ACCU
The Association of Corporate Credit Unions is an organization comprised of representatives from the Corporate Credit Union Network dedicated to promoting the competitive advantages of corporate credit unions and educating the public on the credit union movement.
World Council of Credit Unions is the global trade association and development agency for credit unions. World Council promotes the sustainable development of credit unions and other financial cooperatives around the world to empower people through access to high quality and affordable financial services. World Council advocates on behalf of the global credit union system before international organizations and works with national governments to improve legislation and regulation. Its technical assistance programs introduce new tools and technologies to strengthen credit unions' financial performance and increase their outreach.
World Council has implemented 300+ technical assistance programs in 89 countries. Worldwide, 68,882 credit unions in 109 countries serve 235 million people. Learn more about World Council's impact around the world at www.woccu.org.