Costa Rican Credit Union Delegations Visit Alabama Credit Unions to Further Partnerships
October 22, 2007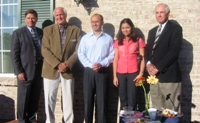 (From left to right) Gadsden Mayor Sherman Guyton, Ron Summerall, Alabama Teachers Credit Union CEO, Vinicio Fontana Jimenez, Filena Urbina Cubero and City Councilman Bill Stewart at a breakfast held Thursday at Alabama Teachers Credit Union in honor of the credit union partnership with COOPENAE. No 1.
Birmingham, Ala. — Last week and this week, four Alabama credit unions had the pleasure of hosting delegations from Costa Rican credit unions participating in the Alabama Credit Union League (ACUL), FEDEAC (the Costa Rican credit union trade association) and World Council of Credit Unions (WOCCU) coordinated partnership, which enables partner credit unions to learn about each other and explore areas of common interest and cooperation.
In addition to the ACUL's partnership with FEDEAC, the League is overseeing six direct CU-to-CU partnerships between Alabama and Costa Rican credit unions. Four of the six Costa Rican CU partners visited with their respective Alabama credit union partners: Alabama Teachers CU in Gadsden, Ala. hosted COOPEANDE, R.L.; Community CU in Gadsden, Ala. hosted COOPENAE, No 1; Family Security CU in Decatur, Ala. is hosting COOPESERVIDORES. R.L. this week; and the newest Alabama partner, Valley CU in Tuscumbia, Ala. hosted COOPEBANPO, R.L. Legacy Community FCU and Mutual Savings CU of Birmingham, Ala. are also participating in the partnership program, however, their partners were unable to visit at this time.
"Credit unions are facing the same challenges regardless of what country we do business in," said League CEO Gary B. Wolter. "The League is extremely pleased to see this partnership continuing to grow and expand as it provides opportunities for cooperative endeavors and a mutually beneficial exchange of information".
The Alabama Credit Union League's (ACUL) partnership with the Costa Rican Credit Union Movement and the World Council of Credit Unions (WOCCU), was originally formed in August of 2005, and has resulted in multiple trips back and forth between the United States and Costa Rica.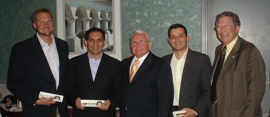 The Mayor of Tuscumbia, Bill Shoemaker (far right), presented members of the Costa Rican partnership with keys to the City of Tuscumbia in honor of their visit to the city and their credit union's ongoing partnership with Valley Credit Union. Pictured are: Thom Belekevich, WOCCU, Daniel Mora, General Manager of COOPEBANPO, Hillard Sparks, manager, Valley Credit Union, Luis Carlos Araya Villegas, IT Manager for COOPEBANPO and Tuscumbia Mayor Bill Shoemaker.
"We were especially pleased that this trip came during National Co-op Month and in the weeks leading up to International Credit Union Day," said Wolter. "The partnership enables us to showcase our movement and the cooperation between countries. We have also had the opportunity to discuss everything from shared branching, electronic transactions, and marketing to the efforts we make in reaching out within our individual communities and furthering financial education."
"The partnership between Costa Rica and Alabama is growing rapidly and I couldn't be more pleased. The partnership is not only strengthening ACUL and FEDEAC, but it has also grown to include direct technical exchange among credit unions in both countries, an ingredient that makes the relationship stronger and more inclusive...certainly two key strategic goals of the program," said WOCCU International Partnerships Manager Victor Corro.
In addition to sharing credit union–specific information, the delegations from the Costa Rican credit unions had the opportunity to experience the sights and tastes of Alabama. Two of the delegations were able to visit the Space and Rocket Center in Huntsville, and all of them were treated to tours of their respective partners' areas of the state. In addition, the delegations have been featured in local newspapers and all were treated to some of the best Alabama cuisine.
Coordinated by WOCCU and the Alabama Credit Union League, the partnership enables selected credit unions in Alabama to work with WOCCU and FEDEAC R.L., the trade association for Costa Rica's credit unions, in identifying areas of cooperation and then developing strategies for working together to share information and specialties. There are currently 70 active credit unions in Costa Rica, serving 490,545 members.
The Alabama Credit Union League represents the state's 168 credit unions and their 1.6 million members. Credit unions are not-for-profit financial institutions providing affordable financial services to people from all walks of life.
World Council of Credit Unions is the global trade association and development agency for credit unions. World Council promotes the sustainable development of credit unions and other financial cooperatives around the world to empower people through access to high quality and affordable financial services. World Council advocates on behalf of the global credit union system before international organizations and works with national governments to improve legislation and regulation. Its technical assistance programs introduce new tools and technologies to strengthen credit unions' financial performance and increase their outreach.
World Council has implemented 300+ technical assistance programs in 89 countries. Worldwide, 68,882 credit unions in 109 countries serve 235 million people. Learn more about World Council's impact around the world at www.woccu.org.