Credit Union Regulators Establish International Network
August 23, 2007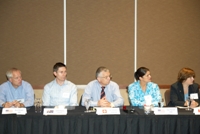 Forty-eight regulators from fifteen countries participated in WOCCU's 5th annual Regulators' Roundtable in Calgary, Canada. (l-r) Dave Marquis, USA, Lyndon Kingston, Australia, Karl Cordewener, Switzerland, Gigi Hyland, USA and Martine Bouille, Canada.
Madison, WI—A group of 48 regulators from 15 countries formed the first-ever Credit Union Regulators Network during the 5th annual Regulators' Roundtable at World Council of Credit Unions' (WOCCU) 2007 World Credit Union Conference in Calgary, Canada.
Andy Poprawa, President and CEO of Deposit Insurance Corporation of Ontario, Canada, proposed forming the Credit Union Regulatory Network in order to share information and ideas about issues of common interest and to undertake research on specific issues or topics.
Gigi Hyland, Board Member for the National Credit Union Administration in the United States, said the roundtable meetings afforded her the unique opportunity to share experiences with regulators from across the world: "While there are certainly differences in regulatory systems, they are outweighed by the significant commonalities, and we can all learn a great deal from each other," she said.
Membership in the Credit Union Regulators Network is open to all entities that have statutory supervisory authority for credit unions in their respective jurisdictions. Each member of the network will contribute US$200 to join and pay a nominal conference fee to help cover the cost of hosting the annual meeting. The membership fee may be adjusted based on the size of the country's credit union system.
A steering committee of representatives from seven regions across the world will lead the network and WOCCU will serve as the secretariat. The steering committee's role is to help coordinate the network and to assist WOCCU in organizing the annual Regulators' Roundtable. The steering committee representatives serving the 2007-2008 term are:
Africa: Fredrick Odhiamba, Kenyan Ministry of Co-operative Development and Marketing
Asia/Pacific: Lyndon Kingston, Australian Prudential Regulatory Authority
Canada: Andy Poprawa, Deposit Insurance Corporation of Ontario
Eastern Europe: Wictor Kaminski, NACSCU, Poland
Latin America/Caribbean: Neri Matus, Central Bank of Belize
United States: Dave Marquis, National Credit Union Administration
Western Europe: James O'Brien, Financial Regulator, Ireland
The Credit Union Regulatory Network will convene next at the World Credit Union Conference in Hong Kong, July 12-13, 2008. For more information on becoming a member, contact David Grace, WOCCU Vice President, Association Services at dgrace@woccu.org/608-395-2087 or any of the steering committee members.
World Council of Credit Unions is the global trade association and development agency for credit unions. World Council promotes the sustainable development of credit unions and other financial cooperatives around the world to empower people through access to high quality and affordable financial services. World Council advocates on behalf of the global credit union system before international organizations and works with national governments to improve legislation and regulation. Its technical assistance programs introduce new tools and technologies to strengthen credit unions' financial performance and increase their outreach.
World Council has implemented 300+ technical assistance programs in 89 countries. Worldwide, 68,882 credit unions in 109 countries serve 235 million people. Learn more about World Council's impact around the world at www.woccu.org.