Credit Unions: No Longer a Place, but an App
World Credit Union Conference Speaker Predicts Major Financial Business Changes
July 18, 2012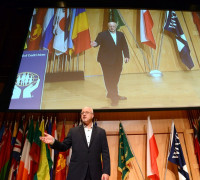 This is an exciting time for credit unions but a terrifying time for credit union executives, Brett King told his closing general session audience.
GDAŃSK, Poland — Some believe that in the future, "banking" will no longer refer to a specific place, but a life process for consumers. For author Brett King, that future is now, and credit unions not prepared for the transformation already engulfing the financial services industry will not have much of a future themselves.
"This is an incredibly exciting time for credit unions," said King, author of the forthcoming book Bank 3.0 and the closing speaker for World Council of Credit Unions' World Credit Union Conference in Gdańsk, Poland. "But it is a terrifying time for credit union executives."
What is frightening about this future is the dramatic shift technology has brought not only to how financial services are delivered, but also to the capabilities and preferences of future generations of members — "digital natives" — for whom new technology is not new, but the only processes they have known. It is up to credit unions to meet the nature and needs of those consumers or lose them to the competition, according to King.
"The perceptions of what credit unions are in the world will change over the next 10 years," King said. "How will you build a great journey for your members? That's the trick."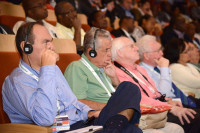 Audience members learned lessons about the future of credit unions.
Through Internet access and, especially, smartphone technology, credit union business has become something members do at a time and place that suits their needs, and those needs rarely include a visit to a branch. In fact, smartphone technology has taken the place of other transaction devices, such as debit cards, due to its capability to complete transactions with the flick of an "app" (application) and display account balance information in real time.
"The iPhone has become a proxy for the debit card," King said. "It's the debit card of the future."
King cited the Kenyan cellphone-based transaction company M-PESA ("pesa" is Swahili for "money") as the world's fastest growing "bank" based on its widespread usage and growing market penetration. Currently, 20% of Kenya's population of 40 million have financial institution accounts, while 50% have M-PESA relationships that enable them to transfer cash, pay bills and perform other basic financial services.
Kenya's figures roughly translate to those of the entire world, King said, in which 60% of the global population are unbanked, but 85% have cellphones. King predicted that by 2017, the entire population with have smartphones and most of them will be using them for financial transaction services, especially those members labeled Generation Y.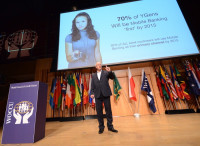 Generation Y members are mobile-first, which will change the way credit unions do business, King said.
"By 2020, about half of your credit union member population will be Gen Y," he explained. "They will be mobile-first, and that will be their preferred way to do business."
The changing reality will spell the end to many credit union branches, said King. "If you think the branch is the place that the magic happens, where you define your relationship with your members, then you are in trouble," he added.
The best option? Redefine your credit union so it is a no longer a destination, but a provider of "apps" that enable members to gain crucial information when and where they need it. Such thinking will close the gap that is developing between credit unions and their members, opening the door for a new generation of digital natives who may even sing your praises through social media.
"It is all about the context in which you operate," said King. "Financial services need to be part of the journey, and you need to become embedded in the lives of your members."
King went into even greater depth during Wednesday's "Bacon, Eggs & Business Experts," one of the conference's two separate-fee breakfast sessions that started the day. In between, breakout session audiences looked at increasing regulatory reporting requirements, studied lessons in credit union lobbying and learned to cultivate social responsibility as part of sustainability.
The remainder of the World Credit Union Conference, which ends today, will include World Council's annual awards ceremony and a closing night reception at the historic Gdańsk shipyard, the birthplace of Poland's Solidarity movement.
World Council of Credit Unions is the global trade association and development agency for credit unions. World Council promotes the sustainable development of credit unions and other financial cooperatives around the world to empower people through access to high quality and affordable financial services. World Council advocates on behalf of the global credit union system before international organizations and works with national governments to improve legislation and regulation. Its technical assistance programs introduce new tools and technologies to strengthen credit unions' financial performance and increase their outreach.
World Council has implemented 300+ technical assistance programs in 89 countries. Worldwide, 68,882 credit unions in 109 countries serve 235 million people. Learn more about World Council's impact around the world at www.woccu.org.