Credit Unions and WOCCU: Vehicles for HIV/AIDS Prevention
February 02, 2007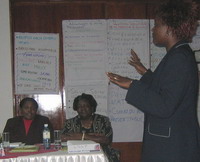 (Right) An instructor goes over the HIV/AIDS prevention materials for the 2 week program.
Madison, WI—As part of the World Council of Credit Unions' Cooperative Development Program, twenty-seven credit union leaders, volunteers and members from the Mwalimu SACCO (credit union) complete a 10 day intensive training program on HIV/AIDS prevention in Nairobi, Kenya today. These participants are the first group of peer leaders at Mwalimu.
Agnes Kamene Muema, a teacher at the Kinyui Girls Secondary School in Tala, Machakos and a member of Mwalimu SACCO shared, "I have gained a lot of knowledge. This training will strengthen my self confidence to talk with my with my colleagues at school about the facts on HIV/AIDS, the very personal behavioral issues around it, and also with the girls I teach." She continued, "There are a lot of rumors and myths around HIV/AIDS. Most people do not know the facts. After completing this training I will be able to tell them real facts on HIV/AIDS."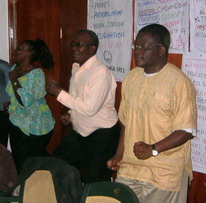 Participants learn about group exercises to help dispel myths about HIV/AIDS.
The next step for these peer leaders is to train five selected peer educators (also from the credit union's membership) in order to receive certification as an HIV/AIDS peer leader from the JHPIEGO Corporation, the non-profit health organization affiliated with Johns Hopkins University that is implementing the training and certification of peer leaders program. The training course includes segments on presentation skills, as well as basic facts about HIV/AIDS, comprehensive HIV/AIDS care and prevention, assessing HIV/AIDS risk and behavior change.
The Mwalimu SACCO was a natural choice to participate in the Peer-to-Peer education program, with its membership being made up of 45,000 secondary teachers throughout Kenya. Catherine Ford, World Council's Cooperative Development Program manager, shared, "Who better than teachers to educate credit union members and the community."
Participants were chosen from over 400 applicants in 8 different regions of Kenya that applied to attend the 2 week educational program on HIV/AIDS prevention. Both peer leaders and peer educators will be responsible for disseminating information in schools, community events, public forums and other avenues.
Millicent Dahiambo, teacher at Majengo Mixed Secondary School remarked, "I have learned now that we have to talk openly and frankly about the facts about HIV/AIDS - with our colleagues, our students, our husbands, our boyfriends, our neighbors, our brothers and sisters, every body. Here we learn not to be shy about the facts."
The program is counting on the facts and the interest in the program to have an impact behavior and transmission rates of HIV/AIDS. WOCCU's Cooperative Development Program is funded by the U.S. Agency for International Development (USAID).
USAID administers the US foreign assistance program providing economic and humanitarian assistance in more than 80 countries worldwide.
World Council of Credit Unions is the global trade association and development agency for credit unions. World Council promotes the sustainable development of credit unions and other financial cooperatives around the world to empower people through access to high quality and affordable financial services. World Council advocates on behalf of the global credit union system before international organizations and works with national governments to improve legislation and regulation. Its technical assistance programs introduce new tools and technologies to strengthen credit unions' financial performance and increase their outreach.
World Council has implemented 300+ technical assistance programs in 89 countries. Worldwide, 68,882 credit unions in 109 countries serve 235 million people. Learn more about World Council's impact around the world at www.woccu.org.