Credit for Agriculture Producers Project Holds Formal Launch to Develop Ukraine's Credit Unions
Joint Press Release from VEGA Alliance & World Council
April 11, 2017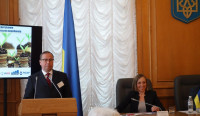 From left, Senior Policy Advisor Pawel Grzesik and Chief of Party Ewa Sierzynska
KYIV, Ukraine - On April 5, 2017 major stakeholders celebrated the launch of The Credit for Agriculture Producers (CAP) Project, a four-year project (2016-2020) funded by the United States Agency for International Development (USAID) and implemented by VEGA Member World Council of Credit Unions (WOCCU) in partnership with VEGA. The event took place during the meeting of the Committee on Financial Policy and Banking of Verkhovna Rada of Ukraine—crucial partners in the process of registration and adoption of the new draft Law on Credit Unions.
In her speech, Chief of Party for the CAP Project Ms. Ewa Sierzynska emphasized the importance of the adoption of new updated legal standards governing credit unions' operations, which will encourage an increase in their contribution to the development of rural agriculture, and she highlighted the critical role they play in the provision of financial services and education in remote rural areas. The aim of the project is to strengthen the credit union sector in Ukraine to improve the quality of the financial services and products offered to farmers and other agribusinesses in rural areas of Ukraine.

In particular, since the beginning of the project's activities, the CAP Project contributed to the development of the updated draft law "On Credit Unions of Ukraine" in close cooperation with the Ukrainian National Association of Savings and Credit Unions and the All-Ukrainian Credit Union Association, the National Commission on Regulation of Financial Services Markets, and other relevant state authorities and organizations. Innovations to the draft law are aimed at improving the regulatory environment for the accelerated development of credit union cooperation and to unveil credit unions' potential; creating conditions and efficient opportunities to expand small and medium-sized producers' access to financial resources.
After the presentation of the project there was a discussion of the updated draft law among the People's Deputies of the Verkhovna Rada of Ukraine—members of the Committee on Financial Policy and Banking.
Furthermore, the CAP Project will tap into one of America's best resources—its highly skilled citizens and spirit of volunteerism. A total of 64 volunteers from the U.S and Poland, including Ukranian diaspora, will provide high-level expertise and mentorship throughout the program. This person-to-person diplomacy will help forge responsive partnerships with Ukranian counterparts for more sustainable results.
For additional information about The Credit for Agriculture Producers (CAP) Project, please visit:
Call Ewa Sierzynska, Chief of Party, (+380)-67-310-6888