Demand Rising for Mobile Technologies in Financial Institutions, Expert Says
Monday's speakers predict future of mobile payment strategies at World Credit Union Conference
July 16, 2013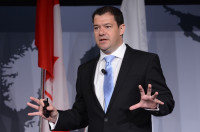 Successful mobile technologies increase convenience, consolidate activities and integrate with other aspects of consumers' daily lives, mobile technology expert Ian Shelley told general session participants.

OTTAWA, Canada — As mobile technology's rate of innovation and the rise in consumer demand create uncertainty among financial institutions around the world, credit unions must consider mobile transaction strategies that are convenient, consolidated and integrated for their members, according to mobile technology expert and adviser Ian Shelley. During Monday's general session at World Council of Credit Unions'
World Credit Union Conference
, Shelley reinforced that the future of credit union services is mobile commerce.
Shelley, who was the keynote speaker at Monday's session, shared his mobile technology predictions with a packed room of attendees. Shelley directed his perspectives on opportunities and risks to the credit union movement, stressing the need for financial cooperatives to provide multifunctional, integrated and data-driven mobile payment solutions to satisfy members' needs and to stay relevant in the marketplace.
"Ultimately everyone is going to move toward wanting mobile transactions," Shelley said. "There are more benefits than just the transaction you should think about. The cost of the transaction will be cheaper than any other channel."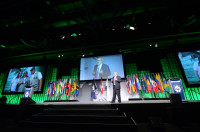 Credit unions succeed when they provide multiple channels of service for their members, Brian Branch told Monday's general session audience.
Credit unions must accept that mobile technology will continually disrupt the payments ecosystem and require adaptation to a new set of competitors, Shelley noted. As technology advances, the range of products in the market will consolidate over time. To keep up, credit unions must find their niche and identify the partners who can help them offer mobile channels and products that increase convenience, consolidate activities and integrate with other aspects of members' daily lives.
"What you're seeing is integration of pretty much every channel — the integration of everyday life," Shelley said. "It feels as though this is something we can marry together with financial transactions."
Credit unions face the same challenges around the world, including consumers' demand for greater convenience and access, which drives the need for credit unions to provide multiple channels of service, according to Monday's opening speaker Brian Branch, World Council president and CEO. Credit unions face the challenge of keeping up with information communication technologies in doing so.
"What is so striking is the creativity and innovation in the diversity of answers to these challenges," Branch told the general session audience. "This week at the conference, we will form a global community to share creativity that responds to the changes in technology of communications, payments and commerce."
Credit unions in high-growth markets tend to offer access to multiple channels for payments and mobile technology, according to Branch. World Council's member organizations and associations list their greatest priorities as regulatory compliance relief and building the capacity of their credit unions to respond to the demand for mobile channels of delivery. As worldwide Internet access rises, mobile transactions will soon overtake online transactions — which overtook branch transactions in recent years.
"As the Internet becomes increasingly available, cheaper and faster, transactions and business shift to the Internet and are accessed by mobile devices," Branch said. "According to the International Telecommunication Union, by the end of 2011, one-third of the world population had access to the Internet. By 2015, it projects that 60% of the world population will have Internet access."
Monday finished with a variety of breakout sessions that followed educational tracks on leadership and strategy, technology, international credit union experience, advocacy and governmental affairs and innovative solutions. Three of the 10 sessions focused on mobile technology.
The 2013 World Credit Union Conference runs through July 17. Follow conference activities, including daily event photos, on World Council's Facebook and Twitter pages at www.facebook.com/WOCCU and www.twitter.com/WOCCU using #WCUC2013.
World Council of Credit Unions is the global trade association and development agency for credit unions. World Council promotes the sustainable development of credit unions and other financial cooperatives around the world to empower people through access to high quality and affordable financial services. World Council advocates on behalf of the global credit union system before international organizations and works with national governments to improve legislation and regulation. Its technical assistance programs introduce new tools and technologies to strengthen credit unions' financial performance and increase their outreach.
World Council has implemented 300+ technical assistance programs in 89 countries. Worldwide, 68,882 credit unions in 109 countries serve 235 million people. Learn more about World Council's impact around the world at www.woccu.org.