East African SACCOs, Supported By WOCCU, Are Making Progress
June 21, 2004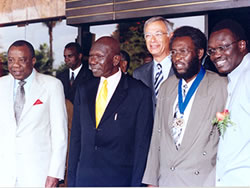 (r-l)Okello N'Jaramba, Chairman of KUSCCO Kenya; Jackson Rwakishaija, chairman of UCSCU, Uganda; Arthur Arnold, President and CEO, WOCCU; Honerable Moody Awori, Vice President of Kenya; Honorable Peter Ndwiga, Kenya's Minister of Cooperative Development and Marketing.
Nairobi, Kenya—250 Savings and Credit Co- operative (SACCO) leaders from six different countries in Africa met earlier this week for the 3rd East African Regional SACCOs Association (EARAS) conference in Kenya, where World Council of Credit Unions, Inc. (WOCCU) president and CEO Arthur Arnold spoke on credit union legislation and economic growth. The Honorable Moody Awori, Vice President of Kenya, and the Honorable Peter Ndwiga, Kenya's Minister of Cooperative Development and Marketing, officially opened the conference, which was co-chaired by Jackson Rwakishaija, chairman of UCSCU Uganda and Okello N'Jaramba, newly elected chairman of KUSCCO Kenya. Edward Mudibo, managing director of KUSCCO and secretary of EARAS, managed operations for the event. Both Awori and Ndwiga called upon the audience from Uganda, Kenya, Tanzania, Seychelles, Ethiopia and Malawi, to put pressure on their respective governments for proper legislation and regulation for SACCOs. They referred to the recent progress made in Kenya, where Parliament will soon pass new legislation drafted with the help of WOCCU and KUSCCO, a World Council member.
Included in the legislation is a SACCO Regulatory Act being considered for quick approval that would significantly improve the supervision of Kenyan SACCOs, with the aim of maintaining the standards outlined in WOCCU's PEARLS monitoring system. These new laws would benefit not just SACCO members, but the Kenya public at large. The proposed legislation came about partially as a result of several WOCCU-facilitated fact- finding visits by delegations of Kenyan SACCO leaders and government authorities to the National Credit Union Administration (NCUA) and Pennsylvania Credit Union Association (PCUA), in the context of the International Partnership between Kenya, PCUA and WOCCU. In his keynote remarks, "Making or Breaking the World," Arthur Arnold, WOCCU's president & CEO, congratulated the SACCO movements in the Eastern African Region for their cooperation. "Eastern Africa is taking the lead on the continent. Africa has to go for growth, in particular in the rural areas where 80% of the population is located and mostly lives from agriculture. Without access to affordable financial services, that growth will never materialize," Arnold stated.
"That's where SACCOs come in...micro finance, funded by micro savings—creating sustainable, self funded micro-enterprises, including micro- agribusiness. Let's not forget that's how credit unions in the rest of the world started more than 150 years ago, in the rural areas. Small business is the driving force for growth and the backbone for creating new employment," Arnold continued. Arnold stressed the need for increased growth in Africa throughout his speech. "Growth in Africa is on the rise, more than 4 % in 2004. This is great, however, it's not good enough. [In the next decade] China and India will grow by about 10%, as they did in the last 10 years," Arnold stated, offering a challenge to his audience: "Africa can do better, starting here in Eastern Africa. SACCOs will play a very important role to make that happen." Arnold emphasized the need for "Good Governance" to fight corruption, the number one enemy of growth in Africa. During a separate workshop, he shared with the African audience WOCCU's work-in- progress guidelines for Corporate, Collective and Individual Governance Best Practices, a project that will be finalized by the end of the year. Arnold also explained the value of sharing investments in ITC, which otherwise would be beyond the means of SACCOs in Africa.
"WOCCU, with its partners, Canadian Cooperative Association and Irish Credit Union Foundation, will organize for the SACCO leaders in Africa, the 5th Africa SACCA Congress in Swaziland, October 11-15, 2004, where we shall share best practices regarding good governance, pricing of products and services, sharing ITC: a must, advocating and promoting SACCOs with legislators and regulators and how to deal with the impact of HIV-AIDS, case studies of success stories in SACCO development and other topics," Arnold concluded at the closing of the conference.
The national media, television, radio and newspapers covered the three-day conference extensively, with interviews of Kenya's Vice President Awori, Minister Ndwiga and WOCCU's Arnold. For more information on the 2004 SACCA Congress, please visit the World Council website at www.woccu.org/regional
World Council of Credit Unions is the global trade association and development agency for credit unions. World Council promotes the sustainable development of credit unions and other financial cooperatives around the world to empower people through access to high quality and affordable financial services. World Council advocates on behalf of the global credit union system before international organizations and works with national governments to improve legislation and regulation. Its technical assistance programs introduce new tools and technologies to strengthen credit unions' financial performance and increase their outreach.
World Council has implemented 300+ technical assistance programs in 89 countries. Worldwide, 68,882 credit unions in 109 countries serve 235 million people. Learn more about World Council's impact around the world at www.woccu.org.