European Network of CUs Engages EU Policymakers on Basel Rules, FATCA and Financial Inclusion
May 16, 2013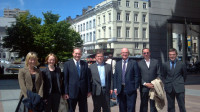 ENCU representatives meeting with policymakers in Brussels included (from left) Anne Schneider, Policy Action; Breege-Anne Murphy, ILCU; Michael Edwards, World Council; Ed Farrell, ILCU; Brian McCrory, ILCU; Paweł Grzesik, NASCU (Poland); and Matt Bland, ABCUL.
BRUSSELS — Representatives from the European Network of Credit Unions (ENCU) and World Council of Credit Unions met with European Union (EU) policymakers in Brussels on May 14–15. The group advocated for a number of issues affecting European credit unions, including reasonable interpretation of Basel Committee liquidity rules; the U.S. Foreign Account Tax Compliance Act (FATCA) and related European rules; and the provision of basic current accounts to the unbanked in order to promote financial inclusion.
ENCU representatives included Matt Bland, Association of British Credit Unions, Ltd. (ABCUL) policy and communications officer; Paweł Grzesik, National Association of Co-operative Savings and Credit Unions (NACSCU) Warsaw representative (Poland); Brian McCrory, Irish League of Credit Unions (ILCU) director; Ed Farrell, ILCU head of finance; and Breege-Anne Murphy, ILCU legal and secretariat department supervisor.
Regarding the EU's interpretation of Basel liquidity rules, the ENCU group met with the European Commission to urge that credit unions be treated similarly to other depository institutions in terms of how credit union deposits at banks are treated under the Basel "Liquidity Coverage Ratio." Though credit unions are not subject to the Liquidity Coverage Ratio, commercial banks in Ireland have told Irish credit unions that they are being classified as "non-bank financial institutions" — a category that applies to non-depository institutions — for purposes of draft European liquidity guidance. Banks are therefore cutting the yields they will pay on credit union demand and term deposits. This treatment under the EU's Basel liquidity rules may cost the Irish credit union movement as much as €58 million a year in lost income unless clarified by EU regulators to grant credit unions more favorable treatment. ENCU representatives will engage the European Banking Authority on this issue next week in London.
"We believe that there has been some level of confusion regarding classification of credit unions for Basel liquidity purposes in Ireland and possibly other member states," said Michael Edwards, World Council vice president and chief counsel. "We will continue to engage European authorities on this issue to seek an outcome that is satisfactory for credit unions."
ENCU members also met with European Commission representatives regarding the impact of FATCA on EU credit unions as it relates to European data protection regulations as well as the likely upcoming tax information-sharing amendments to EU directives in order to create what some have called a "European FATCA." Though the European Commission envisions the European version of FATCA will focus on tax information-sharing within the EU, they also expect the Paris-based Organization for Economic Co-operation and Development to establish a global version of FATCA that would apply to credit unions in all, or most, jurisdictions in the world.
ENCU members also urged European Commission members to consider credit union-friendly rules on basic current accounts for the unbanked. The measures would allow credit unions to continue engaging in outreach to underserved individuals without creating undue regulatory burdens. Representatives discussed with policymakers the EU's upcoming directive on deposit guarantee schemes and forthcoming revisions to the EU's anti-money laundering directive.
ENCU is a network of national credit union associations in Europe and World Council representatives who educate and engage with EU policymakers and other stakeholders on legislation that affects credit unions. ENCU was formally established in 2010 and is based in Brussels. Learn more at www.creditunionnetwork.eu.

World Council of Credit Unions is the global trade association and development agency for credit unions. World Council promotes the sustainable development of credit unions and other financial cooperatives around the world to empower people through access to high quality and affordable financial services. World Council advocates on behalf of the global credit union system before international organizations and works with national governments to improve legislation and regulation. Its technical assistance programs introduce new tools and technologies to strengthen credit unions' financial performance and increase their outreach.
World Council has implemented 300+ technical assistance programs in 89 countries. Worldwide, 68,882 credit unions in 109 countries serve 235 million people. Learn more about World Council's impact around the world at www.woccu.org.