Executive Readiness Summit Acts to Solve Female Pipeline Problem
World Council's Global Women's Leadership Network Hosts Inaugural Summit atop the Aon Center
November 20, 2017
CHICAGO—The World Council of Credit Unions' Global Women's Leadership Network held its first annual Executive Readiness Summit Nov. 13-15, 2017, intent on cultivating more women for leadership positions within credit unions.
"In 2015, we concluded research with Filene Research Institute to understand what was precluding women from summiting the C-suite. One of the challenges we found is the pipeline problem," Calyn Ostrowski, Worldwide Foundation Executive Director, explained in her opening remarks. "Women often start working for credit unions in lower-level roles and departments that do not lead directly to the executive suite. Simultaneously, conversations with credit union recruiters and HR directors noted the difficulty of identifying women to join the pipeline for open C-suite positions." Thus, the Executive Readiness Summit was born.
Why does this matter? "Women control 80 percent of the global wallet," Ingrid Vanderveldt, CEO of Empowering a Billion Women by 2020, said during her presentation at the Summit, but 91 percent of women feel advertisers don't understand them. That kind of disconnect can break a business and more women in C-suite positions can help fill that gap.
SuiteTrack Managing Partner Erin Wolf, the facilitator of the two-day Summit, believes the unwritten rules of business may be holding women back from the C-suite. While 70 percent of smaller credit unions may be run by women, only 14 percent of the billion-dollar credit unions are led by a female CEO," she said.
Eventually women may be able to change some of the rules, but, "Before you disrupt the rules, you have to know there's a game going on," Wolf quipped of her 10 Unwritten Rules. Rules like always raise your hand to get picked for a team and if you're 20 percent ready, you're 100 percent ready. Wolf explained further that women often make sure they have all the skills necessary before moving into a higher position, whereas men are entirely confident at 20 percent readiness.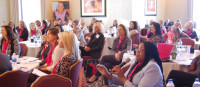 A panel of experts tackled the preparations necessary to summit the C-suite, including Korn Ferry Senior Leader Mike Juratovac; Korn Ferry Principal Amanda Boron; CommunityAmerica Credit Union CEO Lisa Ginter; and Collins Community Credit Union Chair Marsha Schulte. During your executive leadership climb, Ginter advised, always identify and then fill the skill and knowledge gaps you find. Boron also said it's critical to have multiple sponsors to absorb input from a variety of viewpoints. Juratovac added, in response to a question from moderator Angela Russell, CUNA Mutual Group manager for diversity and inclusion, that the skills and competencies he's looking for when it comes to 'executive presence' during a credit union CEO search is the ability to 1) create a high-level team, 2) work at the board level, and 3) drive and execute on strategy. It's important however, Schulte added, to make sure once you get to the C-suite you don't run yourself ragged and into health issues as she did.
Run your own race. That was the theme of Tuesday morning keynote speaker CU Innovate CEO Stacie VanDenBerghe's remarks. She referred to the 1967 Boston Marathon in which Kathy Switzer was the first woman to register under her own name and run, despite the race director trying to yank her off the course. Among her leadership lessons were: Never let anyone intimidate you, work for and with people who believe in you, know your value, no one will believe in you if you don't believe in you, never stop learning, and you don't have to be liked to be respected.
To help start Summit participants on their journey to the C-suite, everyone completed and received the results of a DiSC assessment, which helps determine your personality style and its strengths and weaknesses to work on. Wolf and the group discussed and analyzed these reports at length. Additionally, attendees were provided a Personal Action Plan to guide the way to the C-suite Summit.
"Our goal is to maximize your talents so you can be equipped with skills that make you bigger, better, and bolder leaders tomorrow; ultimately leading to an increased ready-now and ready-soon pool of C-suite candidates," Ostrowski concluded. The GWLN Executive Readiness Summit was sponsored by PSCU, CUNA Mutual Group, CUNA, Numerica Credit Union and CUES.

World Council of Credit Unions is the global trade association and development platform for credit unions. World Council promotes the sustainable development of credit unions and other financial cooperatives around the world to empower people through access to high quality and affordable financial services. World Council advocates on behalf of the global credit union system before international organizations and works with national governments to improve legislation and regulation. Its technical assistance programs introduce new tools and technologies to strengthen credit unions' financial performance and increase their outreach.
World Council has implemented 300+ technical assistance programs in 89 countries. Worldwide, 85,400 credit unions in 118 countries serve 274 million people. Learn more about World Council's impact around the world at www.woccu.org.