First CU ATM Network In Mexico Launched by Caja Libertad
October 19, 2004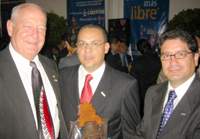 l-r: Gary Plank, WOCCU 1st vice chairman; Juan Pablo Rangel, Caja Libertad CEO, and Cesar Izurieta, director of services
Madison, WI—Mexico's second largest credit union recently launched the country's first non-bank ATM network, LIBERred. A crowd of more than 450, including Francisco Garrido Patron, governor of Queretaro; Gary Plank, president of the Arizona Credit Union League and 1st vice chairman of World Council of Credit Unions (WOCCU); Aaron Silva Nava, Deputy Director, BANSEFI and personal delegate to President Vicente Fox; Armando Rivera, mayor of city of Queretaro and other government officials were guests at Caja Libertad's October 15th launching ceremony.
Plank delivered a speech at the event noting, "You [Caja Libertad] are showing that progress is possible through hard work and persistence. We are convinced that this is not going to be an isolated event, but a fundamental step on the path that brings service and satisfaction to Caja Libertad's most important individuals: its members."
In January of 2003, World Council launched a one- year technical assistance program at Libertad. According to Cesar Izurieta, Libertad's director of services, "WOCCU played a key role in the development of Caja Libertad. Libertad has always been on the vanguard of credit unions, but WOCCU has helped it to better understand and incorporate the modern credit union philosophy." Today the organization is one of WOCCU's biggest supporters.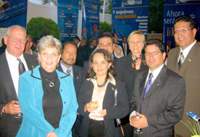 The Arizona Credit Union League delegation poses with International Partner, Caja Libertad
As of today, the first 50 ATMs have gone live. By the end of the first quarter of 2005, 25 more will have been added, for a total of 75. Then Libertad will begin Phase II. For the second phase of the project, ATMs will be installed in companies and malls throughout Queretaro and Guanajuato—the states in which Libertad has the largest presence.
Though concentrated in these states, Libertad is a major player nationwide, with 69 branches spanning 12 states and 32 cities. Over 480,000 members across Mexico benefit from its services, and its combined assets total US$365 million. Next year the credit union will open six new branches in the states of Nuevo Leon and Coahuila, all with ATMs, as well as four new rural branches in Veracruz.
With such a large member base, Libertad's new ATM service will have an important impact on the financial lives of many. Izurieta stated, "As Caja Libertad's members have easier access to their money, they will save more. We think the best way to stimulate greater savings is to provide easy access to the funds saved."
Libertad foresees positive changes for itself as a result of the new ATM service as well. Representatives estimate that it will attract new members and encourage existing members to transfer savings they have in other institutions to the credit union because of the improved access, raising Libertad's funding base.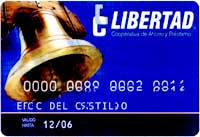 The ATM project has been in development for some time, gathering steam when Libertad, through the WOCCU's International Partnerships program, joined forces with the Arizona Credit Union League (ACUL) in October, 2003. Shortly thereafter, representatives from Mexico traveled to Arizona to observe the operation of ATMs in several credit unions there. Other members of the ACUL in attendance at the launching ceremony included Pat Bodner, Emma Garcia and Laura Lowe Edgar.
Caja Libertad serves as an example for the Mexican credit union system, as it will continue to break new ground when it negotiates the entrance of its debit cards into the national and international bank networks. One step at a time, Libertad is introducing Mexico's underserved to a wide array of important financial services.
World Council of Credit Unions is the global trade association and development agency for credit unions. World Council promotes the sustainable development of credit unions and other financial cooperatives around the world to empower people through access to high quality and affordable financial services. World Council advocates on behalf of the global credit union system before international organizations and works with national governments to improve legislation and regulation. Its technical assistance programs introduce new tools and technologies to strengthen credit unions' financial performance and increase their outreach.
World Council has implemented 300+ technical assistance programs in 89 countries. Worldwide, 68,882 credit unions in 109 countries serve 235 million people. Learn more about World Council's impact around the world at www.woccu.org.