First Remittances Making Way through IRnet® Coop Kenya
December 21, 2006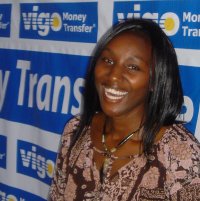 Beatrice Wainaima, one of the first remittance receivers through IRnet® Coop Kenya.
Madison, WI—People in Nairobi, Kenya, recently enjoyed a day of entertainment and remittance education with the official launch of IRnet® Coop Kenya at Kenya Bankers Savings and Credit Co-operative (SACCO).
With Kenyans abroad sending more than $600 million every year to friends and family back home, World Council of Credit Unions, Inc. and shareholding SACCOs in Kenya established IRnet® Coop Kenya to provide a fast, safe and convenient way to transfer money. Through the network, people can send remittances through any Vigo Remittance Corp. agent or participating credit union in the United States to a participating SACCO in Kenya. Members and non-members alike may use the service.
Kenya's commissioner for cooperatives with the Ministry of Co-operative Development and Marketing, Frederick Odhiambo, was at the event and congratulated IRnet® Coop Kenya for coming at a time when the cooperative movement faced increasing competition and the challenge to meet increasing member needs.
Odhiambo also received a remittance through the network at Kenya Bankers SACCO during the event. After providing the sender's reference number, his photo ID and upon completing a simple form, Odhiambo received the $10 money transfer from Madison, Wisconsin, within a half hour after it was sent.
A "roadshow team" performed a series of entertaining and interactive skits throughout the day at key locations in Nairobi to educate the public on the benefits, mechanics and availability of IRnet® Coop Kenya. Team members also distributed flyers and answered questions on the new service.
Remittances Serving the Greater Community
Though not a SACCO member, Beatrice Wainaima was one of the first people to receive a remittance via IRnet® Coop Kenya.
Her husband, a professional runner currently living in Brooklyn, New York, sends her money twice a month to Kenya Bankers SACCO in Nairobi. Until she can obtain a visa to join him in the US, Beatrice uses the money to cover house payments, food and transportation. She has also invested some of the money into a small clothing store she recently opened. Beatrice said that she uses IRnet® Coop Kenya because she values the customer service and low-cost alternative.
By providing means to receive international remittances, SACCOs are meeting a crucial need of the greater community and attracting potential members like Beatrice Wainaima.
World Council of Credit Unions is the global trade association and development agency for credit unions. World Council promotes the sustainable development of credit unions and other financial cooperatives around the world to empower people through access to high quality and affordable financial services. World Council advocates on behalf of the global credit union system before international organizations and works with national governments to improve legislation and regulation. Its technical assistance programs introduce new tools and technologies to strengthen credit unions' financial performance and increase their outreach.
World Council has implemented 300+ technical assistance programs in 89 countries. Worldwide, 68,882 credit unions in 109 countries serve 235 million people. Learn more about World Council's impact around the world at www.woccu.org.