First WOCCU Cooperative Learning Tour Returns from Ecuador
July 03, 2007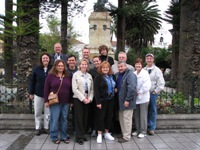 Inaguaral WOCCU Cooperative Learning Tour Participants, June 2007, Cuenca, Ecuador. (f-b, l-r) Chartier, Breunig, Benz, Sim, Betsy Lay. Row 2: Todd, Chan, Stankovic, Link, Thomas. Row 3: Jake Lay, Belekevich, Ney.
Madison, WI—Thirteen credit union leaders from four countries returned home recently from World Council of Credit Unions' (WOCCU) inaugural Cooperative Learning tour in Ecuador. The leaders participated in the one-week intensive experience reconnecting with their cooperative roots and studying cooperative management issues.
Cooperativa Jardín Azuayo (CJA), a credit union that grew in the aftermath of a 1993 environmental disaster in Ecuador, hosted the group. Participants toured CJA education projects and branch offices and met with managers and elected leaders to learn about innovative CJA activities including indirect lending, community partnerships, cooperative education, a for-profit subsidiary and the credit union's unique management structure.
"Our international credit union delegation was often struck by the contrast of high tech and high touch components," said Worldwide Foundation Executive Director and trip leader Valerie Breunig. "We saw a credit union Movil program in which cell phones checked account balances and transfered money. It's a very successful program that enables CJA to better serve underserved communities."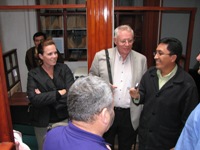 Miguel Villalta, right, CJA IT Coordinator, explains how the credit union handles power outages to WOCCU tour participants Stankovic, Link and Sims.
"We also discussed how this credit union could bring debit cards to market in a country where credit union share draft (checking) is not legal. When we visited a local library that had few books and a series of new computer internet stations, we realized the extent to which Ecuador is using technology to leap forward," Breunig added.
Following the CJA visits, the WOCCU group also visited four credit union members to see their businesses, learned about World Council's credit union building projects in Ecuador and participated in the opening of a credit union telecenter—a credit union-owned community business center which offers free internet access and small business services to the community.
The group was struck by the true credit union difference while sharing a meal with CJA members Margarita and Geranamo. Breunig recounted the story: "Margarita told us how before joining the credit union, her husband Geranamo traveled to work in other regions, and the family didn't always know where he was. He even considered emigrating to Spain or the United States to find work, as 30 percent of people in their impoverished region of Ecuador have already done. The credit union and a production agriculture program helped them start their own chicken and guinea pig farm, and now the family is together. It was incredible to hear Margarita say her children could now go to school for the first time because of the credit union."
The study group included: Carrie Benz, Summit Credit Union, Madison, WI, USA; Ken Chan, Alterna Savings, Ontario, Canada; Kathy Chartier, Members Credit Union, Stamford, CT, USA; Jake and Betsy Lay, Fairfax County Federal Credit Union, Fairfax, VA, USA; John Link, Agriculture Federal Credit Union, Washington, DC, USA; Kimberley Ney, Alterna Savings, Toronto, ON, Canada; Charles Sim, Scotwest Credit Union, Scotland; Brandi Stankovic, BLS Consulting, Henderson, Nevada, USA; Joseph Thomas, Fairfax County Federal Credit Union, Fairfax, VA, USA; Joanne Todd, Northeast Family Federal Credit Union, Manchester, CT, USA.
A second Cooperative Learning Tour to Ecuador will take place September 30 – October 7, 2007. Congratulations to Ken Bielak of Carpathia Credit Union in Winnepeg, Canada. Bielak will be joining the next tour to Ecuador after winning WOCCU's drawing at the 2007 America's Credit Union Conference.
Visit www.woccu.org or contact Valerie Breunig, vbreunig@woccu.o rg or (608) 395-2055 to find out how to join a tour to Ecuador.
World Council of Credit Unions is the global trade association and development agency for credit unions. World Council promotes the sustainable development of credit unions and other financial cooperatives around the world to empower people through access to high quality and affordable financial services. World Council advocates on behalf of the global credit union system before international organizations and works with national governments to improve legislation and regulation. Its technical assistance programs introduce new tools and technologies to strengthen credit unions' financial performance and increase their outreach.
World Council has implemented 300+ technical assistance programs in 89 countries. Worldwide, 68,882 credit unions in 109 countries serve 235 million people. Learn more about World Council's impact around the world at www.woccu.org.