Former WOCCU Board Member David Chatfield Recognized at AACUL Meeting
July 20, 2005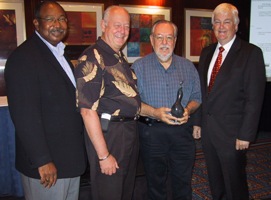 (l-r) WOCCU president Pete Crear, first vice chairman Gary Plank, former director Dave Chatfield, and board chairman L.R. (Bobby) McVeigh
Madison, WI - Last week David Chatfield, former World Council of Credit Unions, Inc. (WOCCU) board member, was recognized at the summer meeting of the Association of American Credit Union Leagues (AACUL) in New York with a award presented by WOCCU for his service on the WOCCU board.
Chatfield, first elected to the board in 2000, represented the U.S. credit union movement as a delegate of Credit Union National Association (CUNA). At the time of his resignation, he was serving on the Bylaws & Policies Committee and the Board of Directors of the Worldwide Foundation for Credit Unions, Inc. He has also participated on World Council technical teams to Poland and Hungary, and is an avid supporter of domestic and international credit union development.
Chatfield has been involved in credit unions for more than 36 years, beginning as a volunteer elected official of a small credit union. On March 1, 1991, he became president and CEO of the California Credit Union League. On January 1, 1996, he also became president of the Nevada Credit Union League. He has held also held the post of executive director of the Filene Research Institute and received the 1997 individual Herb Wegner Memorial Award, presented annually by the National Credit Union Foundation (U.S.).
WOCCU board chairman L.R. (Bobby) McVeigh gave the meeting participants an overview of Chatfield's career, including his many "credit union firsts," and acknowledged his contribution to World Council. Chatfield was a significant presence on the WOCCU board and, in particular, the Legislative Affairs Committee. In recognition of his service, McVeigh presented Chatfield with a plaque and an original Canadian Inuit carving of a loon, reflecting his love of fishing.
McVeigh also thanked the U.S. state leagues for their involvement in and dedication to WOCCU's International Partnerships Program, currently 20 strong (17 signed partnerships and 3 new relationships). He spoke of the dramatic need to assist emerging credit union systems in Asia and Eastern Europe and encouraged the development of more league and individuals credit union partnerships in the future.
World Council of Credit Unions is the global trade association and development agency for credit unions. World Council promotes the sustainable development of credit unions and other financial cooperatives around the world to empower people through access to high quality and affordable financial services. World Council advocates on behalf of the global credit union system before international organizations and works with national governments to improve legislation and regulation. Its technical assistance programs introduce new tools and technologies to strengthen credit unions' financial performance and increase their outreach.
World Council has implemented 300+ technical assistance programs in 89 countries. Worldwide, 68,882 credit unions in 109 countries serve 235 million people. Learn more about World Council's impact around the world at www.woccu.org.