GWLN Celebrates 10th Anniversary with New Mobile App
Announcement made at GAC 2019 breakfast event
March 13, 2019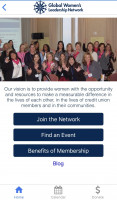 The GWLN Mobile App
WASHINGTON, D.C.—You can now join or donate to the Global Women's Leadership Network (GWLN) directly from a new app developed for your smart phone or mobile device.
The app—available for both iPhone and Android users—also features a calendar of events, our GWLN blog and information about membership benefits.
The Global Women's Leadership Network celebrated its 10th anniversary by announcing the launch of its new mobile app to members and supporters at the annual GWLN Breakfast at GAC.
"It's about access. If we can take our telephones to countries like Nepal, if we can take our telephones all over the world, then we can reach people. I am so excited to say Elevations Credit Union stepped up, after our breakfast last year, to give us this gift," said GWLN Volunteer Chair Sue Mitchell, crediting Colorado-based Elevations Credit Union for developing the mobile app in just six months. "Go out to your app store, download it, be part of it!"
Mitchell, CEO of the consulting firm Mitchell, Stankovic and Associates, also spoke about how far GWLN has come in its first 10 years—and where the organization is headed.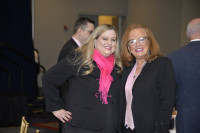 Andrea Rusnak and Sue Mitchell
GWLN presented its 2018 Emerging Leader Award at the breakfast to Andrea Rusnak, PSCU's Vice-President of Account Management. The annual award recognizes young women active within the field, making a significant impact on the industry and advancing the values of GWLN's mission.
Rusnak's duties at PSCU include serving as the company's executive sponsor for promoting women's leadership in the credit union industry.
"If we don't help bring people along with us and give them a seat at the table, we won't be successful. I appreciate everyone being here. Your support means the world to all of us. And I do appreciate your support and recognition of me today. I'm incredibly humbled to receive this award," said Rusnak, who also co-chairs the San Francisco Sister Society Chapter for GWLN.
Members and supporters at the breakfast also heard from other GWLN Sister Society Leaders who answered the question—what does GWLN mean to you?
Eleonora Zgonjanin Petrovikj, CEO of FULM Savings House in North Macedonia, spoke in person about watching her own sister society grow over the past decade.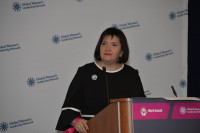 Eleonora Zgonjanin Petrovikj
"We are very young, but all the knowledge that we get is thanks to the knowledge of most of the women that I know here, share with me," said Zgonjanin Petrovikj.
The leaders of several other sister societies—from Malawi to Minnesota—provided their answers to that question in video messages played for those in attendance.
HE for SHE recognition at the breakfast went to four men who have contributed to the network through their leadership and outreach, scholarship development, fundraising initiatives and continuous commitment. The four recipients of the special recognition are:
"I look forward to the day that men don't have to be recognized for supporting women," said Schroeder, to a round of applause.
The HE for SHE recipients also will also be recognized at the 2019 World Credit Union Conference in the Bahamas.
This year's GWLN Breakfast at GAC was the largest to date, with nearly 250 people in attendance.

The GWLN suite of programming provides women with tangible skills, tools and resources they need to lead, and offers actionable steps for organizations to follow. GWLN membership is open to all women and men in the credit union industry, and active participation in GWLN activities is strongly encouraged.
World Council of Credit Unions is the global trade association and development platform for credit unions. World Council promotes the sustainable development of credit unions and other financial cooperatives around the world to empower people through access to high quality and affordable financial services. World Council advocates on behalf of the global credit union system before international organizations and works with national governments to improve legislation and regulation. Its technical assistance programs introduce new tools and technologies to strengthen credit unions' financial performance and increase their outreach.
World Council has implemented 300+ technical assistance programs in 90 countries. Worldwide, 87,914 credit unions in 118 countries serve 393 million people. Learn more about World Council's impact around the world at www.woccu.org.