Gates Foundation Awards Microfinance Grant to World Council of Credit Unions
November 02, 2006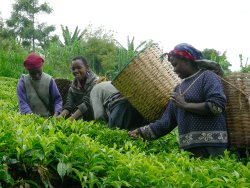 Working the fields at a tea plantation in Kenya.
Madison, WI—The Bill & Melinda Gates Foundation has granted $6.7 million to World Council of Credit Unions and $2 million to World Council's Worldwide Foundation for Credit Unions to implement a Credit Union Growth Program in Africa and Latin America. The new microfinance program will test product development tools for rapid credit union growth and provide outreach to the poor.
This is the first venture for the Bill & Melinda Gates Foundation in exploring the growth potential of existing credit unions and what it takes for them to serve those living under $2 a day. Credit unions are among the largest providers of microfinance, which caters to those excluded from the traditional financial system due to their economic status.
"We are pleased to work with World Council of Credit Unions and the Worldwide Foundation of Credit Unions," said Sylvia Mathews, president of the Global Development Program of the Bill & Melinda Gates Foundation. "This project represents an exciting opportunity to understand the potential of credit unions to serve new members that have been previously excluded from the financial system, and to significantly increase credit union membership of those living under $2 a day in Kenya, Rwanda and Colombia."

A shopkeeper in Colombia.
The Credit Union Growth program goes beyond World Council's traditional credit union projects focused on institutional strengthening and savings mobilization. Program staff will work with financially sound credit unions in developing countries to actively extend outreach to the poor and dramatically increase credit union membership.
World Council will help participating credit unions create specific financial products and meet outreach targets. Credit unions will learn to employ new marketing strategies and technology to meet the program's objectives.
"Credit unions serve more than 157 million people in 92 countries, but our penetration is at just about seven percent. There are still many poor people out there who fall prey to predatory money lenders and lack access to financial education and services," World Council CEO Pete Crear said. "Through the Credit Union Growth Program, we commit to deepening credit union outreach and dramatically increasing membership to reach those in need."
Ten credit unions in Rwanda will be pilots for French-speaking African credit unions; ten Colombian credit unions will serve as test cases for Latin America; and up to seven credit unions in Kenya will pilot the English-speaking African program. World Council selected credit unions to participate in the program based on their commitment to expand services to the poor, solvency, asset quality, membership bond, openness to change, commitment to growth and willingness to develop new products aimed at member service and growth.
World Council has a long history working with credit unions in Colombia, Kenya and Rwanda. After the Rwandan genocide in the 1990s, it provided technical assistance and training to revive and restart the credit union movement. World Council recently completed a Model Credit Union Building program in Colombia designed to ensure fiscal strength and expand access to microfinance, and has assisted Kenyan credit unions, which form the largest credit union sector in Africa, for over 20 years.
The Credit Union Growth Program will create a "Credit Union Growth Tool Kit" to help credit unions expand outreach to low-income households through innovative marketing plans, product designs and branding procedures.
By the year 2020, World Council expects to provide 46 million low income individuals in developing countries with sustainable financial services.
About the Bill & Melinda Gates Foundation
Guided by the belief that every life has equal value, the Bill & Melinda Gates Foundation works to reduce inequities and improve lives around the world. In developing countries, it focuses on improving health, reducing extreme poverty, and increasing access to technology in public libraries. In the United States, the foundation seeks to ensure that all people have access to a great education and to technology in public libraries. In its local region, it focuses on improving the lives of low-income families. Based in Seattle, Wash., the foundation is led by CEO Patty Stonesifer and co-chairs William H. Gates, Sr., Bill Gates, and Melinda French Gates.
World Council of Credit Unions is the global trade association and development agency for credit unions. World Council promotes the sustainable development of credit unions and other financial cooperatives around the world to empower people through access to high quality and affordable financial services. World Council advocates on behalf of the global credit union system before international organizations and works with national governments to improve legislation and regulation. Its technical assistance programs introduce new tools and technologies to strengthen credit unions' financial performance and increase their outreach.
World Council has implemented 300+ technical assistance programs in 89 countries. Worldwide, 68,882 credit unions in 109 countries serve 235 million people. Learn more about World Council's impact around the world at www.woccu.org.