Global Women's Leadership Network Announces 2012 Engagement Programs
Participants to study remote transaction technology in California and Mexico
January 24, 2012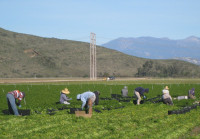 Farm laborers receive credit union services where they work thanks to remote technology deployed by Ventura County Credit Union, the destination of the first of two Global Women's Leadership Network engagement programs this year.
MADISON, Wis. — Remote transaction technology applications will be the focus of the 2012 engagement programs sponsored by the Global Women's Leadership Network, a World Council of Credit Unions initiative devoted to connecting women credit union leaders worldwide through education and networking opportunities. Two groups of both men and women will examine how transaction technology, developed to provide financial services in rural Mexico, has been successfully adapted to serve farm laborers in southern California.

The first of this year's engagement programs will visit Ventura County Credit Union (Calif., USA) and the farms and organizations whose laborers it serves through financial services delivered via handheld personal digital assistants (PDAs) to members where they work. The May 20–25 program, which will enable participants to examine the strategy and technology firsthand, costs US$1,700 for network members and US$2,000 for nonmembers.

Participants interested in delving even deeper into the topic can participate in the second program, which takes them to Querétaro, Mexico, where the technology and delivery strategy were first developed. Participants will travel with credit union representatives deep into rural areas to see how members with no credit union access can successfully be served. The Nov. 5–10 program costs US$1,800 for network members and US$2,100 for nonmembers.

Credit unions in Mexico were among the first to implement remote credit union service delivery. The second Global Women's engagement program will bring participants together with those credit union members.
Fees for both programs include in-country travel, food and lodging, but are exclusive of airfare and other costs of arriving at the program locations. The programs are open to women and men, and participants who attend both programs can take 10% off their total fee.
The idea for the Ventura PDA program came about during a networking session at an early Global Women's Leadership Forum, the annual meeting of the network held in conjunction with the World Credit Union Conference, from which a participant took the idea back to California for implementation. The successful technology transference from a developing to a developed country illustrates how effective such program participation can be, according to Brian Branch, World Council president and CEO.
"Developing credit union systems often learn from systems in developed countries, but we also have seen that this can be a two-way street," Branch said. "In addition to providing participants with the opportunity to participate in global credit union development, this year's engagement programs offer a technology and delivery strategy that can be successfully applied to credit unions anywhere and at all levels of sophistication."
This year's network forum is scheduled for July 14–15 in conjunction with the World Credit Union Conference in Gdańsk, Poland. For more information on the Global Women's Leadership Network, its upcoming engagement programs and Leadership Forum, visit www.cuwomen.org. For more information on the 2012 World Credit Union Conference, visit www.letsgdansk2012.org.


World Council of Credit Unions is the global trade association and development agency for credit unions. World Council promotes the sustainable development of credit unions and other financial cooperatives around the world to empower people through access to high quality and affordable financial services. World Council advocates on behalf of the global credit union system before international organizations and works with national governments to improve legislation and regulation. Its technical assistance programs introduce new tools and technologies to strengthen credit unions' financial performance and increase their outreach.
World Council has implemented 300+ technical assistance programs in 89 countries. Worldwide, 68,882 credit unions in 109 countries serve 235 million people. Learn more about World Council's impact around the world at www.woccu.org.