Global Women's Leadership Network Seeks Scholarship Applicants
World Council initiative supports educational and networking opportunities for leaders of developing CU movements
February 18, 2013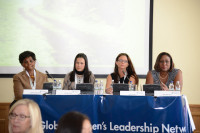 Last year's Global Women's Leadership Network scholarship recipients presented as a panel at the 2012 Global Women's Leadership Forum in Gdańsk, Poland, in July. Scholarship winners included (pictured left to right) Jedidah Nyongesa Musamali, Goezraal Springs Empowerment Foundation (Kenya); Yamata Karki, Prakritinagar Women Independent Group and Nayapati SACCO, Ltd. (Nepal); Lara Thomas, The MILLA Project (USA); and Gail Rajkumar, TATECO Credit Union Co-op. Society, Ltd. (Trinidad). Not pictured is Arou Christine Tanyi, Cameroon Cooperative Credit Union League (Cameroon).

MADISON, Wis. — World Council of Credit Unions invites all eligible women leaders working in developing credit union movements to apply for a 2013 Global Women's Leadership Network scholarship. The scholarship provides an annual network membership and access to the 2013 Global Women's Leadership Forum, July 13–14, in conjunction with World Council's 2013 World Credit Union Conference in Ottawa, Canada.
"The purpose of the Global Women's Leadership Network is to provide peer network support to women growing into leadership roles in the global credit union community," said Brian Branch, World Council president and CEO. "We saw last year's scholarship winners go on to integrate credit unions into community development, women's outreach and human rights programs in places such as Trinidad, Kenya and Libya. We look forward to the energy and the excitement that this year's scholarship winners will bring to the Global Women's Leadership Forum in Ottawa." 
For Lara Thomas, founder of The MILLA Project and one of five scholarship recipients in 2012, the experience has offered tremendous professional value for her and the international human rights organization she established. Since her engagement with the network, Thomas has collaborated with World Council to explore the development of democratic financial institutions in Libya. She has also made strong global connections on a personal level.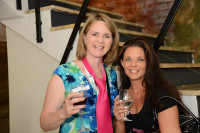 Global Women's Leadership Network scholarship recipient Lara Thomas (right) shares a conversation with fellow network member and Credit Union Executives Society SVP and COO Barb Kachelski at the 2012 Global Women's Leadership Network Reception in Gdańsk, Poland.

"Being a part of the Global Women's Leadership Forum provided me with a network of professional women who have become not only colleagues, but also great friends," Thomas said.
Global Women's Leadership Network scholarships cover the cost of 2013 network membership, World Credit Union Conference and forum registration fees and partial travel costs for eligible women leaders from developing credit union movements. The annual forum includes a networking reception and a full-day peer advisory session.
Applicants must demonstrate financial need and successful contributions to their communities, credit unions and/or credit union systems. Preference will be given to recipients from diverse backgrounds whom the evaluation committee feels have the most to gain from the experience. Scholarships are funded by network membership dues, World Council and the Canadian Co-operative Association, which is financially supporting the program for the third year.
Scholarship applications and references must be sent to CUwomen@woccu.org by March 1, 2013. Scholarship offers will be made to successful candidates by April 1.
For more information about the scholarships and application process, visit www.cuwomen.org/scholarships or contact Nicole Bice at nbice@woccu.org or +1-608-395-2027. 
World Council of Credit Unions is the global trade association and development agency for credit unions. World Council promotes the sustainable development of credit unions and other financial cooperatives around the world to empower people through access to high quality and affordable financial services. World Council advocates on behalf of the global credit union system before international organizations and works with national governments to improve legislation and regulation. Its technical assistance programs introduce new tools and technologies to strengthen credit unions' financial performance and increase their outreach.
World Council has implemented 300+ technical assistance programs in 89 countries. Worldwide, 68,882 credit unions in 109 countries serve 235 million people. Learn more about World Council's impact around the world at www.woccu.org.