Growing Needs Drive Africa SACCO Regulators' Roundtable
WOCCU and Partner Groups Launch Successful Session
December 09, 2010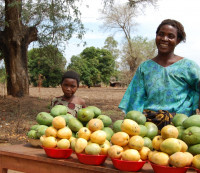 Many of Malawi's credit unions serve people in rural areas, including this mango grower, making distribution of adequate services difficult.

LILONGWE, Malawi — Rapidly growing membership and the increasing need for improved prudential oversight have catapulted Africa's savings and credit cooperatives (SACCOs), or credit unions, to a new level of need. Defining credit union-appropriate oversight and operating procedures highlighted the third Africa SACCO Regulators' Roundtable, sponsored by World Council of Credit Unions (WOCCU), the Canadian Co-operative Association (CCA) and the Irish League of Credit Unions Foundation.
The three-day conference, held earlier this month in the east African nation of Malawi, attracted 50 credit union supervisors, policymakers and sector officials from 12 African countries who came together to discuss ways to propel their respective credit union systems forward. It was the largest gathering yet for credit union supervisors and policymakers in Africa. Participating countries included Cameroon, Ethiopia, Gambia, Ghana, Kenya, Lesotho, Malawi, Seychelles, South Africa, Tanzania, Uganda and Zambia.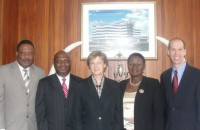 Officials presiding over the third Africa SACCO Regulators' Roundtable included (from left) Perks Ligoya, governor of the Reserve Bank of Malawi; WOCCU Director Sylvester Kadzola, CEO of MUSCCO; Jo-Anne Ferguson, CCA senior director of international development; Mary Nkosi, deputy governor of the Reserve Bank; and Dave Grace, WOCCU vice president of association services.

African credit unions currently provide financial services to more than 15.5 million members. The credit unions, often located in rural areas, are experiencing 20% to 50% annual asset growth as they help move families up the ladder from poverty to middle class. Such rapid growth gives rise to greater need for strong but appropriate prudential oversight, conference organizers said.
"These roundtables have become a catalyst to accelerate regulatory developments on our continent," said WOCCU Director Sylvester Kadzola, CEO of Malawi Union of Savings and Credit Cooperatives (MUSCCO), the country's credit union trade group. He said the roundtable marked a significant step forward for the movement 
Following the framework of the recent Caribbean Regulators' Roundtable co-hosted by WOCCU and the International Monetary Fund, the Malawi program offered guidance and advice on technical tools, applied training through case studies and shared experiences of supervisory and legislative developments within Africa. As part of the roundtable activities, participants visited MUSCCO headquarters and a credit union operating in Malawi's capital of Lilongwe.
Mary Nkosi, deputy governor of the Reserve Bank of Malawi, opened the program and later in the week joined Perks Ligoya, governor of the Reserve Bank, to meet with officials from WOCCU, MUSCCO and CCA to discuss pending credit union legislation. WOCCU drafted the new legislation in 2007, but it has only recently been approved by the government's cabinet. Prior to moving the legislation on to Malawi's parliament for passage, Reserve Bank officials agreed to review provisions of the law that concerned the credit union sector.
"While there is now broad acceptance of the need for prudential oversight of credit union activities in Africa, finding the right regulatory balance is especially challenging in small countries with many credit unions," said Dave Grace, WOCCU vice president of association services who oversaw last week's roundtable. "There is no silver bullet. But we're seeing a variety of innovative approaches that hold promise, and we're committed to working with those in the region on these developments."
To view the roundtable presentations, visit www.woccu.org/involved/regnet#CTGM_Tools.
World Council of Credit Unions is the global trade association and development agency for credit unions. World Council promotes the sustainable development of credit unions and other financial cooperatives around the world to empower people through access to high quality and affordable financial services. World Council advocates on behalf of the global credit union system before international organizations and works with national governments to improve legislation and regulation. Its technical assistance programs introduce new tools and technologies to strengthen credit unions' financial performance and increase their outreach.
World Council has implemented 300+ technical assistance programs in 89 countries. Worldwide, 68,882 credit unions in 109 countries serve 235 million people. Learn more about World Council's impact around the world at www.woccu.org.
NOTE: Click on photos to view/download in high resolution.