Idaho Credit Union Executives Head for the Solomon Islands
Source: Idaho Credit Union League
September 26, 2007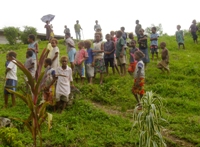 Credit unions in the Solomon Islands are working hard to improve their members' lives.
BOISE, IDAHO— The Board of Directors of the Idaho Credit Union League approved last month an international partnership agreement with the Solomon Islands Credit Union League. In October, three Idaho credit union executives will travel to the Solomon Islands to formalize this agreement with the credit unions of the Solomon Islands and to perform a needs assessment to determine how Idaho credit unions can best help the 159 credit unions that make up the Solomon Island Credit Union League (SICUL). Working in conjunction with Credit Union Foundation Australia (CUFA) and the World Council of Credit Unions (WOCCU) – the apex trade association of the international credit union system representing more than 172 million people worldwide – Idaho credit unions will assist Solomon Islands credit unions in their effort to bring much needed financial services to the people of this region.
Shane Berger, chairman of the Idaho Credit Union League and CEO of Beehive Federal Credit Union in Rexburg; Vice Chair Glenda Hart, CEO of Latah Federal Credit Union in Moscow; and Alan Cameron, president/CEO of the Idaho Credit Union League, initially will travel to Australia to meet with CUFA representatives and then will travel to the Solomon Islands to visit with SICUL and government officials as well as individual credit unions.
"Solomon Island credit unions are a key component of the effort to bring financial stability to this country. Idaho credit unions are committed to helping these credit unions by serving as a partner they can call upon to provide technical assistance and educational resources to help them better serve their own members", said Alan Cameron. He also noted that this partnership could not have occurred without the financial assistance of Idaho credit unions, WesCorp Federal Credit Union, CUNA Mutual Group, and American Share Insurance. "We are deeply grateful to our members and these business partners for their commitment to this important project", Cameron said.
Credit unions began organizing in the Solomon Islands (located in the South Pacific due east of New Guinea) during the 1980s. Since its establishment in 1987, SICUL has led the rapid expansion of credit unions and MicroFinance Rural Resources Centers (MRRCs), where people in small rural communities pool their funds in savings clubs.
Today credit unions and their associated MRRCs serve more than 62,000 members in the Solomon Islands, where 85% of the total population lives in rural areas with little or no access to basic financial services or infrastructure. Roads do not reach many rural areas, causing people to walk long distances to get anywhere. Villages elect treasurers to hand carry the pooled savings of the MRRC to the nearest road and then buy passage on a truck to take them to a credit union for deposit – often a two day trip.
In April 2007, a devastating tsunami hit the islands destroying entire villages. In the aftermath of the disaster, the credit unions operated radios 24 hours a day to help villagers across the islands connect with their families and find out where they could go for aid, shelter, and assistance.
"Even before the tsunami struck earlier this year, credit unions in the Solomon Islands were working hard to improve their members' lives," according to Brian Branch, WOCCU's chief operating officer and executive vice president. "Through their participation in WOCCU's International Partnership program, leaders from the Idaho credit union system will be assisting credit unions and their members in the Solomon Islands to drive their own economic development."
The Idaho Credit Union League recently signed a three-year commitment to work with the Solomon Islands Credit Union League in a mentoring role to aid in further development of their financial services. During this time, there will be several opportunities for credit union leaders to lend their talents to island credit unions, as well as opportunities to host Solomon islanders who will visit and learn in Idaho communities. "This relationship will be a two-way learning experience," stated Berger. "As much as we can offer their credit unions in areas such as accounting practices, technology, and financial planning, they will give back in immeasurable, life-enriching lessons."
The Idaho credit union leaders will return after the two-week trip and bring their findings to the Idaho Credit Union League board of directors who will then formulate a plan to best meet the identified needs.
The Idaho Credit Union League is the state trade association serving Idaho's 53 credit unions representing nearly 485,000 members.
World Council of Credit Unions is the global trade association and development agency for credit unions. World Council promotes the sustainable development of credit unions and other financial cooperatives around the world to empower people through access to high quality and affordable financial services. World Council advocates on behalf of the global credit union system before international organizations and works with national governments to improve legislation and regulation. Its technical assistance programs introduce new tools and technologies to strengthen credit unions' financial performance and increase their outreach.
World Council has implemented 300+ technical assistance programs in 89 countries. Worldwide, 68,882 credit unions in 109 countries serve 235 million people. Learn more about World Council's impact around the world at www.woccu.org.